Hikvision Turbo HD TVI 1080p PTZ Dome - 100m IR, 15x Zoom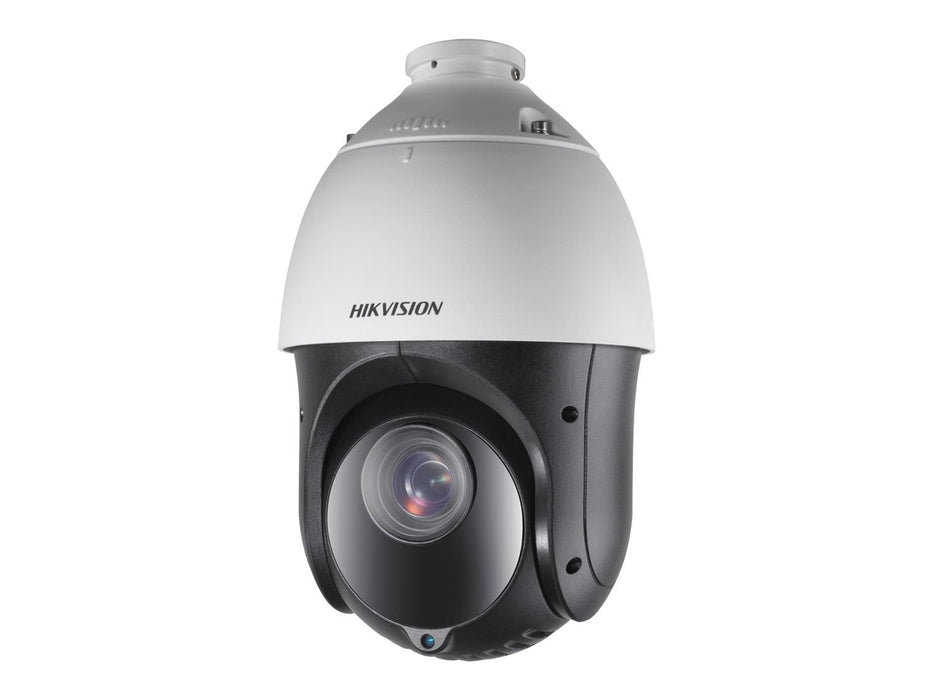 Hikvision Turbo HD TVI 1080p PTZ Dome - 100m IR, 15x Zoom
Product Code:
HKTV21015PTZ






Pan Tilt Zoom Security Camera
The heavy-duty camera on motorised base, allowing remote control of movements. Perfect for use in large spaces with moving subjects
1080p Video
Captures footage in 1920x1080 Full HD, for clear and crisp subject detail
HD-TVI Format
Uses advanced video encoding to send both HD video and movement commands all down one simple BNC cable
15x Optical Zoom
Lens can zoom from 54° to tiny 4° field of view
100m Night Vision
Powerful infrared illuminators allow use in large unlit spaces such as car parks or fields
Privacy Mask
Up to 8 areas of the image can be masked out in-camera
Remote Control
Manually control camera movements either directly from a Hikvision DVR, or using a dedicated PTZ joystick controller
Preset Positions
Program the camera with up to 256 individual preset positions that can be quickly recalled
Patrol Patterns
As well as individual positions, you can program up to 10 patterns of movement between them
Scheduled Movements
Automate monitoring by scheduling regular patrol movements
What's in the box?
1x Hikvision Turbo HD PTZ dome
Pan-tilt-zoom (or PTZ) cameras are mounted to a motorised base, letting you remotely control their position. This makes them a fantastic option for easily monitoring larger spaces that would otherwise need multiple cameras, or for tracking moving subjects. This Hikvision Turbo HD camera uses the HD-TVI format, letting you send high-resolution video and camera movement commands all over one standard BNC cable.
As well as the motorised base, the camera is fitted with a 15x optical zoom lens, able to move from a 53-degree field of view to a tight 4-degree angle. When combined with the 1080p Full HD sensor, this allows you to capture incredibly fine levels of subject detail. This is essential when used in areas with lots of foot traffic, or for capturing number plates in car parks. All of the electronics are protected by an IP66 rated weatherproof case, allowing outdoor installation.
Once connected to a Hikvision DVR, you can either control the camera using the recorder's built-in interface or by using the Hikvision PC app. For direct fingertip control, connect the DVR to one of our range of dedicated PTZ joystick controllers. The camera can then be moved manually, or programmed with up to 256 preset positions and 10 patrol patterns. You can even set the camera to carry out patrol movements at regular timed intervals.
Imaging Sensor
1/2.8 CMOS
Maximum Resolution
1920x1080
Minimum Illumination
0.005 Lux (IR Off) 0 Lux (IR On)
White Balance
Auto Manual HAuto ATW Indoor Outdoor
AGC Auto Manual
Shutter Speed
1s to 1/10000s
Day & Night
IR Cut filter
Privacy Mask
8 Programmable
Focus Mode
Auto Semiauto Manual
Field of View
53.8 to 4 degrees
Minimum Working Distance
10 to 1500mm (wide to tele)
Patrol
10 programmable up to 32 positions each
Power off Memory
Supported
Park Action
Preset Patrol Pattern Pan Scan Tilt Scan Panorama Scan Day Mode Night Mode Zero Calibration Non
IR Intensity
Automatically adjusts with zoom ratio
Output
1x Composite BNC 1x RS485
Power: 12V DC
Working Temperature: -30°c tot +65°c
Protection Level
IP66 TVS 4000V Lightning protection
Dimensions
164.5mm (diameter) x 295mm