Hikvision Hybrid HD 16 Channel TVI DVR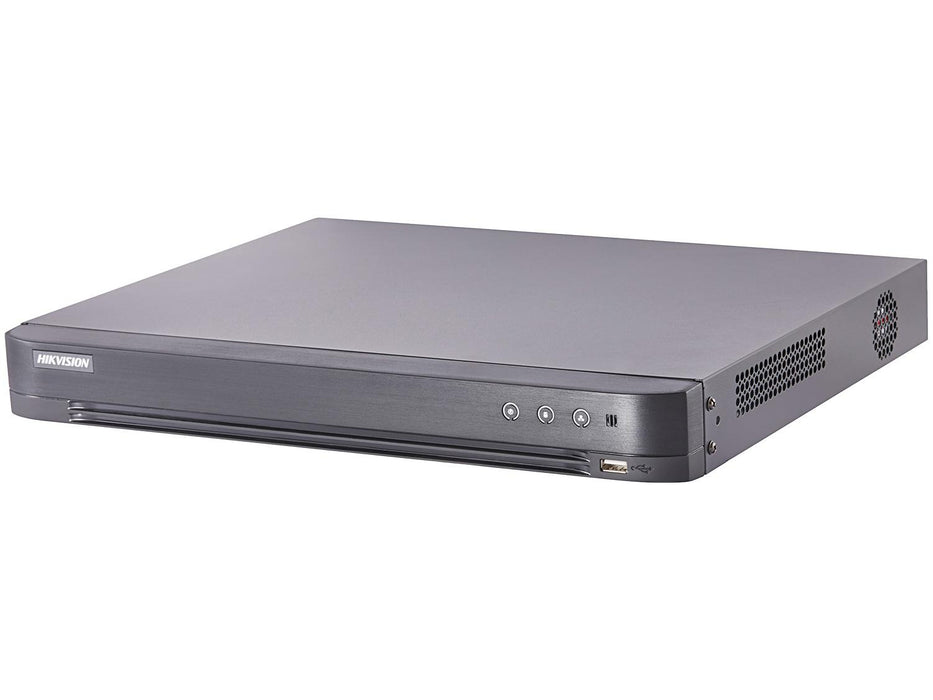 Hikvision Hybrid HD 16 Channel TVI DVR
Product Code:
DS-7216HUHI-K2(S)







Hikvision Quality
From the world's largest supplier of CCTV equipment: you can rely on this cutting-edge technology
5 Megapixel Video
Works wth the latest generation of HD-TVI cameras, recording at incredible resolutions above HD
Hybrid Recorder
This recorder also works with AHD, CVI and analogue cameras allowing you to connect in your existing cameras
IP Cameras
The recorder also supports up to two 6MP IP cameras, letting you easily mix and match camera technologies in the same system
16 Video Channels
Records up to 16 cameras. This is great for systems covering a large home or a medium-to-large commercial property
Audio Input
Features an audio input for recording sound from a CCTV microphone
Preinstalled Hard Drive
The recorder is shipped fitted with your choice of HDD storage. Just select the desired size from the drop-down at the top of the page
Multiple Recording Modes
Fully adjustable recording options including motion detection & scheduled
Smart Triggers
Uses the latest video analytics technology for features such as line crossing and intrusion detection. This means you can select specific areas of the image to monitor for subject movement
Network Access
With Hikvision's easy network management, you'll be able to set up remote access in no time
Mobile Viewing
View footage from your smartphone using the app for iOS, Android and Windows
H.265+ Compression
Improved encoding efficiency provides up to 75% more capacity than H.264 when recording HD cameras
4K HDMI Output
Simultaneous HDMI and VGA output at up to 2160p, as well as 1080p VGA output
What's in the box?
1x 16 Channel TurboHD TVI DVR
1x USB Mouse
1x Remote Control
1x Software & Manual CD
1x Mains Power Supply
Looking to upgrade your existing CCTV system? This 16 channel DVR from Hikvision is ideal. With maximum compatibility in mind, this recorder works with legacy analogue cameras as well as Full HD TVI cameras. This means you can mix-and-match pre-existing cameras with cutting-edge 5MP TVI models. If you want a fully-fledged 16 camera 5MP system this recorder is more than capable of recording the cameras at full resolution for synchronous playback. It even supports up to two 6MP IP cameras, letting you easily combine analogue and digital cameras in one system. This makes this hybrid recorder excellent for medium-to-large commercial site applications.
This recorder is compatible with Hikvision's Turbo 4.0 and H.265+ encoding. This new technology improves storage efficiency by using a more intelligent encoding algorithm that means footage takes up less space on your chosen hard drive.
Featuring all the important functions you'd expect, this Hikvision recorder will serve every surveillance need. Fully adjustable smart recording modes including line crossing and intrusion detection mean you can customise the recording to your specification. When it comes to remote access Hikvision makes it as easy as possible to set up networking. You can even view footage from your smartphone using the app for iOS, Android and Windows Phone.
Video/Audio Input
Video Compression: H.265+H.265H.264+H.264
Analogue Input: 16x (1.0Vp-p 75ohm)
Supported HD-TVI camera types: 5MP 4MP 3MP 1080p 720p NTSC PAL
IP video input: 2-ch up to 6Mp resolution
Audio compression: G.711u
Two-way audio in: 4x RCA

Video/Audio Output
HDMI: 1x 4K(3840x2160)/30Hz 2K(2560x1440)/60Hz 1920x1080/60Hz 1280x1024/60Hz 1280x720/60Hz 1024x768/60Hz
VGA: 1x 1920x1080/60Hz 1280x1024/60Hz 1280x720/60Hz 1024x768/60Hz
Encoding resolution - Main stream: 5MP @12fps 4MP @15fps 3MP @18fps 1080p/720p/WD1/4CIF/VGA/CIF @25fps
Encoding resolution - Sub-stream: WD1/4CIF/CIF @25fps
Video bitrate: 32 Kbps - 10 Mbps
Audio output: 1x RCA (Linear 1Kohm)
Audio bitrate: 64 Kbps
Dual-stream: Support
Stream type: Video Video & Audio
Synchronous playback: 16x

Network Management
Remote connections: 128
Network protocols: TCP/IP PPPoE DHCPH Hik-Cloud P2P DNS DDNS NTP SADP NFS iSCSI UPnP HTTPS ONVIF

Hard disk
SATA: 2x SATA interface
Capacity: Up to 6TB each

External Interface
Two Way Audio: 1x RCA (uses 1st Audio input)
Network interface: 1x 10M / 100M / 1000M self-adaptive Ethernet interface
Serial interface: 1x standard RS-485 serial interface half-duplex
Alarm in/out: 16/4

General
Power supply: 12V DC
Consumption (without hard disks): 25W
Working temperature: -10°C - +55°C
Working humidity: 10% - 90%
Dimensions: 380x320x48mm
Weight (without hard disks): 2kg