Hikvision TurboHD 4 Channel TVI DVR with PoC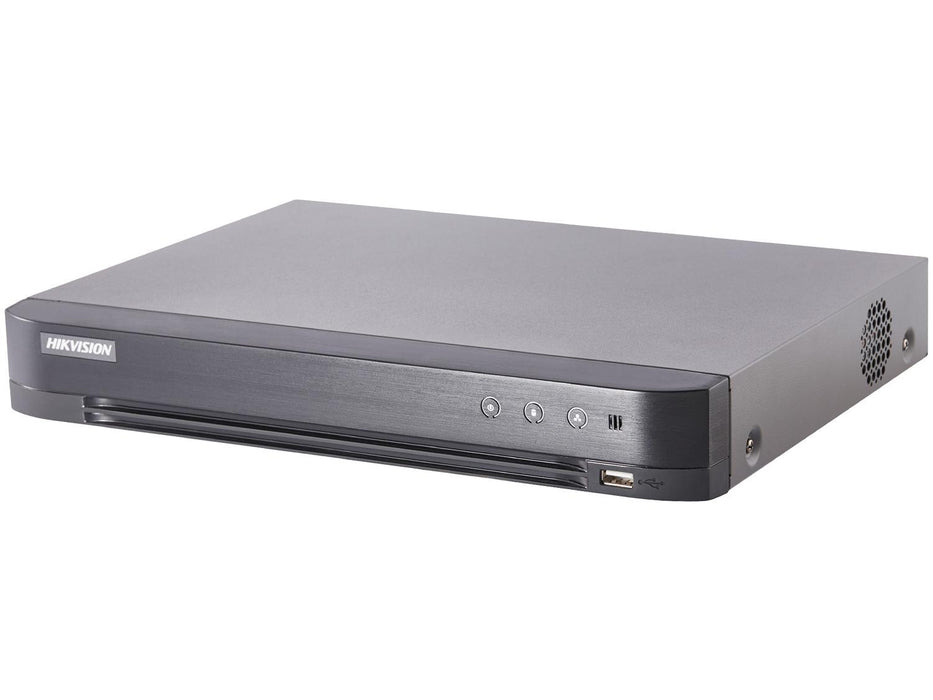 Hikvision TurboHD 4 Channel TVI DVR with PoC
Product Code:
DS-7204HUHI-K1/P







Hikvision TVI recorder
Advanced hybrid HD CCTV recorder from the largest manufacturer of surveillance technology in the world
4-in-1 Technology
TVI recorder will even work with AHD, CVI and traditional analogue CCTV cameras. Not only will your old cameras record, you can run the TVI cameras on your existing coax cables
Up to 5MP Cameras
Compatible with the latest generation of Hikvision TurboHD cameras, recording more than twice the detail of HD at up to 5MP resolution
H.265+ Compression
Compatible with the latest TVI 4.0 standard, recording huge levels of details whilst taking up a fraction of the hard drive space of H.264 HD cameras
4 Video Channels
Perfect for home and small business installations
IP Video Input
DVR also supports up to two 6MP IP cameras, letting you easily combine analogue and digital cameras in one system
Audio Recording
Add up to 4 microphones to your system for video and audio recording
Power-over-Coax
Allows you to power compatible Hikvision Turbo HD cameras directly over an RG59 cable, removing the need to wire in separate power supplies
Hard drive storage
Select from your choice of HDD storage for us to preinstall in the recorder
Recording time
With 1TB you will get from 6 days - +6 months depending on how you set up the unit to record
Multiple Recording modes
Motion detection and scheduled recording modes help limit storage requirements
Smart Detection Modes
Uses Hikvision's latest smart analytics, including fully adjustable line crossing and intrusion detection modes. These let you manually draw out regions of interest on-screen to trigger recording when crossed by subjects
1080p HDMI Output
Connect the recorder to your TV or monitor for 1080p viewing.
Simple User Interface
Hikvision lead the market when it comes to usability and ease of use, this DVR is no different
Powerful remote access software
After some simple configuration, this unit works worldwide via any smartphone or computer once connected to your router
Mobile viewing
Recorder works seamlessly with iPhone iOS, Windows and Android platforms, letting you check your footage wherever you are
Plug and Play Setup
Unlike IP systems that need to be configured on your network, TVI kits simply connect together using standard coax cables. This combines the quality of HD with the easy setup of analogue and allows you to use existing RG59 wiring if you are upgrading a system
What's in the box?
1x 4 Channel Turbo HD TVI DVR
1x USB Mouse
1x Remote Control
1x Manual and Software CD
1x Mains Power Supply
We often talk to existing CCTV system users who want to take advantage of the huge leap in quality that comes with upgrading to HD cameras but are concerned about the extra complexity of moving to an IP camera system. This 4 channel Turbo HD TVI DVR from Hikvision is the perfect answer to those questions, providing highly detailed video recordings whilst still keeping the plug and play simplicity and backwards compatibility of a traditional CCTV DVR.
Turbo HD TVI is a format from Hikvision that allows the recorder to capture amazing video at above-HD resolutions from cameras using a standard coaxial cable with BNC connectors. When used with Turbo HD TVI cameras this ensures huge amounts of detail are recorded, for footage that meets the most exacting commercial security requirements, with 5MP video recorded independently from each camera. As it's compatible with traditional analogue CCTV and cables, this means you can upgrade your security system bit-by-bit, replacing individual cameras rather than stumping for a complete system in one go. It even supports up to two 6MP IP cameras, letting you easily combine digital and analogue formats with one recorder.
The recorder supports a full range of motion detection & scheduling modes, as well as Hikvision's own smart features. These include line crossing and intrusion detection, providing an extra level of automation control for your recording. Audio inputs also allow you to run CCTV microphones next to your cameras, providing sound monitoring as well as video. The recorder also has VGA and HDMI outputs, providing an easy way to connect it to a TV or monitor to view your cameras. Uniquely, the recorder supports Hikvison's Power-over-Coax technology, powering compatible Turbo HD cameras over the RG59 cable, and removing the need for separate power supplies.
As with all of our CCTV recorders, it also features an ethernet plug, to easily connect the recorder to your network. Once configured, this allows you to watch live or recorded footage from anywhere in the world via a PC or mobile device. Hikvision's software even provides in-depth control of recording settings via a secure PC interface.
Video/Audio input
Video compression: H.265+ H.265 H.264+ H.264
Analogue Input: 4x BNC (1.0 Vp-p 75 ohm)
Turbo HD input: 5MP (20fps) 4MP 3MP 1080p 720p
AHD input: 1080p 720p
HD-CVI input: 1080p 720p
CVBS input: Supported
IP video input: 2ch up to 6MP
Audio compression: G.711u
Audio input: 4x RCA (2.0 Vp-p 1 KΩ)

Video/Audio output
CVBS output: 1x BNC (1.0 Vp-p 75ohm)
HDMI/VGA output: Up to 1920x1080 @ 60Hz
Encoding resolution: 5MP/4MP/3MP/1080p/720p/WD1/4CIF/VGA/CIF
Main stream Frame Rate: 5MP @12fps 4MP @15fps 3MP @18fps 1080p/720p/WD1/4CIF/VGA/CIF @25fps
Sub-stream Frame Rate: WD1/4CIF @25fps
Video bitrate: 32 Kbps to 10 Mbps
Audio output: 1x RCA (Linear 1 Kohm)
Audio bitrate: 64 Kbps
Dual stream: Supported
Synchronous playback: 4x

Network management
Remote connections: 128
Network protocols: TCP/IP PPPoE DHCP Hik Cloud P2P DNS DDNS NTP SADP NFS iSCSI UPnP HTTPS ONVIF

Hard disk
SATA: 1x SATA interface
Capacity: Up to 8 TB

External interface
Two-way audio input: 1x RCA (2.0 Vp-p 1 Kohm)
Network interface: 1x RJ45 10M/100M self-adaptive Ethernet interface
USB interface: 2x USB 2.0
Serial interface: RS-485 (half-duplex)
Alarm in/out: 4/1

General
Power supply: 12V DC
Consumption (without HDD): 10 W
Operating temperature: -10° to +55°
Operating humidity: 10% to 90%
Dimensions (WxDxH): 315x242x45mm
Weight (without HDD): 1.16 kg