Hikvision Hybrid 8 Channel TVI DVR with PoC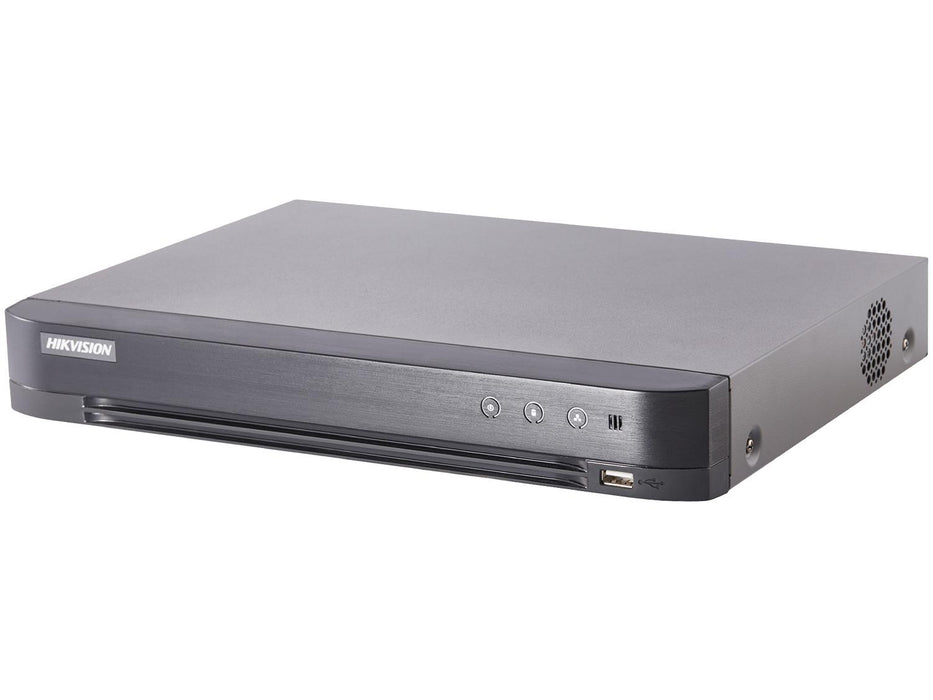 Hikvision Hybrid 8 Channel TVI DVR with PoC
Product Code:
DS-7208HUHI-K2/P







Hikvision DVR
Global brand synonymous with leading the world in CCTV technology and reliability
Up to 5MP Recording
DVR is designed to work with the latest generation of HD-TVI cameras, recording video at up to 5MP resolution. That was previously unheard of outside of IP cameras!
Hybrid Recorder
In addition to HD-TVI cameras, the recorder will also work with AHD, HD-CVI and traditional analogue (700TVL) cameras. If it has a BNC connector, then it should work!
8 Video Channels
Enough channels for any larger home, as well as small to medium business installations
6MP IP Cameras
Recorder also has inputs for up to two 6MP IP cameras, so you can easily combine digital and analogue cameras with one system
4 Audio Channels
Add microphones to your system for video and audio recording (audio compatible cables required)
Power-over-Coax
Powers compatible Hikvision Turbo HD cameras directly over the RG59 cable, removing the need to wire up additional power supplies
HDD Storage
Kit includes your choice of preinstalled drive
Long Recording time
DVR works with the latest H.265+ compatible cameras, letting you record for up to 5 times as long as H.264 with the same hard drive space and resolution!
Flexible Recording modes
Everything you would expect from a professional DVR, with several recording options (motion detection, scheduled, manual and more)
Crystal Clear playback
Watch this unit using fantastic HDMI, VGA or old faithful BNC composite outputs
Intuitive User Interface
Several advanced features on the easy to use HIKVISION user interface mean searching for footage and set up options are intuitive and straightforward
Access your footage worldwide
Once connected to your router and after some simple configuration, this unit allows secure remote access via any phone, PC or laptop (including MAC!)
True mobile access
Access your HD quality TVI recorder on the fly via iPhone IOS, Windows and Android platforms
What's in the box?
1x 8 Channel Hybrid HD TVI DVR
1x USB Mouse
1x Manual and Software CD
1x Mains Power Supply
We often talk to customers who have a large CCTV system but want to upgrade one or two key cameras. Previously having different types of camera in a system would cause compatibility issues, however, this 8 channel Hybrid CCTV recorder from Hikvision is the perfect solution. It can work with everything from traditional analogue cameras to their latest generation of Turbo HD 4.0 HD-TVI equipment, recording at up to 5MP resolution. It even has inputs for up to two 6MP IP, letting you easily combine digital and analogue security technologies.
As with all of our professional CCTV DVRs, it features a full suite of customisable recording modes, including motion detection, 7-day scheduling and via alarm triggers, all adjustable on a camera-by-camera basis. Other advanced features include audio input for a microphone, RS485 terminals for a PTZ controller, and VGA & HDMI outputs to easily connect it to a TV or Monitor. Uniquely, the recorder also supports Hikvision's new Power-over-Coax technology. This lets you power compatible Turbo HD cameras directly from the RG59 cable, removing the need for additional power supplies.
As is befitting such a state of the art CCTV recorder, a LAN connection allows you to plug it directly into your internet router. Once this is configured this lets you view live footage, playback recordings and even adjust recording settings via a secure online interface using a PC or Mac. You can even log in and view footage using a smartphone or tablet, with Android, iOS and Windows devices supported. The kit includes all the required instructions to complete this yourself, but if you don't fancy the hassle then you can always let one of of our support agents do it all for you with our remote set up service. This also provides ongoing support in case of software issues- see here for more details.
Video/Audio Input
Video compression: H.265+ H.265 H.264+ H.264
Analog and HD-TVI video input: 8x BNC(1.0Vp-p 75ohm)
HD-TVI Input: 5MP 4MP 3MP 1080p30 1080p25 720p60 720p50 720p30720p25
IP Video Input: 2x Up to 6MP
Audio compression: G.711u
Audio Input: 4x RCA

Video/Audio Output
HDMI: 1-ch 4K(3840x2160)/30Hz 2K(2560x1440)/60Hz 1920x1080/60Hz 1280x1024/60Hz 1280x720/60Hz 1024x768/60Hz
VGA: 1-ch 1920x1080/60Hz 1280x1024/60Hz 1280x720/60Hz 1024x768/60Hz
Encoding resolution (Main stream): 5MP@12fps 4MP@15fps 3MP@18fps 1080p/720p/WD1/4CIF/VGA/CIF@25fps
Encoding resolution (Sub-stream): WD1/4CIF CIF@25fps
Audio output: 1x RCA (Linear 1Kohm)
Audio bitrate: 64 Kbps
Dual-stream: Support
Stream type: Video Video & Audio
Synchronous playback: 8x

Network Management
Remote connections: 128
Network protocols: TCP/IP PPPoE DHCPH Hik-Cloud P2P DNS DDNS NTP SADP NFS iSCSI UPnP HTTPS
ONVIF
Hard disk
SATA: 1x 
Capacity: Up to 8TB
External Interface
Two Way Audio: 1x RCA (uses 1st Audio input)
Network interface: 1x 10/100/1000M self-adaptive Ethernet
Serial interface: 1x standard RS-485 serial interface half-duplex
Alarm in/out: 8/4
General
Power supply: 12V DC
Consumption (without hard disks): 20W
Working temperature: -10°C - +55°C
Working humidity: 10% - 90%
Dimensions: 315mm x 242mm x 45mm
Weight (without hard disks): 2kg