Horse Stable Camera - Long Range Wireless Foaling Monitoring Kit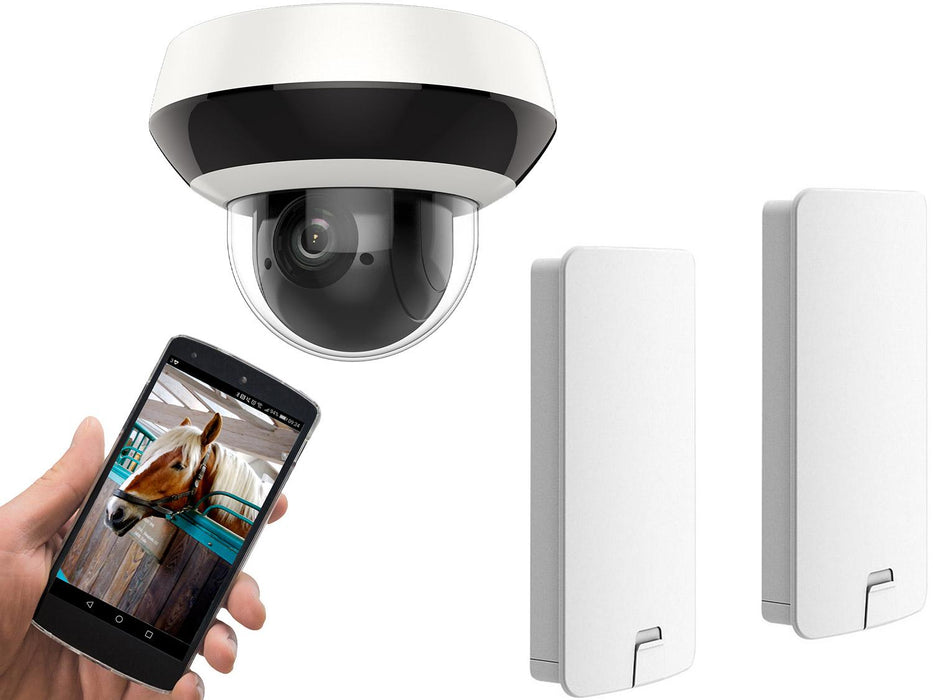 Horse Stable Camera - Long Range Wireless Foaling Monitoring Kit







Horse foaling season can be easier with these security cameras, designed by experts to offer a powerful digital wireless CCTV system to help you monitor the welfare of mares and horses anywhere. You can remotely monitor your mares from the comfort of your home with a high-resolution video so you know when you're needed in the stable during foaling season.
We have designed this bundle for installation into a stable to watch over your horses, especially during foaling season.
PTZ Camera
You can pan, tilt and zoom the camera around the stable to allow you flexibility.
1080p HD Video
Features a 2-megapixel sensor that produces clear, high-definition images.
4x Optical Zoom
Up to 4 times zoom and 16 times digital zoom to get detailed images whether near or far.
Powered by Darkfighter technology
Even if infrared night vision is not activated this camera features a low light sensitive chip to capture amazing pictures even in dark environments.
15m Night Vision
Up to 15-metre infrared night vision range for 24/7 coverage.
Weather-proof
This camera is IP66 rated, which means it can be used outdoors
Built-in microphone
As well as video it captures nearby sound using its integrated microphone
Smart detection
As standard, the camera can be set to trigger certain actions based on a whole range of events.
MicroSD Card Recording
The in-built microSD card slot support cards of up to 256GB in capacity allowing for plenty of on-board backup storage (card not included).
Transmits Up To 3km
Uses WiFi transmitters to send video, providing a massive range. Please note transmitters need a direct line of sight to work, obstructions will block signal
20m Network Cables
20m ethernet cables provide flexibility when installing transmitters.
Mobile Access
Connect kit to your router to view the camera via PC, Smartphone or Tablet
What's in the box?
1x Speed Dome PTZ Camera
2x 20m Ethernet Cables
2x 3m Ethernet patch cables
2x WiFi Bridge Panels
2x Pole mounts for panels
2x Mains Power Supplies for Bridges
2x PoE Injectors
FREE 1 Year Premium Support
Whilst the kit was initially built with equestrian security in mind, it has also proved popular as a calving or lambing camera, and even just for wildlife observation.
Included in the kit is a robust, weather-resistant PTZ camera suitable for mounting indoors or outside, exposed to the worst of the elements. You can pan, tilt and zoom the camera allowing you the flexibility to look around the stable and zoom in. The camera is fitted with infrared (IR) LEDs, providing enough night vision illumination to clearly see subjects up to 20m away, even in total darkness. This compact camera records full-colour video at 1080p HD, guaranteeing crisp images with sharp detail.
Featured in our kit is advanced wireless technology so you don't have to run cables all the way from the stable to another building. This kit includes a set of WiFi transmitters. When they have a direct clear line-of-sight, these powerful devices can transmit at distances of up to 3km.
Even if you have never set up a CCTV system before, don't worry! This kit includes everything you need to physically set up the system. If you are not experienced in networking then please add our setup service to help you get the system configured for you.
We have taken care to ensure this system perfectly fits the needs of horse foaling, calving, and lambing, but it also makes a versatile solution to many wireless CCTV needs.
This pack includes one year FREE of our Premium support package for priority telephone support.
Please note that there is a 1 week lead time on this system
Camera
Image Sensor: 1/3 progressive scan CMOS
Min. Illumination: Color: 0.005 Lux @ (F1.6 AGC ON); B/W: 0.001 Lux @(F1.6 AGC ON); 0 Lux with IR
White Balance: Auto/Manual/ATW
Gain: Auto/Manual
Shutter Time: 1 s to 1/30000 s
Day & Night: IR Cut Filter
Digital Zoom: 16x
Privacy Mask: 24 programmable privacy masks
Focus Mode: Auto/Semi-automatic/Manual
WDR: 120 dB WDR
Focal Length: 2.8 mm to 12 mm 4x optical zoom
Zoom Speed: Approx. 2 s (optical lens wide-tele)
Field of View: Horizontal field of view: 100.5° to 32.6° (Wide-Tele); Vertical field of view: 52.8° to 18.3° (Wide-Tele); Diagonal field of view: 120.2° to 37.5° (Wide-Tele)
Working Distance: 10 mm to 1500 mm (wide-tele)
Aperture Range: F1.6 to F2.7
Movement Range (Pan): 0° to 355°
Pan Speed: Configurable from 0.1°/s to 100°/s
Preset speed: 100°/s
Movement Range (Tilt): From 0° to 90°
Tilt Speed: Configurable from 0.1°/s to 100°/s
Preset Speed: 100°/s
Proportional Zoom: Yes
Presets: 300
Power-off Memory: Yes
Compression Standard: Main Stream: H.265+/H.265/H.264+/H.264; Sub-stream: H.265/H.264/MJPEG
Video Bitrate: 32 Kbps to 16384 Kbps
Audio Compression: G.711alaw/G.711ulaw/G.722.1/G.726/MP2L2/PCM
Audio Bitrate: 64 Kbps (G.711)/16 Kbps (G.722.1)/16 Kbps (G.726)/32 Kbps to 160 Kbps(MP2L2)
SVC: Yes
Basic Event: Motion Detection Video Tampering Detection Exception
Smart Event: Face Detection Intrusion Detection Line Crossing Detection Region Entrance Detection Region Exiting Detection Object Removal Detection Unattended Baggage Detection Audio
Exception Detection: Smart Record ANR (Automatic Network Replenishment) Dual-VCA
05060020190302
ROI: Mainstream sub-stream and third stream respectively support four fixed areas.
IR Distance: 20 m
Smart IR: Yes
Max. Resolution: 1920 x 1080 @ 25fps
Image Enhancement: 3D DNR EIS Regional Exposure Regional Focus
Storage: Built-in memory card slot support Micro SD/SDHC/SDXC up to 256 GB; NAS (NFS SMB/CIFS) ANR
Alarm Linkage: Alarm actions such as Memory Card Video Record Trigger Recording Notify Surveillance Center Upload to FTP/Memory Card/NAS Send Email etc.
Protocols: IPv4/IPv6 HTTP HTTPS 802.1x Qos FTP SMTP UPnP SNMP DNS DDNS NTP RTSP RTCP RTP TCP/IP DHCP PPPoE Bonjour API ONVIF (Profile S Profile G Profile T) ISAPI SDK
Simultaneous Live View: Up to 20 channels
User/Host: Up to 32 users
Security Measures: User authentication (ID and PW) Host authentication (MAC address); HTTPS encryption; IEEE 802.1x port-based network access control; IP address filtering
Client: iVMS-4200 iVMS-4500 iVMS-5200 Hik-Connect
Web Browser: IE 8 to 11 Chrome 31.0+ Firefox 30.0+ Edge 16.16299+
Audio Interface: 1-ch audio input (mic in/line in) and 1-ch audio output (line out) 1 built-in microphone
Network Interface: 1x RJ45 10 M/100 M Ethernet PoE
Power Output: 12V DC max. 60 mA
Power: 12V DC (Max. 10.9 W including Max. 4.2 W for IR)
PoE: 802.3af (Max. 12.2 W including Max. 4.2 W for IR)
Working Temperature: -20°C to 60°C (-4°F to 140°F)
Working Humidity: 90%
Protection Level: IP66 Standard IK10 Surge Protection ±2kV Line to Gnd ±1kV Line to Line IEC61000-4-5
Material: Aluminum alloy PC PC+ABS
Dimensions: 130.7 mm (diameter) x 101.7 mm
Weight: Approx. 0.53 kg

WiFi Bridge
CPU: Qualcomm 560MHz
Antenna: 2x 14dBi
Wireless Standard: IEEE802.11 a/an
Output: 200mW (23dBm)
Receiving Sensitivity: -96dBm
Frequency: 802.11a/n 5.180-5.825 GHz
Transmission Rate: 300Mbps
Ports: 10/100 WAN RJ45 10/100 LAN RJ45 PoE slide switch Reset button
Indicator: 8x LEDs
Power Supply: 802.3af/802.3at
Power Adapter: 48V PoE
Power Consumption: <8W
Dimensions: 262x80x53mm
Weight: 322g
Operational Temperature: -40 to +55c