In Car Taxi CCTV System - 2 Dome Cameras, PoE Switch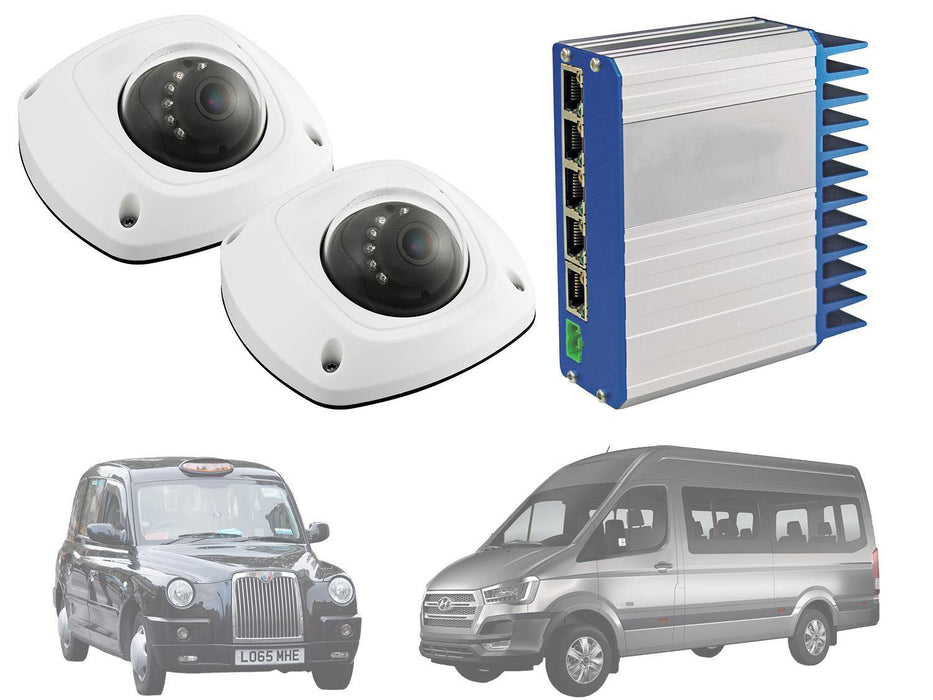 In Car Taxi CCTV System - 2 Dome Cameras, PoE Switch



This 2 camera CCTV system is designed for use inside taxis providing a comprehensive security monitoring solution for vehicles.
Minibus & Taxi CCTV System
This simple system is purpose-designed for monitoring the inside of a vehicle. It not only provides a deterrent towards abuse but also helps prevent disputes over fraudulent claims
Mini Domes
Includes two small but high-resolution cameras from the most established name in CCTV security
1080p HD Video
Captures footage in 1920x1080 Full HD resolution, packed with identifiable subject detail
MicroSD Recording
Each card records footage to an onboard memory card slot, so there's no need to set up a separate recorder. Card not included
Night Vision
Infrared LEDs and low light sensitivity combine to ensure a clear image even in completely unlit, larger vehicles
H.265+ Compression
Advanced video compression technology allows the cameras to record for far longer before having to overwrite old footage
Vandal Proof
Each camera is rated IK08, providing protection from blunt force damage
Veracity CamSwitch Mobile
Kit includes specialist PoE switch, that takes 12V power from the vehicle's battery and uses it to send power to each camera
4 Camera Ports
Switch can power up to two additional cameras, providing an easy way to expand your system at a later date
We recommend that this system is installed by an auto electrician. Once installed, connect a laptop to the switch in order to configure the cameras. After this, the cameras will automatically switch on when the vehicle's engine starts up, and record footage to the MicroSD cards on a rolling basis
What's in the box?
2x Mini dome IP cameras
2x 10m ethernet cables
1x Veracity CamSwitch Mobile
As security technology gets smaller and more powerful, it's becoming expected that taxi and minibus operators will protect their drivers & passengers with CCTV. In fact, it's now a requirement under many local authorities. In-car CCTV not only helps deter incidents or abuse but can also help prevent fraudulent claims by providing an objective record of journeys. Our Taxi CCTV system features two cameras with 1080p Full HD recording, as well as a PoE switch to power them from the battery.
The system uses mini-dome cameras - the workhorse brand of the security industry, renowned for exceptional reliability and picture quality. Each camera boasts night vision LEDs as well as low light sensitivity, ensuring a clear picture even in larger unlit vehicles. The compact domes are also rated IK08 vandal-proof, providing protection from damage. The footage is recorded to onboard MicroSD card slots, so you don't need to connect a separate recorder.
Bother cameras are powered by a Veracity CamSwitch - a PoE device that is wired directly to the vehicle's battery, outputting 12V down standard ethernet cables. When the system is first installed it requires an initial configuration with a laptop, but will then remember settings and record on a rolling basis when the engine is running.
Camera
Image Sensor: 1/2.8 Progressive Scan CMOS
Min. Illumination: 0.009Lux @ (F1.6 AGC ON) 0 Lux with IR
Shutter Speed: 1/3 s to 10000s
Lens: 2.8mm @ f1.6
Angle of view: 108°
Lens Mount: M12
Day & Night: IR cut filter with auto switch
DNR: 3D DNR
Wide Dynamic Range: 120dB
Angle of adjustment: Pan: -30°–30° Tilt: 0°–75° Rotation: 0°–360°
Video Compression: H.265/H.264(Main) H.265/H.264/MJPEG(Sub) H.265/H.264(Third)
H.264 Type: Main Profile
H.265 Type: Main profile
Video Bit Rate: 32 Kbps ~ 16 Mbps
Dual streams: Supported
Max. Resolution: 1920x1080
Frame Rate: 50Hz: 1920x1080 1280x720 @25fps(Main) 640x480 640x360 320x240 @25fps(sub) 1280x720 640x360 352x288 @25fps(third)
Image Setting: Rotate Mode Saturation Brightness Contrast Sharpness adjustable by client software or web browser
BLC: Supported zone configurable
Network Storage: MicroSD (up to 128GB) NAS (Support NFS SMB/CIFS) ANR
Smart Detection: Intrusion detection line crossing detection unattended baggage object removal face detection
Alarm Trigger: motion detection Tampering alarm network disconnect IP address conflict storage exception
Protocols: TCP/IP UDP ICMP HTTP HTTPS FTP DHCP DNS DDNS RTP RTSP RTCP PPPoE NTP UPnP SMTP SNMP IGMP 802.1X QoS IPv6
General: One-key reset anti-flicker heartbeat mirror password protection privacy mask watermark IP address filtering
Standard: ONVIF (PROFILE S PROFILE G) ISAPI
Simultaneous Live View: Up to 6 Channels
User/host: Up to 32 users 3 levels (admin operator user)
Client: iVMS-4200 Hik Connect iVMS-5200
Communication Interface: 1x RJ45 10M/100M Ethernet port
On-board storage: Built-in MicroSD/SDHC/SDXC slot up to 128GB
Operating Conditions: -30 °C to +60 °C Humidity 95% or less (non-condensing)
Power Supply: DC12V ± 25% PoE (802.3af)
Power Consumption: Max. 7.5W
Night vision range: Approx. 10 meters
Ingress Protection: IP67
Dimensions: 110x56.4 mm
Weight: 400g
Switch
Power Input Connector: Detachable screw terminal
Input Voltage: 8.5-40V DC (Minimum startup voltage is 10.5V supports engine cranking and reduce over-discharge)
Fusing: External fuse recommended 5A for 24V 10A for 12V
PoE Standards: IEEE 8023.af IEEE 802.3at not isolated from DV input
Power Budget: 80W (24V) 80W below 30c 65W above 30c (12V) 60W
Ethernet Connectors: 5x RJ45 10/100Mbps
Rates: 10BASE-T or 100BASE-T & duplex
Compatible Cable: Straight through or crossover Cat 5 Cat 5e Cat 6 VCS-8P2-MOB supports VLAN trunking
Dimensions: 110(131 with clips)x100x40mm
Mounting Brackets: 5mm holes on 122mm centres
Weight: 290g
Operational Temperature: -10°c to +50°c
Relative Humidity: <85%
Compliance: CE FCC RoHS