Outdoor Long Range Wireless 2GHz WiFi Access Point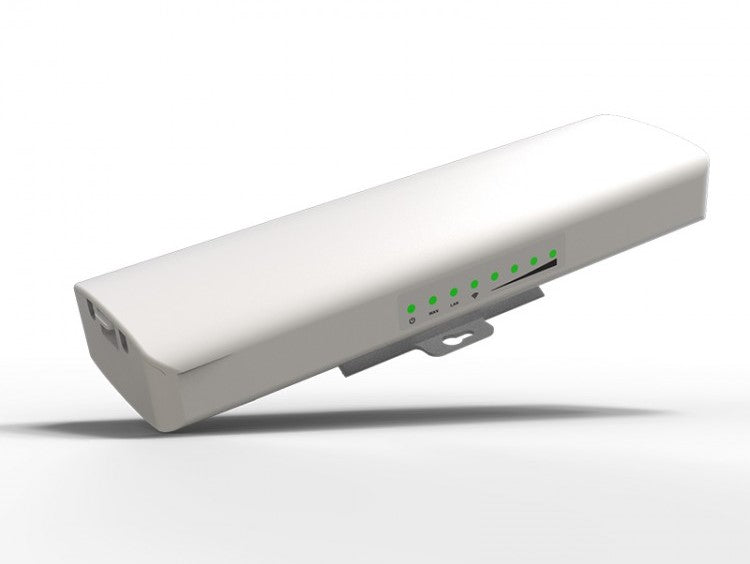 Outdoor Long Range Wireless 2GHz WiFi Access Point


This 2GHz Wireless panel allows you to transmit a WiFi access point outdoors with a range of up to 200m†. This allows you to connect to a WiFi camera from a much further distance away than a standard WiFi router can provide. This is extremely useful for transmitting a link between two buildings without having to run wiring. A pair of these panels can be used as a wireless bridge as part of a wireless CCTV system transmitting the feed from your cameras to a receiver and recorder over a large site.
High-power outdoor WiFi transmission bridge
Transmit 2GHz WiFi outdoors with this powerful panel. Link CCTV systems wirelessly across large sites.
Long-distance performance

Thanks to the dual high-gain 14dBi antennas the panel can transmit over large areas.
Power over Ethernet
No external power required thanks to PoE, allowing you to power up the panel using just one network cable.
Outdoor protection
Comprehensive protection against severe outdoor environments including lightning protection and weatherproof IP65-rated casing.

Low-temperature protection

Supports operation in sub-zero conditions.
Hide SSID
Supports the hiding of the WiFi's SSID so that can't be detected by other users.
Easy installation
Mount these lightweight units to a wall or pole-mount high up for the best coverage.
What's in the box?
1x 2GHz WiFi panel
1x Stainless steel ties
1x PoE injector
Quick installation guide
This panel creates a WiFi access point network on the 2GHz band and is designed for mounting outside in all sorts of weather. These are great for allowing you to transmit camera feeds from your CCTV cameras to another part of the site – ideal if you have a large site where running lots of cabling is impractical. This can be used as a part of a wireless IP CCTV system as the panel can be powered over Ethernet so that both data and power run down one cable.
† Provides up to a 200-metre range in clear line-of-sight. This path must be entirely obstacle-free.
Hardware specification: Qualcomm QCA9531 650Mhz industrial-grade CPU; DDR: 64MB; Flash: 8MB; Power Amplifier Chipset: SE2576L
Antenna: 2x Built-in 14dBi
Wireless standard: IEEE 802.11 b/g/n
RF parameters: Output power (max): 500mW (27dBm); Receiving sensitivity (max): -96dBm; Frequency: 2.3GHz–2.7GHz
Data rate: 300 Mbps
Modulation mode: DSSS: DBPSK@1Mbps, DQPSK@2Mbps,CCK@5.5/11Mbps; OFDM: BPSK@6/9Mbps,QPSK@12/18Mbps,16-QAM@24Mbps, 64-QAM@48/54Mbps; MIMO-OFDM: MCS 0-15
Transmission rate: 11b: 1, 2, 5.5, 11Mbps; 11g: 6, 9, 12, 18, 24, 36, 48, 54Mbps; 11n: MCS0-MCS15 (20MHz&40MHz Analog Bandwidth); 20MHz: 144.4Mbps 40MHz: 300Mbps
Physical ports: 1x 10/100Mbps WAN RJ45 Ethernet Port; 1x 10/100Mbps LAN RJ45 Ethernet Port; 1x PoE Output Slide Switch; 1x RESET Button
Indicator: 8x Indicators: Power/WAN/LAN/WiFi/Signal Strength
Power: Power Supply: Support 802.3af/at; Power Adapter: 48V POE Power Adapter
Power consumption (max): <8W
IP Index: IP65
Lightning protection: Yes, 2KV
MTBF: >250000H
Installation: Wall-mounted/pole-mounted/rack-mounted
Case: Plastic case (imported ABS material)
Dimensions; 262x80x53 mm
Weight: 0.32kg
Operating temperature: -40 to 55C
Storage temperature: -50 to 75C
Operating humidity: 10%-90% RH non-condensing
Storage humidity: 5%-90% RH non-condensing