Long Range Wireless HD Lambing Camera Kit with Outdoor IP Camera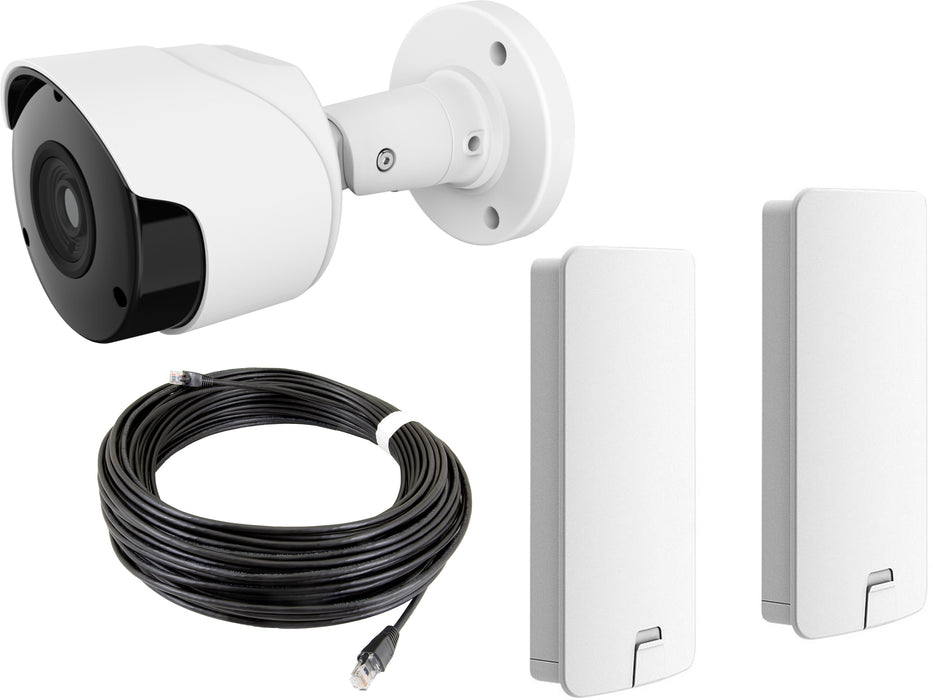 Long Range Wireless HD Lambing Camera Kit with Outdoor IP Camera






Here at SpyCameraCCTV, we have been supplying farmers and breeders with bespoke CCTV solutions since 2009. Our kits help take the stress out of lambing by allowing you to keep a close eye on all of your lambs and sheep from one place without having to constantly trudge out to barns and sheds.
HD Wireless Lambing Camera
Our farming camera kits have been used in the industry for years. This is our first system to use IP cameras providing HD quality and incredibly long range
Gamut IP Camera
Records digital video and sends it as data down a network cable. Much higher quality than a traditional wireless camera
1080p HD
Captures and transmits video at 1920x1080p for excellent detail
30m Night Vision
The camera's IR LEDs provide 30m night vision for use in unlit barns & sheds
Weatherproof
Metal housing allows the camera to be used in exposed outdoor locations
Transmits Up To 3km
Uses WiFi transmitters to send video, providing a massive range. Please note transmitters need a direct line of sight to work, obstructions will block signal
20m Network Cables
20m ethernet cables provide flexibility when installing transmitters
Mobile Access
Connect kit to your router to view the camera via PC, Smartphone or Tablet
What's in the box?
1x Gamut 1080p HD IP Security Camera
2x 20m Ethernet Cables
2x 3M Ethernet patch cables
2x WiFi Bridges
2x Pole mounts for panels
2x Mains Power Supplies for Bridges
2x PoE Injectors
2x Sets of fixings for transmitters
2x Sets of mounting screws
Tech Support Card
FREE 1 Year Premium Support - This pack includes 1 Year FREE of our Premium support package for priority telephone support. Please call and book this in for the next available time slot.
This HD lambing camera kit is the very latest in this range, combining a 1080p Full HD IP camera with a powerful WiFi transmitter, letting you view the camera over unprecedented distances.
You will be able to protect your animals remotely, and also your property against rural crime, without having to constantly strut outside or disturb the animals anymore, so you can leave the wellies at the door and stay snug inside!
Unlike other farm CCTV systems that use traditional analogue cameras, this pack uses a Gamut IP camera, recording digital footage and then sending it down a network cable. This allows a massive step up in image quality, with the camera recording 1920x1080p HD. Not only that but because the camera connects straight to your router, you can easily log in to your camera to view live footage using a PC, smartphone or tablet. This makes it easier than ever to monitor your animals during this stressful time of year.
Because the kit uses an IP camera, it also means we can use more advanced wireless technology. This kit includes a set of WiFi transmitters. When they have a direct line of sight, these powerful devices can transmit and receive signals from the camera at distances up to 3km. Because they need a completely clear sightline in order to work, the kit includes pole mounts, so you can set them at an elevated height away from obstructions.
This pack includes 1 Year FREE of our Premium support package for priority telephone support. Please call and book this in for the next available time slot.
Camera
Resolution: 2MP 1920(H)x1080(V)
Image Sensor: 1/2.7 Progressive CMOS
Min. Illumination: colour 0.1lux @ F1.2(AGC ON) ; B/W 0 lux @ IR ON
Shutter: 1/5 ~ 1/20000s
Slow Shutter: Support
Lens: 3.6 mm H.FOV: 87°
Day & Night: IR cut filter with auto switch/Day/Night/Auto/Schedule 
Digital Noise Reduction: 3D DNR
WDR: Digital WDR
Video Compression: H.265/H.264
Video Bitrate: 256Kbps ~ 8Mbps
Stream: Dual
Frame Rate: Mainstream (1 ~ 25 fps)
1080P(1920x1080) 960P(1280x960)
720P(1280x720) - Substream: VGA(640x480)QVGA(320x240)
Image Settings: Flip mode Saturation Brightness Contrast Hue Sharpness adjustable
BLC: Support
Privacy Mask: Support
Video Analytics: N/A
Protocols: TCP/IPHTTPDHCPDNSDDNSRTP/RTSPPPPoE
SMTPNTPUPnPSNMPHTTPSFTP
System Compatibility: ONVIF( Ver 2.6 Profile S Profile G)
Interface: RJ45 10M / 100M Ethernet interface x1
Led : 18pcs(SMD)
IR Range: Up to 30m
SD Storage: no
Alarm Trigger: no
Built-in Mic: no
Audio:no
Video Output: no
Reset Button: no
PoE: yes
Weatherproof: IP66
Power Supply: DC 12V/POE
Consumption: 7W
Dimensions: 69 x 138mm
Weight: appr. 320g
Storage Temperature: -30–+60°C
Operating Temperature: -30–+55°C