Low Light Mini Bullet Outdoor Spy Camera 2MP TVI 4-in-1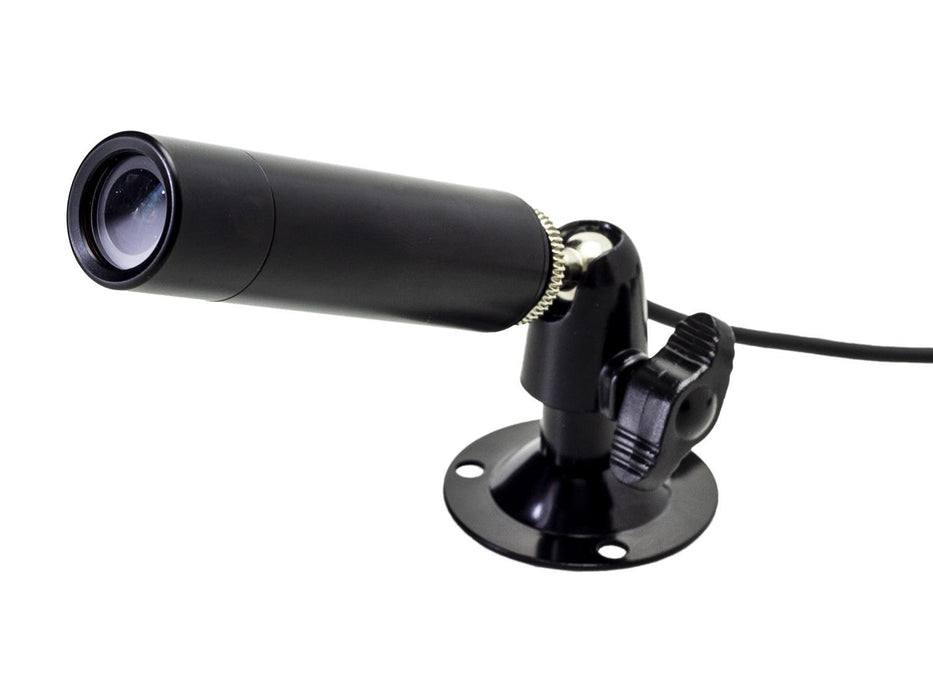 Low Light Mini Bullet Outdoor Spy Camera 2MP TVI 4-in-1
Product Code:
NNTV205MBGB




Our discreet mini bullet spy camera allows you to perform covert surveillance without having to compromise on quality.
Discreet Mini Bullet Spy Camera
Small form factor allowing you to position the camera in tight spaces without it drawing attention.
Low Light
Features a sensitive imaging chip, which means it produces clear pictures at very low light levels without the need for IR LEDs.
Weatherproof
The casing is rated IP66, which means you can place the camera outside without rain ingressing into the delicate internals.
4-in-1 Compatibility
Excellent compatibility across TVI, CVI, AHD and analogue systems and ability to capture plenty of fine detail. Works in HD modes at 2MP and in CVBS mode at 950TVL.
Plug-and-Play
Simply connect into a recorder to capture hours of footage using the industry-standard BNC connection.
Sturdy Wall Bracket Included
The adjustable bracket mount allows you to point the camera exactly where you need to and also attach it to an internal or external wall.
OSD Controller
Easily amend the camera's settings by using the supplied controller.
Wide Dynamic Range
This camera is suited to outdoor high-contrast lighting conditions created by the sun thanks to its WDR capability.
What's in the box?
1x Low Light Mini Bullet Spy Camera
1x Adjustable bracket
1x OSD Controller
1x UK mains power supply
We have installed a 2 megapixel Panasonic imaging chip to capture the best images even at extremely low light levels. This removes the need for power-hungry infra-red LEDs that consume power and make the camera more noticeable to passers-by.
This high-resolution camera packs into a mini bullet camera form factor to ensure it doesn't attract attention to itself. The casing is IP66 rated meaning it is sealed from outside water ingress, making it suitable for outdoor usage. Due to its shape and the adjustable bracket, you can fit the camera into tight spaces and precisely point where you want the camera to look.
With 4-in-1 compatibility, you can simply connect the camera to any CCTV recorder featuring a BNC connection to capture hours of footage. You can use one of our TVI recorders to record in resolutions up to 2MP or set it to CVBS mode to use with analogue recorders.
We have included an OSD controller so that you can fully control the camera's settings down-the-wire by using the mini joystick. This is important when it comes to setting it up with your recorder.
Image sensor
1/3" 2.12MP Panasonic CMOS
Total pixels:
1956 x 1266
Effective pixels
1944 x 1092
Scanning system
Progressive
Resolution
TVI AHD CVI 1080p/CVBS 950TVL
Min. illumination
0.005 Lux (Colour)/0.0008 Lux (B&W)
Video output
TVI/AHD/CVI/CVBS
S/N ratio
>52dB (AGC off)
Field-of-View
96° - D 115°/H96°/V51°(1/3" LENS)
Shutter speed
1/25 ~ 1/50000 sec
Sens-up
Auto (x6)/x2/x4/x6/x8/x10/x15/x20/x25/x30
Backlight compensation
Off/BLC/HSBLC
Day & Night
Auto/Colour/B&W/Ext
White balance
ATW/AWC-Set/Indoor/Outdoor/Manual/AWB
Digital effect
Off/Mirror/V-Flip/Rotate & Freeze
Language
Eng/Chn/Ger/Fra/Ita/Spa/Pol/Rus/Por/Ned/Tur/Jpn
Power input
DC 12V (100mA)
Operating temperature
-10 to 50 degrees
Storage temperature
-20 to 60 degrees