Refurbished 5MP HD Tiny Pinhole Spy Camera - 3-in-1, OSD Controller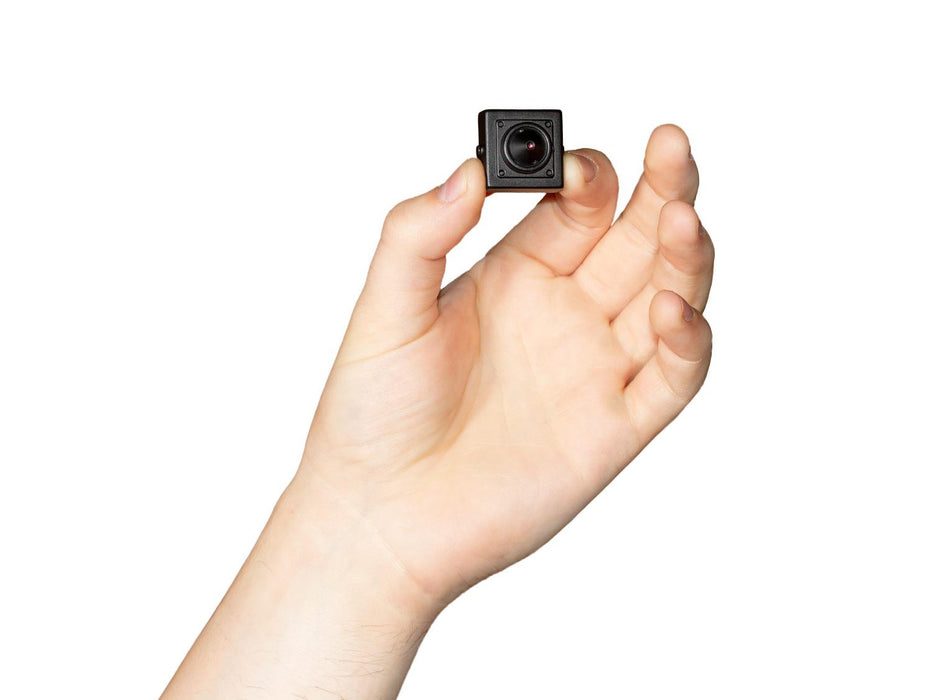 Refurbished 5MP HD Tiny Pinhole Spy Camera - 3-in-1, OSD Controller
While stocks last, Black Friday special
This tiny pinhole spy camera produces incredibly quality video at 5 megapixels making it ideal for covert surveillance.
The tiny camera measures 25x25mm so is easy to put in a discreet location and not be noticed. Wiring back to either a TV or a DVR allows you to view what the camera can see. If paired with a DVR will also provide recording functionality.
Refurbished product: This product is a customer return, ex-display or has been used for technical testing. All refurbished products have been fully tested and operate normally, however, they may have had some light use and some may have cosmetic damage, such as screw marks or damaged/missing packaging.
Covert Spy Camera
Tiny pinhole camera, purpose-designed for covert security. Ideal for tricky situations such as monitoring carers or staff theft
Our Smallest Camera
Absolutely minuscule camera measures only 25x25mm, making it easy to conceal
5MP Video
Despite its size, the camera records high-resolution video at up to 2688x1920 resolution, capturing over twice the detail of Full HD
Low Light Recording
The camera can keep recording in rooms with dim lighting
Full Colour Video
Records in full, true-to-life colour down to 0.5lux, before switching to black and white to boost sensitivity
Pinhole Lens
Records through gaps as small as 2mm wide, allowing the camera itself to stay hidden out of sight
3-in-1
Compatible with HD-TVI, AHD & CVBS allowing it to work with most legacy CCTV recorders and monitors. A great option for adding to an existing kit
Plug-and-Play
No confusing configuration process is needed to get the camera up and running. Just plug in the twist-fit BNC connector
OSD Controller
Ships with a small plug-in controller to adjust picture settings such as white balance and back-light correction
940nm IR Filter
Features 940nm IR filter, which means can detect sources of "invisible infrared" night vision
What's in the box?
1x Pinhole spy camera
1x OSD controller
1x Mains power supply
All too often, setting up a covert CCTV system means having to compromise on picture resolution. This is a big problem in many scenarios, for example, if you're trying to set up a camera to watch what staff are doing at the till. Luckily, this tiny pinhole camera provides an ideal solution, boasting an incredible recording resolution of 5 megapixels, despite measuring a tiny 25x25mm.
The advanced imaging sensor records video at up to 2688x1920, capturing over twice the picture detail of Full HD. The resolution can also be dropped down to 4MP if widescreen video is required. All of this is recorded through a tiny pinhole lens, capable of seeing through gaps as small as 2mm. This allows you to keep the camera itself neatly concealed, for example in a drawer or at the back of a shelf.
The camera's 3-in-1 technology means it's compatible with HD-TVI, AHD and CVBS video systems. In other words, it should be backwards compatible with most legacy CCTV systems and is a great option for expanding an existing kit. We have also included a plug-in control for the camera's on-screen display, letting you quickly change settings such as white balance and back-light compensation.
Imaging Sensor
1/2.7" CMOS
Resolution
2688x1440 2688x1920 950TVL (CVBS)
Video Output
TVI 2.0 AHD 2.0 CVBS
Minimum illumination
0.5lux (colour) 0.1lux (B&W)
Field-of-View
80° - D100°/H80°/V59°(1/2.7" Lens)
White Balance
ATW AWC-SET
Backlight Compensation
OFF BLC
Day & Night
AUTO COLOUR BW EXT
3DNR
OFF LOW MIDDLE HIGH (exc CVBS)
Digital Effect
OFF MIRROR V-FLIP ROTATE & FREEZE
Language
ENG GER FRA ITA SPA POL RUS POR NED TUR KOR JPN HEB ARB
Operational Temperature
-10 to +50c