Refurbished Gamut 8-Channel 4-in-1 HD CCTV DVR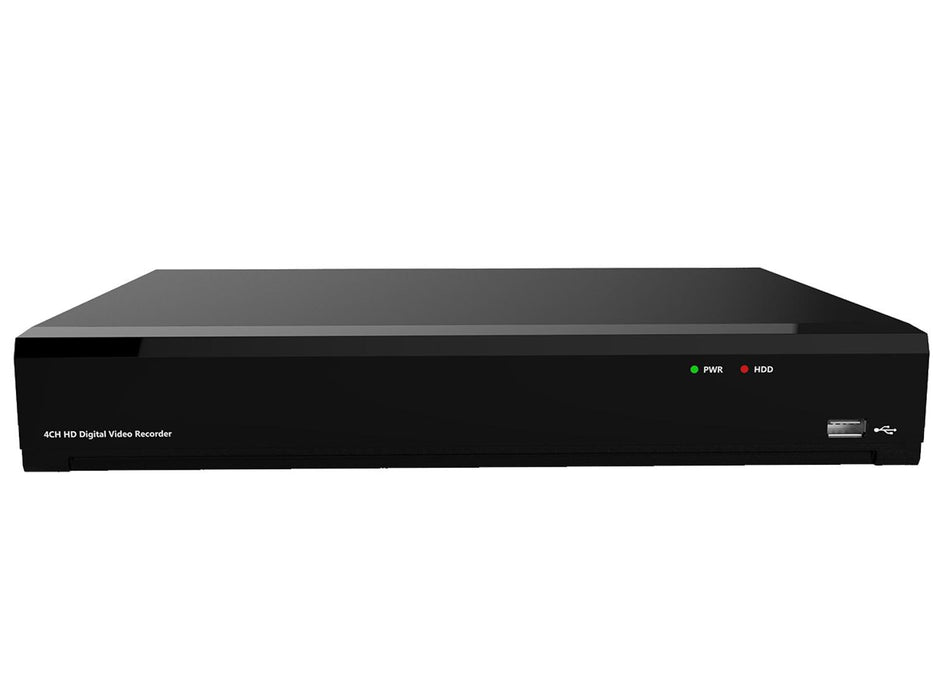 Refurbished Gamut 8-Channel 4-in-1 HD CCTV DVR







Refurbished product: This product may be a customer return, ex-display or have been used for technical testing and will have been opened and have had some use. All our refurbished products have been fully tested and repackaged as best as possible but please be aware that some units may have light cosmetic damage, such as damaged or missing packaging and screw fixings damage.
Part of our professional Gamut CCTV range is this dapper DVR, which lets you connect up to 8 coax CCTV cameras to the recorder. With a bit of extra configuration, you can also add up to 4 IP cameras via your network. This recorder supports Full 1080p HD to ensure that you view and record the most detailed footage.
Thanks to its 4-in-1 compatibility you will be able to connect to all major analogue camera video formats, including CVBS, TVI, AHD and CVI. Despite this recorder's high flexibility, it is still super easy to set up! All you need to do is hook up the camera to the recording with the BNC connection.
Need more storage? No problem. This DVR supports an HDD up to 6TB in capacity, so you won't run out of recording storage soon! Just pick an optional hard drive from the drop-down menu, suited to your needs. And for even more storage space, you can benefit from the latest H.265 compression encoding technology. Thanks to this, you can store more and better quality video in less storage space.
What's more, you can access the recorder online! Simply connect it to your network so you can view your footage from your PC, smartphone or tablet. Easy as pie!
What's in the box?
1x Gamut 8-Channel 4-in-1 HD CCTV DVR
1x UK mains power supply
1x USB mouse
1x English setup instructions
8-Channel CCTV Recorder
Connect up to 8 coax cameras to the recorder to view and record full quality footage
1080p HD Recording Resolution
The recorder supports Full 1080p HD video to ensure that you capture the most detailed footage
Connect up to 4 IP Cameras
You can also add up to four IP cameras to the recorder via your network (further configuration required)
4-in-1 Compatibility
Supports all major analogue camera video formats including CVBS, TVI, AHD and CVI
Plug-and-Play
Simply hook up the camera to the recorder using the BNC connection
Add up to 6TB of Storage
Supports an HDD up to 6TB in capacity for plenty of recording storage. You can add an optional hard drive from the drop-down menu above
H.265 Compression
This latest encoding technology allows for more video to be stored in less storage space
Online Access
You can connect the recorder to your network for remote viewing on your PC, smartphone or tablet
HDMI Output
View the recorder's output on any monitor with HDMI in up to 4K
Video Compression: H.265/H.264
Video System: NTSC/PAL
Operation System: Linux (embedded)
Analogue Video Input/Output: 8CH inputs/VGA and HDMI output
IP Video Input: 4ch (only IP up to 6ch)
Composite Video Input: up to 12ch (analogue video + IP video)
Audio input/output: 8CH inputs/1CH output (RCA)
Display Resolution (TVI): 5MP-Lite: 20fps, 4MP-Lite: 30 fps, 3MP: 18fps, 1080p/720p/960H: 30fps
Display Resolution (IP): 5MP/4MP/3MP1080P/720P
Display Feature: 1/4/6/8/9/S.E.Q.
Record Resolution (TVI): 5MP-Lite/4MP-Lite/3MP/1080p/720p/960H
Record Resolution (IP): 5MP/4MP/3MP/1080p/720p 
Record Frame Rate (TVI): 5MP-Lite: 15fps, 4MP-Lite: 18fps, 3MP: 10fps, 1080p: 15fps, 720p: PAL: 25fps
Record Frame Rate (IP): 25fps
IP Maximum Input Bandwidth): 16Mbps~48Mbps
Maximum Output Bandwidth: 64Mbps
Maximum Decode Performance: 1080P: 120fps
Recording Mode: Continuous/Manual/Motion detect
Synchronous Playback: 8 channels
Network Type: LAN DHCP and DDNS
HDD Interface: 1x SATA HDD up to 6TB
Multiplex Operation: live display record playback backup and network
USB: 2x USB (for mouse and backup/upgrade)
Sensor & Alarm I/O: 8CH inputs /1CH output
PTZ Control: yes (RS485)
Smartphone Compatibility: iOS Android
VGA/HDMI: 1024x768/1280x720/1280x1024/1440x900/1920x1080/2560x1440/3840x2160
Power Supply: DC 12V 2A
Dimensions: 300x227x53 mm (WxDxH)
Working Temperature: -10°C ~ +55°C
Working Humidity: 10% ~ 90%