Direct & Secure Personalised DNS for Remote Live Viewing of Recorder (1 Year)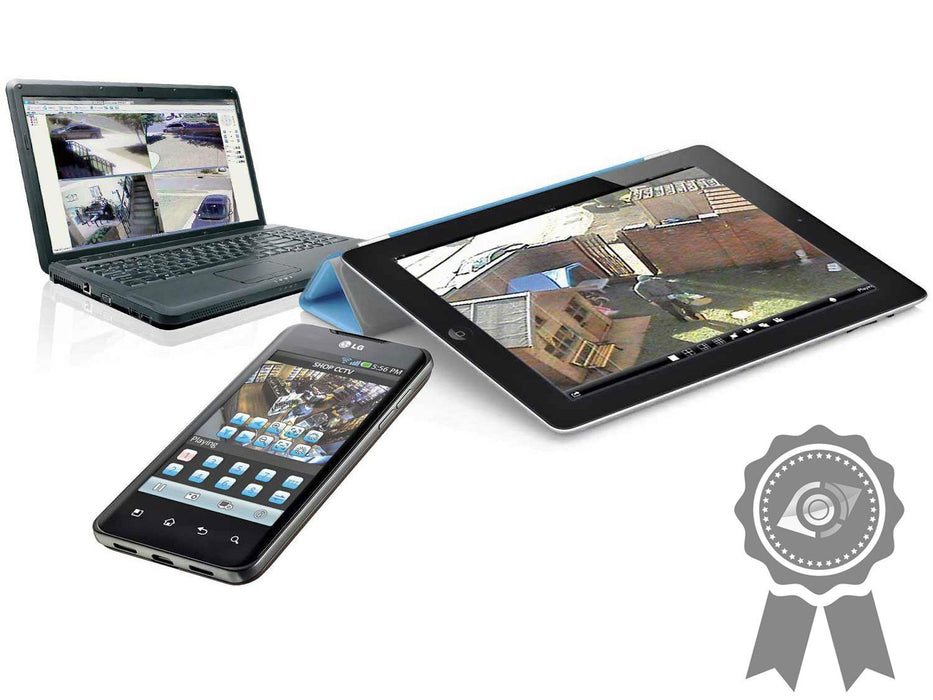 Direct & Secure Personalised DNS for Remote Live Viewing of Recorder (1 Year)
After purchase, please contact our Helpdesk team to book a time slot. *Please note this support is for retail customers only. Please

 

click here for our

 

trade support options.*
Email support
First working day email response within 24 hours
Personalised DNS Address
Includes personalised DNS address and engineer setup for remote viewing of your CCTV system via mobile device or computer
Direct Access to your Security System
Directly connect to your equipment remotely, no need to use manufacturer apps hosted in other countries
What's included?
Everything in our FREE Email support package plus:
Personalised DNS address and booking with engineer for DVR/NVR setup
Direct secure remote viewing for enhanced control of CCTV system
Faster response time for email enquiries - within 24 hours
Access to our help with setting up systems using guides, manuals and videos
FAQs

Can I buy the LIVEVIEW Addon after I have purchased the goods?
Yes, you can sign up to the LIVEVIEW NVR or DVR set up package at any time following the purchase of your goods.
How quickly should I expect assistance and support?
The LIVEVIEW package is an enhanced email support package where you will experience faster response than with our free package, this is to ensure your equipment is back online and working as soon as possible. We aim to get a first response to you via email within the advertised Service Level Agreement (SLA) time.
Please submit your ticket through our help portal or email help@spycameracctv.com with a clear outline of the issues your facing and with as much detail as possible. Please also provide your order number to speed up the response times. The more detail you provide, the more likely we can solve your problem first time. The Helpdesk engineers will respond within 24 hours, usually much quicker!
Should further information be required we will either respond by email or an operative may call you if the issue is more complex.
You can also log a ticket through our help portal selecting the correct priority level. Your ticket will then be prioritised and dealt with as quickly as possible within the SLA timeframe.
Our first response is always within the SLA timeframe but if you require additional assistance on your system, we will work with you to prioritise further analysis on a case by case basis. On some occasions, you may need to be booked in with one of our engineers. In all circumstances, we aim to conclude your query as quickly as possible and will work with you to deliver this to suit your needs.
What do I do when I receive my system and am setting up for the first time?
Before the booking, please ensure you have all equipment ready to go. We then recommend you set the system up on your workbench or table before drilling any holes. If you have questions about your system, write these down ahead of the appointment. Our team can field initial emails to help you with guidance on wiring as necessary and point you to the right manuals and guides to assist your set up as necessary, but the booking is not a system support booking.
If you are finding the set up difficult and struggling with the technology or wish to book extra time for a tour, we are here to help. We can book you in for our engineer setup service for a small fee and one of our team can help you get the equipment working and give some basic operating instructions. This can even be booked alongside the LIVEVIEW set up.
If you reset your router or get a new router within 3 months following the set up, you will be required to pay a £15 set up fee for us to get you up and running again.
IMPORTANT: Please do not mount your cameras and other equipment on walls etc. until you are happy it is working correctly. If you encounter problems, the first thing we ask is you bring the item back to your office/workbench.
What do I have to do before the LIVE VIEW set up with your engineer?
When you purchased the system from us and signed up to the LIVE VIEW package, you will have been offered a booking time or informed of the need to book. Our set up service is very popular and can take up to an hour to complete, so please make sure you book early to avoid disappointment. As a LIVEVIEW customer, we always try and prioritise your set up. Please contact our helpdesk help@spycameracctv.com to make your booking.
Before the booking, you need to make sure you have downloaded our remote software to avoid delay. If you do not, you may miss your appointment. This software link is sent to you on the email following the booking confirmation.
What happens during the remote viewing set up with the engineer?
The engineer will configure your system with secure direct connection so you can access it remotely. We just need access to a local PC, recorder and your permission to access your router. This is a professional DNS set up which allows for a direct and secure connection to your security system, bypassing any manufacturer apps which are accessed via servers in other countries.
If you need a hand with configuring your recorder or smart cameras this can be done at the same time as our engineer set up service for a small fee. Or for our full service, you may wish to consider our PREMIUMSUP6 package which includes an extended warranty, faster first response and covers telephone support and guidance where necessary.
What if I need further assistance and help?
Your email contact will always be prioritised, and our team will help you find the right information to help you with solving the issue using guides, manuals and videos.
How do I make sure I maintain my support and personalised remote viewing address?
Payment is made via direct debit and we will contact you after 12 months if there was any problem with payment. Should your service go unpaid for 14 days after the anniversary of your sign up, your personalised remote address will be turned off and you would no longer be able to view your recorder using this service.
The Legal Bit
Cancellations or if you change your mind: If you decide to cancel your LIVEVIEW Support, this can be done within 30 days of purchase providing you have not booked in and received the remote viewing set up service.
Our commitment is to enable you to understand and manage your own system and support you via email, helping in those situations where you are stuck with guides, videos and pointers to manuals. It is not an offsite monitoring service or computer support service.
Price increases: We reserve the right to increase prices from time to time and in line with the market costs of delivering comprehensive value for money service. We will give you a minimum of 30 days' notice by email prior to your renewal before any price increases take effect.
Changes to our terms: We may make changes and amend our terms from time to time to improve clarity. Any substantial changes affecting your warranty or SLA service times will be sent to you by email 30 days before they take effect. Improvements that are to your benefit will be instantaneous.
If you have any further questions or something is not covered above, please get in touch with our sales team.