Green Feathers Bird Box Camera TV Cable Connection (Camera only)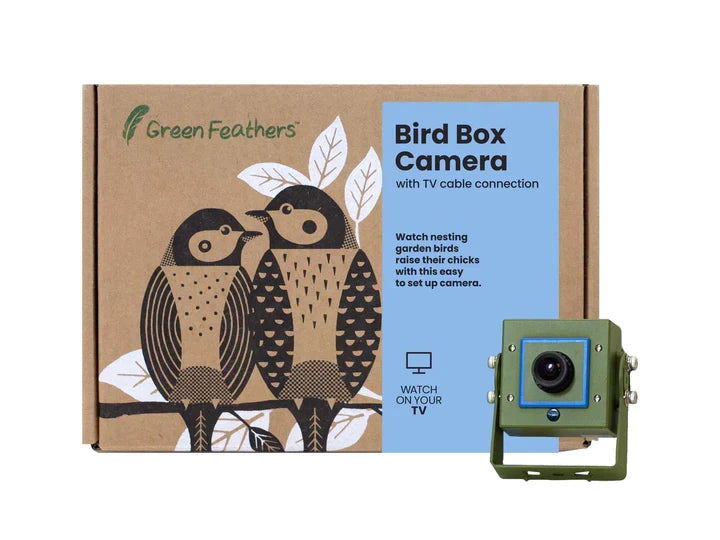 Green Feathers Bird Box Camera TV Cable Connection (Camera only)
Product Code:
GFST1GB-B01
A spare wired bird box camera with a mains power supply, with the option to add a cable if needed.
Whether you're adding another of our classic wired bird box cameras to your setup or replacing an existing one, this tiny camera provides a great way to start videoing nesting birds with a solid connection. Now with a new and improved IR filter with infrared cut. Designed to give better quality, true to life coloured images in the day and crisper black and white at night with infrared night vision.
This camera only solution allows you to replace an old or faulty camera and will fit any standard audio video and power cable (an adapter may be required for BNC video cable). If you're looking for more accessories for your setup, don't forget to add an RCA cable (audio, video and power) for TV viewing, available in 5m-50m. You could also add an LED lamp for crisper daytime images or an AV to HDMI converter, allowing you to connect to your TV with a universal HDMI connection.
Tiny camera
Measuring just 44 x 44 x 33mm it fits perfectly inside a small bird box
Robust Video
High-quality sensor for crisp, clear images at 700 TV lines
Night Vision
Invisible infra-red LEDs provide night vision for around-the-clock viewing
Adjustable Focus
To ensure sharp images
Easy Connectivity
Connects directly to TVs and recorders
12V Connection
Allows you to run power up to 50m and is compatible with all of our cables and accessories.

Infrared Cut 
Built-in IR cut gives true to life colour images in the daytime and crisper black and white night-time images.

Easy Mount Bracket 
Use 1 x 5mm bolt to mount your camera with ease. 

Anti Twist Bracket Design
The Green Feathers anti twist bracket design means birds don't knock the camera when set up.
Clever Anti-Tamper Case 
A sealed case design, created to stop bugs and critters crawling into the camera and causing problems.
1x Wired bird box camera
1x UK mains power supply
Quick setup guide
Video: PAL/NTSC
Image Sensor: OV7949/OV7950
Resolution: 700 TV Lines
Image form: JPEG
Image pixels: PAL (H X V): 512 X 582 
Video form: AVI
Minimum illumination: 1 Lux 
Lens: 2.8mm
Mount: C/CS Mount
White balance: Auto 
S/N ratio: >48dB(AGC Off)
Backlight compensation: Auto 
Electronic shutter: 1/50(1/60)-1/100,000 seconds
Operation temperature: -20 to 50 degrees Celsius
Power Supply: DC 12V <500mA