SpyPoint 4K Trail Camera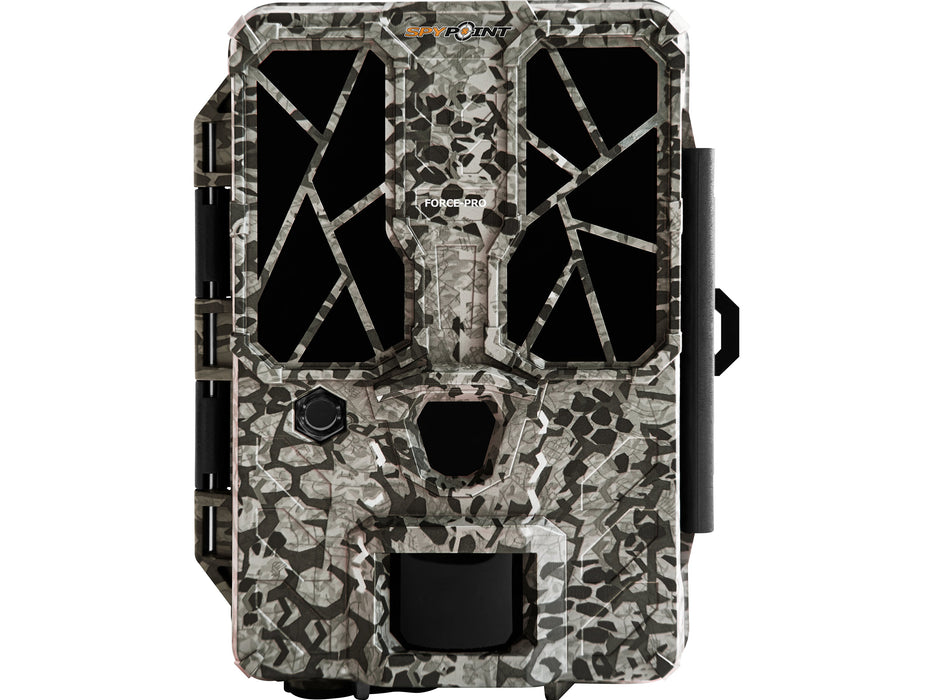 SpyPoint 4K Trail Camera
Product Code:
SPYFORCEPRO
This trail camera delivers the best video quality ever thanks to its 4K video recording, making it an outdoor camera powerhouse.
4K Video
Capture video in up to 4K (3840×2160) for the best quality footage possible from a trail camera!
30MP Photos
Take stills rich with detail by maxing the quality out at 30 megapixels.
Invisible no-glow LEDs
Not daytime? No problem! You can set the LEDs on the front to produce invisible light to illuminate subjects without startling them or drawing attention.
Fast trigger speed
Trigger speed is a tiny 0.2 seconds and up to 33-metre detection range, meaning you won't miss a thing!
Multiple capture modes
Features flexible modes suited to your needs, whether that is a single photo, multi-shot photos, timelapse or video.
LCD screen
Features an LCD screen for configuring settings on the camera.
Includes 16GB SD Card
Images and video are captured to SD card for later playback. Included is a 16GB SD card.
Other power sources
Optionally there are three other additional methods for powering the camera. You can use 8x AA batteries, a Li-ion battery pack or connect in a 12-volt battery.

The FORCE-PRO from SPYPOINT delivers quality never before thought possible in a trail camera. Still images are delivered in 30MP resolution, so every detail is available for your scrutiny. Similarly, video can be captured in 4K mode, delivering images so clear you would think you were in the woods seeing them in real-time.
The FORCE-PRO isn't just taking pretty pictures. It's a workhorse trail camera, with all the features you need, like the fast 0.2-second trigger speed. At less than a quarter second, fewer animals will be missed than with other cameras whose trigger speeds are closer to a full second. Not only that, but with a detection range out to 33 metres, more animals are in range to be captured anyway.
Supports SD cards up to 128GB (16GB card included).
1

×

4K Trail Camera
1

×

16GB SD card

1× Camera strap
Quick Start Guide
AA batteries are sold separately.

Photo
Image resolution: 4MP (default), 16MP, 30MP
Photo file format: JPEG
Timelapse mode: 5, 10, 15 or 30 min intervals
Multi-shot mode: Up to 6 photos per detection
Stamp on picture: Date, time, moon phase, and temperature stamp
Capture mode: Colour (daytime), black and white (night)

Video Recording
Resolution: 4K (3840×2160). QHD, FHD, HD, VGA
File Format: AVI
Sequence length: 10–60 seconds
Capture mode: Colour (daytime), black and white (night)
Sound Recording: Yes
Memory
Memory Card: Includes a 16GB SD Card (Supports up to 128GB)

Viewing
Built-in screen: LCD (for configuration of settings only)
Power
Battery Power: 8× AA batteries (not included)
DC Power: 12V jack (external battery)
Detection System
Movement detector: Infrared captor
Detection angle: 40°
Detection range: 33.5m
Trigger speed: 0.2 seconds
Delay between detections: Instant to 60 min
Night Lighting System
IR: 54× LEDs
Night light range: Up to 27m
Exposure: Auto

General
Dimensions (H×L×P): 127×98×69mm
Operating temperature: -30°C to 50°C
Storage temperature: -40°C to 60°C
Tripod Mount: ¼"-20
Certification: FCC, CE