SpyPoint HD Solar Powered Trail Camera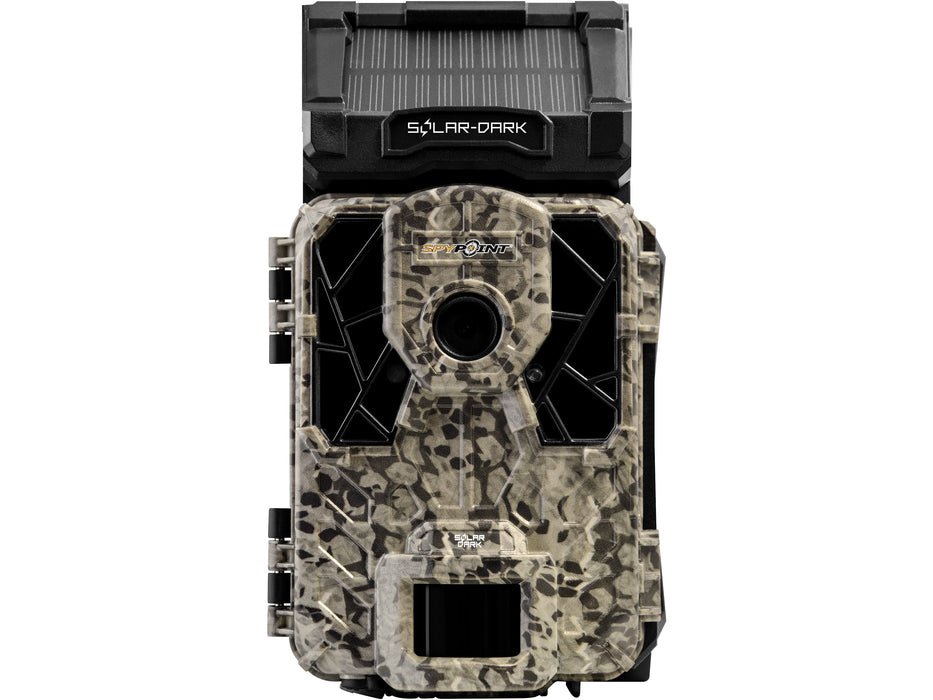 SpyPoint HD Solar Powered Trail Camera
Product Code:
SPYPSOLARDK
Using its integrated solar panel and battery, this trail camera can be powered by the sun! This saves you from having to regularly change AA batteries at the site of the camera.
Solar-powered trail camera
Featuring an integrated solar panel and battery, this trail camera can be powered by the sun. 
1080p HD Video & 12MP Photos
The camera captures sharp and detailed HD video with audio and 12 megapixels still images.
Invisible no-glow LEDs
Not daytime? No problem! You can set the LEDs on the front to produce invisible light to illuminate subjects without startling them or drawing attention.
Lightning-fast trigger speed
Trigger speed is a tiny 0.07 seconds and up to 33-metre detection range, meaning you won't miss a thing!
Multiple capture modes
Flexible modes suited to your needs whether that is a single photo, multi-shot photos, timelapse, video or image and video.
2" Colour screen
Features an LCD colour screen for configuring settings on the camera.
Includes 16GB SD Card
Images are captured to SD card for later playback. Included is a 16GB SD card.
Other power sources
Optionally there are three other additional methods for powering the camera. You can use 8x AA batteries, a Li-ion battery pack or connect in a 12-volt battery.
This Solar-powered trail camera features a built-in solar panel and rechargeable battery for unlimited battery life. Despite the power method, this trail camera is a powerhouse with 12-megapixel stills capturing up to 6 photos per detection and 1080p HD video with sound.

Other features include the 42 invisible non-glow infrared LEDs and a 2-inch viewing & configuration screen with zoom and pan functions when reviewing photos.

The camera was designed to be powered by an internal rechargeable battery by means of an integrated solar panel. This is generally sufficient for the proper operation of the device but it is recommended to charge the internal battery for 24 to 48 hours before your first use.
While the camera is in use, if the internal battery charge becomes insufficient, the camera will go into standby mode. Once the solar panel has recharged the battery, the camera will restart by itself with the same mode and configuration as before.
If you configure the camera in a way that requires a lot of power or install it in a space with little ambient light, or simply for safety, it is recommended that you consider using a secondary power source. When the internal battery charge becomes insufficient, the camera automatically connects to the available optional power source.
1x Solar Powered Trail Camera
1x 16GB SD card
1x 12V USB cable
1x Mounting bracket
1x Installation strap
Quick Start Guide
Optional battery packs sold separately.
Photo
Image Definition: 12MP
File Format: JPEG
Timelapse Mode: 1 min to 24 hour intervals
Flash Range: 27.4m
Trigger Speed: 0.07s
Stamp on Pictures: Date, time, moon phase and temperature (℃/°F)
Multi-Shot Mode: Up to 6 pictures per detection
Capture Mode: Colour during daytime, black and white during nighttime

Video Recording
Video Resolution: 1080p HD
File Format: AVI
Sequence Length: 10s to 90s
Stamp: Date, time, temperature (°C/°F) and moon phase
Capture Mode: Colour during daytime, black and white during nighttime

Audio
Sound Recording: Yes

Memory/Power
Memory Card: SD/SDHC card (up to 32GB)
Power: Solar Panel w/ internal battery; 8x AA batteries (optional)
Display
Built-in 2" ACL Screen: 2" LCD screen for configuration only
Power sources
Internal Rechargeable Battery: Included and non-accessible
Alkaline or Lithium Batteries: 8x AA (not included)

Detection System
LEDs: 42x LEDs
Illumination Range: Up to 24 metres
Exposure: Automatic infrared level adjustment
General
Dimensions: 175×96×99 mm
Operating Temperature: −30 to 50°C
Storage Temperature: −40 to 60°C