Hikmicro Lynx 6mm Smart Thermal Surveillance Monocular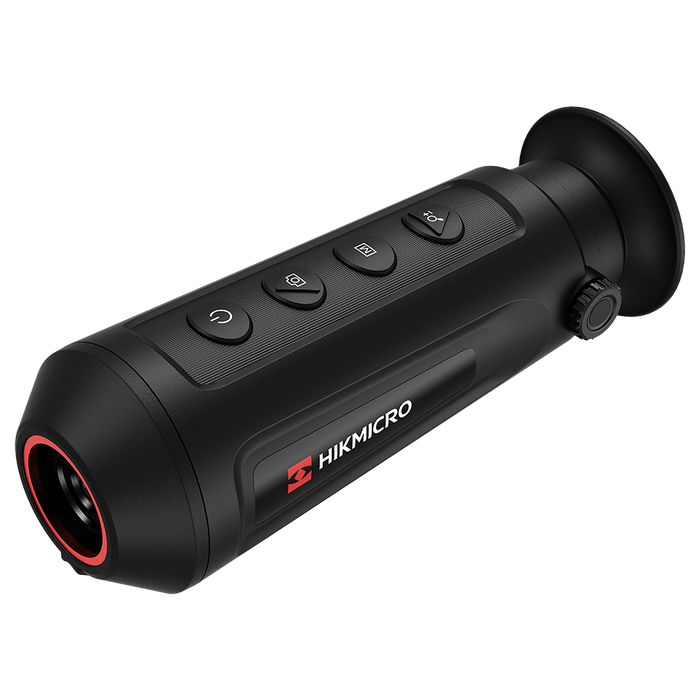 Hikmicro Lynx 6mm Smart Thermal Surveillance Monocular
Product Code:
HIKMICRO-LC06 (6mm)
High sensitivity thermal module with 160 x 120 resolution
Leading thermal image processing technology - Adaptive AGC, DDE, 3D DNR
Resolution - 720 × 540 resolution 0.2-inch LCOS display
Built-in rechargeable lithium battery - Up to 10 hours continuous operation
Hot Track -

 

activate Hot Tracking and your Lynx Pro will highlight the hottest spot detected in the current frame with a green crosshair.
T-Vision App compatibility

 

- Connect, Stream and Record to your Smart Phone.
The HikMicro LC06 handheld thermal monocular sets a high standard for surveillance equipment, offering a range of advanced features suitable for various applications, including surveillance, patrolling, search and rescue operations, hiking, and travel.
This model is equipped with a high-sensitivity thermal module with a resolution of 160 x 120, capable of capturing even the smallest temperature differences. This, combined with a Noise Equivalent Temperature Difference (NETD) of less than 35 mK at 25 ° C, allows for superior image quality even under challenging conditions. The high resolution, along with leading-edge thermal image processing technologies like Adaptive AGC, DDE, and 3D DNR, ensures clarity and precision, vital in surveillance scenarios where discerning detail is crucial.
To enhance viewing comfort and user experience, the LC06 includes a 0.2-inch LCOS display with a 720 × 540 resolution. This sizable, high-resolution display provides a clear and comprehensive view of your surroundings, aiding in effective surveillance and detection of human targets even in complete darkness.
Wi-Fi hotspot functionality stands out as a valuable feature, enabling the device to connect to other smart devices for real-time sharing and recording of thermal data. This could prove to be particularly useful in surveillance and rescue operations, where sharing information quickly and efficiently can be critical.
The LC06 monocular is designed with a built-in rechargeable lithium battery that can support up to 10 hours of continuous operation. This longevity ensures that the device won't fail during prolonged surveillance or patrolling tasks.
The device also incorporates a Type-C interface for easy and quick charging, and the transfer of data.
Overall, the HikMicro LC06 thermal monocular camera excels as a surveillance tool, providing reliable performance in darkness, challenging weather conditions, or when precision is needed to discern human figures at a distance. Its high-resolution thermal imaging, Wi-Fi connectivity, and long battery life make it an ideal choice for professionals in surveillance and related fields.
Objective Lens (Focal Length)
6mm
Detection Range (Human 1.8 x 0.5m)
182 m
Type
VOx Uncooled Focal Plane Arrays
Resolution, pixels
160 x 120 px
Magnification (Optical)
0.6 x 
Magnification (Digital)
1x, 2x, 4x, 8x
Field of view 
24.7° × 18.7° (H × V)
Resolution, Pixels 
720 × 540
Colour Palettes
Black Hot, White Hot, Red Hot, Fusion
HIKMICRO Connect App support
YES
Degree of protection, IP code
IP67
Dust protection
Protected against dust ingress
Water protection
Protected against temporary submersion in water
Operating temperature range
-20 °C to 55 °C
Dimensions, mm
158 mm x 61 mm x 57 mm
Operating time on battery (WiFi & Hot tracking disabled)
10 Hours continuous running
Battery capacity after 1000 cycles
80%
High sensitivity thermal module with 160 x 120 resolution

NETD < 35 mK (@25 ° C F#=1.1)

Leading thermal image processing technology: Adaptive AGC, DDE, 3D DNR

720 × 540 resolution 0.2-inch LCOS display

Built-in rechargeable lithium battery

Up to 10 hours continuous operation

Wi-Fi hot spot

Type-C Interface