TP-Link AV1000 2-Port Gigabit Passthrough Powerline Starter Kit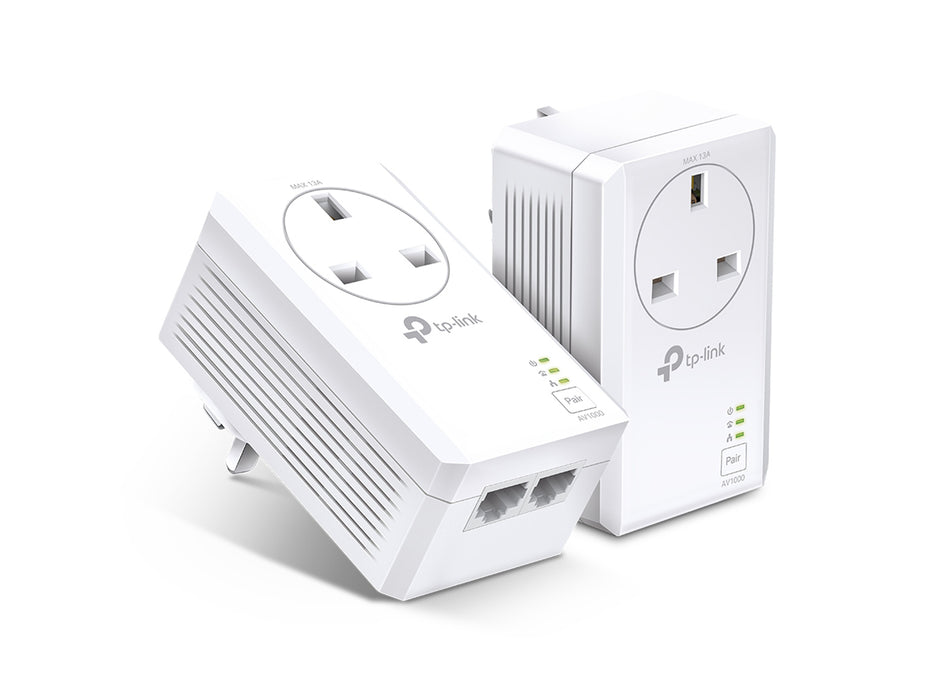 TP-Link AV1000 2-Port Gigabit Passthrough Powerline Starter Kit
This set of two easy to use powerline adapters is one of the easiest ways available to extend a wired internet connection around your home or office.
Run a network over mains
These easy to use adapters let you use your building's mains circuitry to run a network connection, removing the need to run additional network cables.
Ideal for connecting your DVR
This kit is the perfect solution for users who have a network-enabled CCTV recorder but want to set it up in a different toom to their internet router.
No additional wiring required
Helps save money and time, by preventing to need to run many metres of additional network cable.
Pass-Through Power
Your electricity socket can still be used even with the device plugged in.
High Speed
Powerline adapters are capable of data transfer rates of up to 1000Mbps
Simple installation
All you need to do to configure the kit is to plug both devices in and press the Pair buttons, no further configuration is required.
Secure Networking
As the devices have to be paired together, there is no risk of external devices connecting with them.
Easily connect your home
It's not just CCTV that these can help with. Use them to link up games consoles, smart TVs, computers and network storage drives all around your home!
What's in the box?
2x TP-Link Powerline adapters
2x Ethernet cables
Quick Installation Guide
These small devices simply plug into your mains power supplies and let you run a network around your building's electrical circuit, instead of using a telephone line or ethernet cable.
But just what does this mean for CCTV? Simply put, it lets you easily connect your CCTV DVR to a router in another room, without having to run a length of cable between the two. Not only does this provide much easier installation, but it lets you keep your recorder tucked away in a loft or private room, helping keep your recordings secure.
There is no tricky network configuration required. Just plug the device you want to connect into one of the adapters, and then plug your router into the second one. Then all you need to do is pair them together using the buttons on the devices, and you're ready to go. As the devices need to be paired, the connection remains secure from external devices. The kit is capable of data transfer rates up to 1Gbps and working across up to 300 metres of circuitry. Please note, adapters must be connected on the same electrical circuit. This kit also features pass-through power, so you still have a spare socket to use even when the device is plugged in.
Plug Type: UK
Standards and Protocols: HomePlug AV2, HomePlug AV, IEEE 1901, IEEE 802.3, IEEE 802.3u
Interface: 2× Gigabit Ethernet Ports, Power Socket
Button: Pair/Reset button
Power Consumption Maximum: 4W; Standby: 0.84W
LED Indicator: Power, Powerline, Ethernet
Dimensions ( W×D×H ): 58×42×95mm
Range: Up to 300 metres over existing electrical wiring
Compatibility: Compatible with all HomePlug AV & HomePlug AV2 standard Powerline adapters
Modulation Technology: OFDM (PLC)
Encryption: Powerline Security 128-bit AES
Certification: CE, RoHS
Environment Operating Temperature: 0°C~40°C
Operating Humidity: 10%~90% non-condensing