Ubiquiti NanoBeam ac Gen 2 WiFi Bridge Pair - 5GHz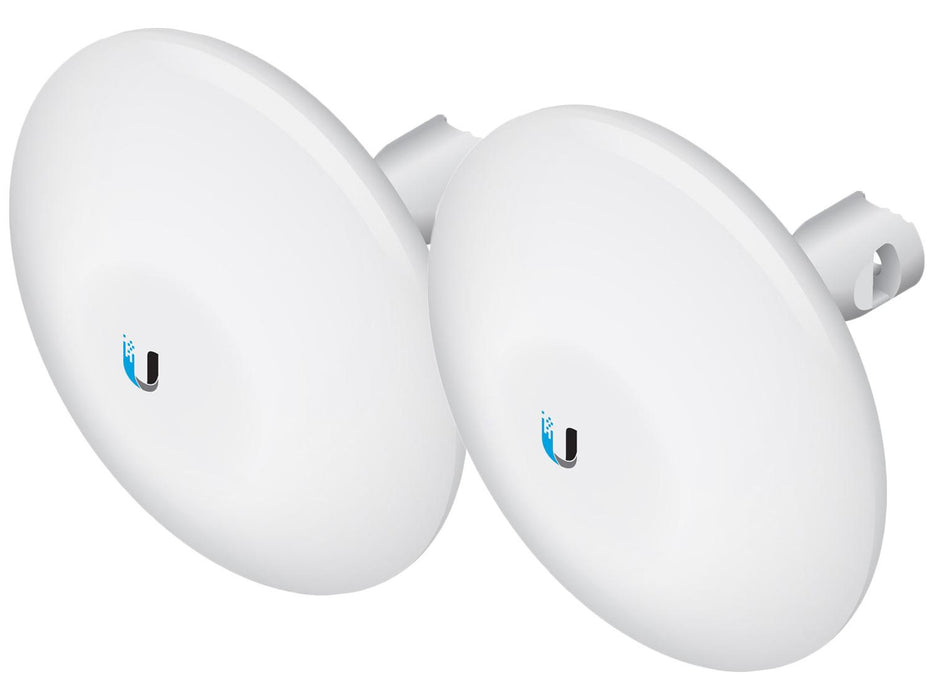 Ubiquiti NanoBeam ac Gen 2 WiFi Bridge Pair - 5GHz
WiFi Bridge
Lets you connect WiFi devices over long ranges, perfect for large properties such as car parks & farms.
Over 1km Range
Ubiquiti's advanced transmission technology allows the devices to connect to together over ranges exceeding 1km (requires an unobstructed line of sight).
Perfect for IP Cameras
Transmit footage from multi-megapixel IP cameras from right across your property.
5GHz WiFi
Uses high-frequency band for longer range and reduced interference.
Weather Resistant
Designed to withstand both heavy rain and driving winds.
Easy Mounting
Includes pole mount bracket, as well as a ball & socket joint to easily adjust the direction.
450Mbps Throughput
Can handle huge amounts of data, such as 4K CCTV footage.
What's in the box?
2x Ubiquiti Nanobeam WiFi bridges
2x Mounting brackets
Quick start guide
Ubiquiti is one of the largest names in Wireless networking, providing a wide range of specialist devices to improve your network's coverage and speed. This pair of Nanobeam ac WiFi bridges can across distances over 1km, with incredible speeds. This makes them a perfect solution to transmit data from IP cameras across large properties such as farms.
The two devices need to be set up facing each with a direct line of sight, using the included pole mount bracket. The innovative ball and socket design make lining them up a breeze. Just use ethernet cables to connect one bridge to your IP camera, and the other to your router. You can even connect multiple devices to the unit using a network switch.
Dimensions: 189x189x125mm
Weight: 0.53kg
Power Supply: 24V 0.5A Gigabit PoE
Max Consumption: 8.5W
Operating Frequency: 5.15-5.875 GHz
Gain: 19dBI
Interface: 10/100/1000 Ethernet
Processor: Atheros MIPS 74Kc 720MHz
Memory: 128Mb DDR2 8MB Flash
LEDs: 1x Power 1x LAN 4x WLAN
Signal Strenght LEDs: Software Adjustable
Max VSWR: 1.5:1
Channel Sizes: 10/20/30/40/50/60/80MHz (PtP) 10/20/30/40MHz (PtMP)
Polarisation: Dual Linear
Enclosure: Outdoor UV stabilised plastic
Wind Survivability: 125mph
Operating Temperature: -40°c to +70°c
Operating Humidity: 5-95% Non condensing