Veracity Camswitch Mobile - 5 Port PoE Switch for Vehicles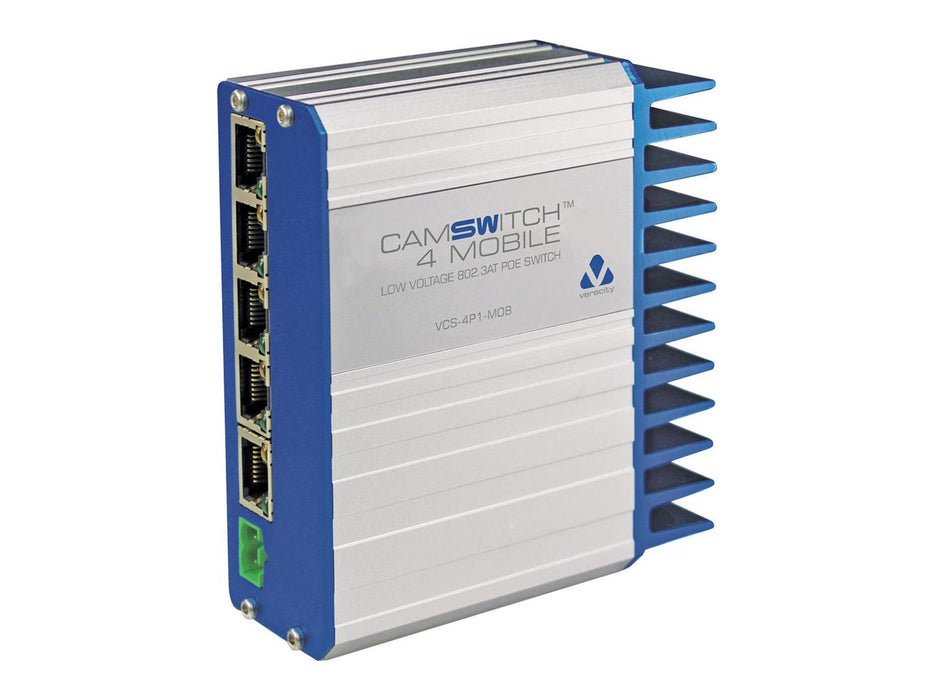 Veracity Camswitch Mobile - 5 Port PoE Switch for Vehicles
PoE Switch for Vehicles
A simple way of providing Power-over-Ethernet power to multiple cameras inside of a vehicle, perfect for taxis, buses and lorries.
12V Input
The switch is wired to the vehicle's battery. We recommend this is carried out by a qualified electrician.
4+1 Ports
Provides power output up to 4 IP cameras and a recorder, up to a total maximum output of 80W.
Wide Compatibility
Works with most PoE and PoE+ IP cameras, allowing maximum flexibility when setting up your system.
What's in the box?
1x Veracity Camswitch Mobile 4 port switch
The Camswitch Mobile range from Veracity has been designed to provide a simple way to power multiple Power-over-Ethernet (PoE) devices from a 12V or 24V source such as a car battery. This makes it perfect for setting up an in-car security system using high-resolution IP cameras.
Once the switch is wired into your car battery, it can output a total of 80w of power, with ports for 4 separate cameras and a recorder. The power output is compatible with most PoE and PoE+ devices, using standard ethernet cables. It's an ideal way to set up a security system for a taxi or bus.
Power Input Connector: Detachable screw terminal
Input Voltage: 8.5-40V DC (Minimum startup voltage is 10.5V supports engine cranking and reduce over-discharge)
Fusing: External fuse recommended 5A for 24V 10A for 12V
PoE Standards: IEEE 8023.af IEEE 802.3at not isolated from DV input
Power Budget: 80W (24V) 80W below 30c 65W above 30c (12V) 60W
Ethernet Connectors: 5x RJ45 10/100Mbps
Rates: 10BASE-T or 100BASE-T & duplex
Compatible Cable: Straight through or crossover Cat 5 Cat 5e Cat 6 VCS-8P2-MOB supports VLAN trunking
Dimensions: 110(131 with clips)x100x40mm
Mounting Brackets: 5mm holes on 122mm centres
Weight: 290g
Operational Temperature: -10°c to +50°c
Relative Humidity: <85%
Compliance: CE FCC RoHS