Veracity Outreach Max XT - Outdoor PoE Extender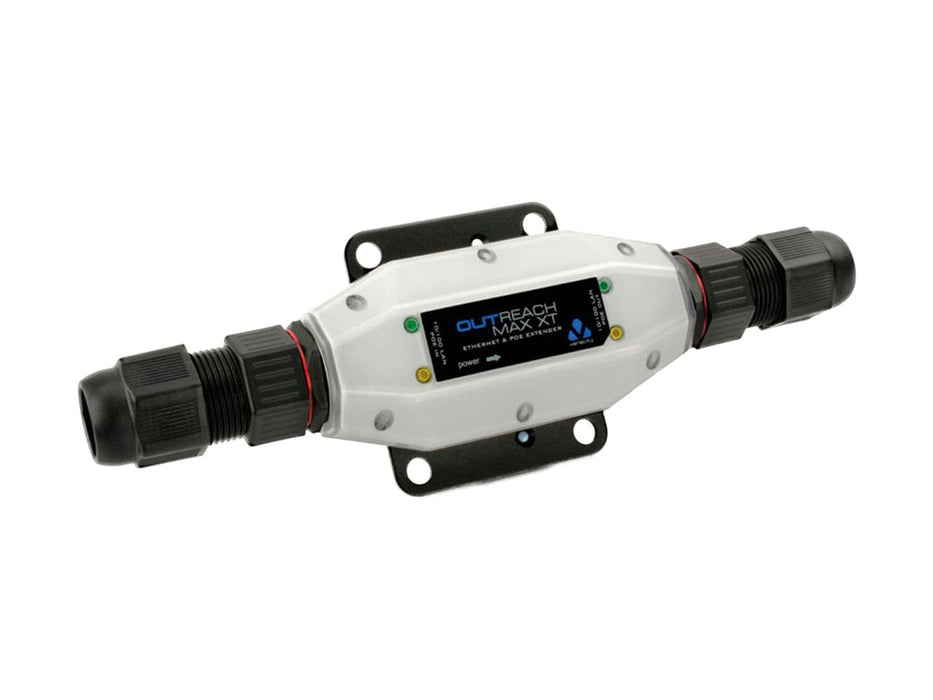 Veracity Outreach Max XT - Outdoor PoE Extender
Product Code:
VCPTX100MOD
PoE Extender by Veracity
Provides a simple way to increase the distance between a PoE IP camera and the PoE switch or recorder.
Increases Range by 100m
Each Outreach Max XT lets you increase the transmission range by an additional 100m.
Chain Devices
Multiple extenders can be connected together in series, for a total distance of 400m (for 6W cameras, 200m for 12W).
Wide Compatibility
Works with most standard PoE and PoE+ devices (not High PoE), and Cat5 or Cat6 cabling.
IP66 Rated
Heavy-duty housing and cable glands allow extenders to be mounted in exposed outdoor locations.
Integrated Bracket
Lets you easily mount the device to a wall.
What's in the box?
1x Veracity Outreach Max XT PoE extender
Veracity is one of the most respected names in IP security, creating networking accessories for a wide range of specialist applications. The Outreach Max XT is part of their popular range of PoE extenders, letting you boost the distance over which cameras can draw power from the network by 100m. Multiple units can also be chained together to allow a total transmission distance of up to 400m (for 6W cameras).
Crucially, the extenders are protected by a heavy-duty IP66 housing. This ensures they are completely weatherproof and suitable for installation in exposed locations. This is essential for setting up IP systems across large properties such as farms or car parks.
Power: 1.3W via PoE
Forwarded PoE Power: Up to 70W (depending on standard)
Maximum Current: 0.7A (data pairs) 1.5A (spare pairs)
PoE Standards: IEEE 802.3af PoE IEEE 802.3at PoE+ (2 event signature) Custom PoE (including always on 48V & 4-pair)
Ethernet Interface: 2x Independently auto-configuring 10/100Mbps ports
LEDs: Status indicators(Green - PoE power good Yellow - Ethernet link/activity)
Dimensions: 210x50x31mm
Mounting: 2/4 bolt 7mm mounting holes on 50/60mm centres
Operational Temperature: -40°c to +60°c
Relative Humidity: <85% non condensing
Compliance: CE FCC RoHS