Wildlife Trail Camera HD with PIR Triggering, Invisible IR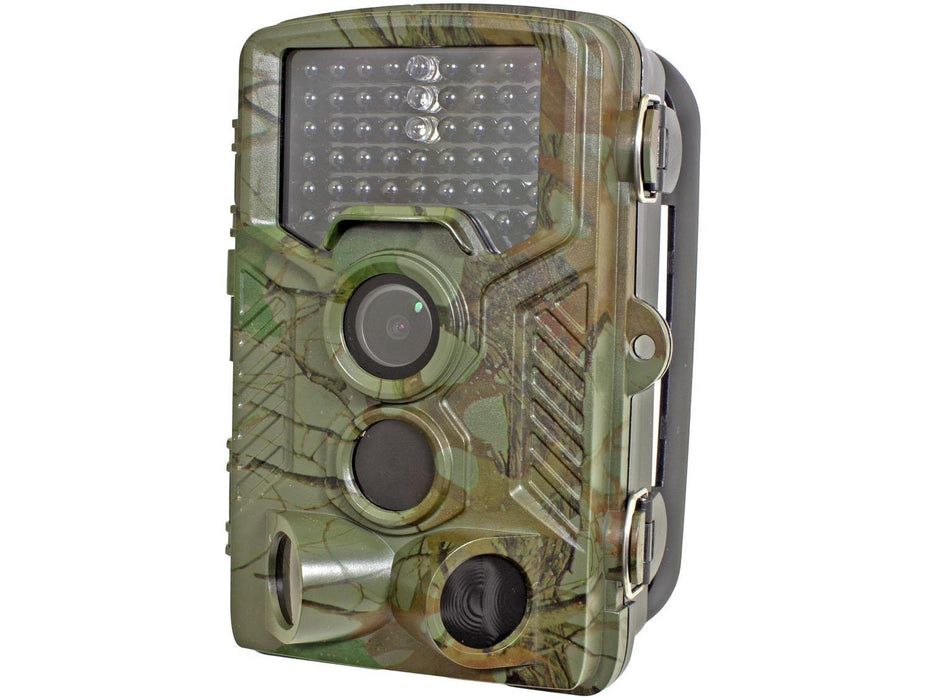 Wildlife Trail Camera HD with PIR Triggering, Invisible IR






Don't want to let wildlife just flutter by? Here's the camera you need. This battery-powered outdoor camouflage camera automatically starts recording when it detects wildlife nearby, so you won't miss any animal adventures.
Waterproof Wildlife Trail Camera
This camera is specifically designed to spot wildlife outside as well as any unwanted intruders, without disturbing the animals or 'warning' potential fly-tippers or thieves
1080p HD Video
Captures video at full HD 1920x1080 at a smooth 30 frames per second for seeing even the smallest or fluffiest of animals with great clarity
12 Megapixel Stills
Takes high resolution still images. We have tested many camera designs and decided on this one because the images are fantastic, with true-to-life colours and superb detail. You'll definitely see the barbs of the birds' feathers and the sparkle in the hedgehogs' eyes!
Designed for the Outdoors
This camera is IP66-rated, which means it is fully waterproof and protected from the worst of British weather
PIR Motion Detection
Features fast triggering and reliable motion detection. Includes one PIR sensor on the front and two on each side to yield a combined 140° PIR angle range. This way you are sure to spot lovely wildlife or nasty intruders!
Infrared Night Vision
Four high power IR LEDs provide invisible night vision with a range of up to 30m. It allows sharp footage even at night, without disturbing wildlife
Ultra-Low Illumination Image Sensor
The sensor provides a better clarity at night so you can get an even clearer view of wildlife's shenanigans out there
Long Battery Life
In standby mode, the camera can provide up to six months of battery life thanks to the PIR sensor triggering, provided you are using high-quality batteries. Under very heavy use the batteries can last all day and all night.
MicroSD Card Recording
Video and images can be recorded to MicroSD cards for lots of storage space without needing to replace quickly. (Class 10 cards recommended)
2" LCD Screen
Features a high-res colour LCD display screen for convenient viewing, helpful when you need to check if the camera is placed at the right angle for example
AA Battery Power
No mains power required as the device can run off standard AA batteries, extra handy as trees don't grow power sockets
What's in the box?
1x Wildlife Trail Camera
1x Strap
1x USB Cable
1x Quick user guide
1x Manual
We'll admit it: this groovy little camouflaged trail wildlife camera does look a bit like it came straight out of Star Wars. We're loving its 80s design!
But it's more than cute and cool-looking. It packs a whole lot of awesome features.
It's rugged, it's camouflaged – you'll walk straight past it – it's waterproof: let's just say this camera is simply the perfectly equipped covert video recorder for spotting wildlife. It may as well be an outgrown chunky part of a tree!
Besides, it can even function as a handy security camera, as it can also easily detect any would-be trespassers on your land. Have you heard about the increasing nasty habit of people fly-tipping, especially in the countryside? Some sneakers just dump their rubbish on someone else's land and quickly drive off again. With our handy camouflage camera, you won't just spot flying birds, but fly-tippers as well! You can catch crooks trying to steal your tools or machinery too. Wildlife watching and safe securing, all in one camera.
We have tested dozens of trail cameras before settling on this design, as we were amazed at how improved the image quality was over other models on the market. Designed for the outdoors, this camera can be deployed and installed in an exterior location for months at a time.
Combining sensitive Passive Infrared (PIR) sensors and fast-triggering times (should this camera detect the slightest amount of movement), it will capture detailed video footage of the subject whether it is a sly fox, snuffly hedgehog, bouldering badger, dollop of a deer, beautiful bird, or a hasty homo sapiens.
The improved video quality in this camera is provided by the 1080p Full HD resolution and smooth 30 fps frame rate. In addition to this, still images can also be captured with a resolution of up to 12 megapixels. To ensure that images are effective at night, an ultra-low illumination image sensor provides improved image clarity in dark environments. Furthermore, in total darkness, the camera has a 30-metre range of night vision with invisible, non-glow infrared LEDs on the front of the device. This, along with a sturdy IP66-rated casing making it fully waterproof, ensures that the device is capable in any outdoor situation you can throw at it!
No worries at all if you don't have UK mains power readily available. We know most trees don't exactly grow power sockets. Now, don't think the camera runs on pixie dust, either! It simply can be powered by standard AA batteries. Thanks to this, in standby mode the camera can provide up to six months of battery life thanks to the PIR sensor triggering, provided you are using high-quality batteries. Under very heavy use the batteries can last all day and all night.
But hey, an optional mains power input is also available, just in case you hang it on a wall or have an extension cable lying around. Or in case the trees start growing power sockets after all, you never know.
Videos and images are recorded to a MicroSD card, which is easily installed in the device's slot giving you plenty of recording storage. Configuring settings and playing back footage is made simple due to the high-resolution 2" LCD screen that flips out from the bottom of the device, helpful when you need to check if the camera is placed at the right angle.
This wildlife camera includes a secure strap to make mounting on a fence post or tree easy. With all this in mind, this makes this camera an ideal outdoor solution for getting beautiful images of feral visitors to the area, or even to secure your property along the way.
A green and friendly tip: to ensure spotting as much wildlife as possible, encourage the wild critters by providing natural habitats such as bird boxes, owl boxes, hedgehouses, hedgehog feeding stations, bird feeders, bird baths, bat boxes, hedgehog food, bird food, etc.! They'll love you for it and might even make an extra adorable appearance on the camera.
Image sensor
8 Megapixels Digital Camera
Still image size
16MP:4608x3456(interpolated);12MP:4000x3000(interpolated); 8M:3264x2448;5M:2592x1944;3M:2048*1536
Video clip
1920x1080/18fps/1280x720/30fps/ 720x480/30fps; 640x480/30fps;320x240/30fps
Lens angle
f=3.3mm; F/NO 2.0; FOV=100; Auto IR filter
Memory
External memory (TF card Class 6 Above up to 64GB) / Internal memory (8Mx16 SD RAM)
Number of IR lamps
46PCS/940nm invisible leds
Triggering distance
20m Below 25°C at normal level
PIR sensitivity
High/Normal/Low
Prep PIR sensing angle
Main PIR(60° ) + side PIR=120°
Triggering time
0.6 Seconds (when using the 4G SD card)/Pre-boot 0.2 Seconds
Trigger interval
5 sec. - 60 min; Programmable
Video Length
3 seconds - 10 minutes; Programmable
Effectiveness
Daytime: 1m - infinitive; Night time: 1.5m - 20m
Timestamp
On/Off; Incl. serial No. temperature and moon phase
Timelapse
On/Off; Time Lapse Programmable
Video compression
TL Video Timelapse 3 Seconds - 24 Hours
Target Recording Time
Timelapse 1 Second - 24 Hours
Device serial No.
4 digits you can set up yourself
Built-in Microphone/Speaker
Yes
Auto-distinguish images
Colour images in daytime/black & white images at night
Automatic screensaver
Comes on in 2 minutes
PC interface
Mini USB 2.0
Power supply
4xAA; expandable to 8xAA external 6V power supply minimum 2A
Password protection
4-Digit Numbers
Waterproof
IP66-rated casing
Operating temperature
-7C to +40C
Storage Temperature
-20C to +60C
Dimensions & Weight
Approx. 136*90*76mm 350g