Green Feathers WiFi Bird Box Camera (3rd Gen)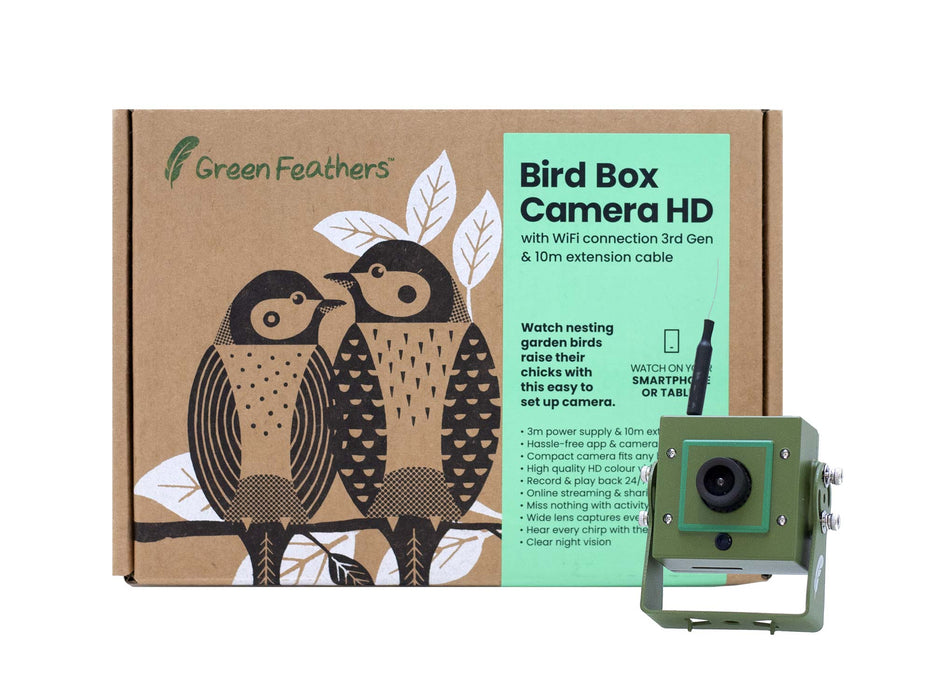 Green Feathers WiFi Bird Box Camera (3rd Gen)
Product Code:
GFWF3GB-B01
Our bird box camera with WiFi connection is our most popular camera for bringing nature indoors. Using the Green Feathers official app you can watch nesting birds on your smartphone or tablet in HD.
It's straightforward to set up: simply connect up the power, mount the camera in your bird box and connect to your WiFi network. You can stream the camera live on your device, watch pre-recorded footage, and share the best bits with friends and family.
WiFi Connectivity
We developed the first bird box camera on the market with built-in WiFi, so you can install the camera in a bird box without running a network cable back to your house.
Watch on Your Smartphone & Tablet
Using our official Green Feathers app, you can watch live or recorded footage of nesting birds using an iOS or Android device.
HD Video
Records pin-sharp, high-quality images in 1080p HD.
Simple Setup
Connects directly to your mobile or tablet during setup so it's simple to get up and running. Voice prompts from the camera helps you get connected quicker!
Night Vision
Invisible infrared LEDs emit no glow and keep recording in dark bird boxes without disturbing the birds.
Tiny Size
The compact size of the camera leaves plenty of space for nesting birds and won't disturb any residents.
Wide-Angle Lens
With a 2.8mm lens, the camera has a huge field of view. It's designed for use in enclosed spaces which means more of the bird box fits in the frame.
Audio
Hear every cheep and ruffle thanks to the in-built microphone picking up every little sound from the nest.
True-To-Life Colour
During daylight hours footage is recorded in vibrant, clear colour.
MicroSD Card Recording
The built-in memory card slot is an easy way to record footage. Compatible with cards up to 128GB (not included).
Add Extra Cameras Into App
You can add as many of our HD cameras to the app as you like. The only limitation is your network speed! Please note that the Green Feathers app is compatible with 3rd Gen cameras only.
Stream online
You can stream the camera online, with a bit of setup, to services such as YouTube to share the action with everyone!
Works with Alexa
"Alexa, show camera". Link up with your Echo Show and see the camera's live stream on-screen in seconds!
For over 13 years our wildlife cameras have been delighting nature lovers by capturing amazing close-up images of animal activity in bird boxes and gardens. Our bird box camera with WiFi connects via our our Green Feathers official app‡ so you can log in to watch and record footage directly from your phone or tablet. As the first camera of its type to feature built-in WiFi† you don't need to run a network cable out to the bird box, all it needs is power.
Make sure there's WiFi signal in your garden where you plan to install the bird box, then follow the configuration instructions on the app or in our online setup guide. Using an Android or iOS mobile device you'll be able to watch live or recorded footage from anywhere with an internet connection.
Specially designed night vision LEDs allow the camera to record in a dark bird box without disturbing the birds. A wide-angle lens means the entire inside of the bird box fits into the frame and a tiny microphone picks up all sound from inside the box. Pop a microSD card into the slot to easily record footage – and even set up motion detection – directly from the app.
Need to extend the length of power cable between the camera and the mains? The standard power supply comes with 3 metres of cable. Purchase one of our extension cables for up to 20 metres of extra cable length.
Not enough light in the nest box?
The camera records in full colour provided that there is enough light during the day. Install our daytime LED lamp in the box to get the very best from the camera. Make sure everything is installed before the birds start using the box. Disturbing a nest can cause nest abandonment.
† The camera features 2.4 GHz WiFi only.
‡ Please note that the Green Feathers app is compatible with 3rd Gen cameras only.
WiFi Bird Box Camera - 3rd Gen
Mains power supply (3m of cable included)
Mounting bracket, screws and accessories
Quick start guide 
Gift box
What's the difference between your "Wireless" & "WiFi" camera?
Our original wireless camera does not have WiFi connectivity and has a more limited range and image quality. Our WiFi camera offers much clearer HD images and an all-digital interference-free experience. The wireless camera simply connects to a TV for live viewing; it does not record unless you have a separate capture device or recorder. However, the WiFi camera works with smartphones and tablets and has in-built recording to microSD cards.
Can I watch on my smartphone or tablet?
Yes! Our official Green Feathers app allows you to stream the camera live and watch back recordings.
Which devices does the app work with?
The app works on iPhones, iPads(using iPhone compatibility mode) and Android phones and tablets. The app supports iOS 10.0 or later and Android 4.4 or later. Kindle devices are not currently supported.
I have an existing 1st Gen/2nd Gen camera. Does this use the same app?
Previous generations of the camera are not compatible with the Green Feathers app.
Do I have to power this by the mains?
The camera needs to be powered by the included power supply to work reliably. We have extension cables to add up to 20 metres extra length to the power supply cable.
What length of cable does the camera come with?
The power supply included for free in the kit has 3 metres of cable. You can purchase one of our extension cables for up to 20 metres of extra cable length.
Do I have to be connected to my WiFi network to watch the camera?
There is a way of directly connecting to the camera without even needing to have a WiFi network (AP mode). This method of direct connection does have a limited range, so we recommend connecting the camera to your WiFi network if possible. This allows you to connect into your camera even when you are away from home.
Will it work on my TV?
This camera is not designed to work on TVs unlike some of our other cameras that wire into the back of the TV. However, the app works on Apple TV and may also work on smart TVs that support Android apps.
The WiFi signal in my garden is weak. What do I do?
Not everybody's WiFi signal can reach far into the garden. This is quite normal, especially in larger properties. One potential solution is to use a WiFi Repeater that can extend the range of your network into your garden so that the camera can receive a reliable signal. Failing this, it may be worth considering our wired options.
Can the camera record? For how long?
Yes! The camera features an in-built slot that supports microSD cards up to 128GB in capacity (card not included). This allows the camera to record footage for later playback and it can automatically overwrite older footage when it becomes full.
When recording, it uses about 2GB per hour of space, so with a 64GB card, you can expect the camera to record for up to 32 hours of footage and 64 hours using a 128GB card.
My camera is warming up, is this bad?
It is perfectly normal for the camera to feel warm to the touch while in operation. Don't worry this won't harm any nesting birds!
I'm not getting sound. How do I resolve this?
The microphone allows the camera to capture high-quality audio for such a small size. If you're not hearing any sound when you are watching your camera there are a couple of simple solutions.
First, ensure that the WiFi antenna or any cables are not touching the microphone so that you get the best sound quality. Second, ensure audio monitoring is enabled in the app.
I'm struggling to set up the camera on my WiFi network. What do I do?
Follow our help guides to get your camera up and running.
It's not recognising my MicroSD card
Make sure you have inserted the microSD card before powering up the camera. If the card is still not detected, you may need to ensure it is formatted properly in the FAT32 format.
Does this camera work on my 5 GHz WiFi network?
No, this camera only operates on the 2.4 GHz band. For dual-band WiFi networks with separate network names (SSIDs) connect to the "2G" or "2GHz" version. Some routers now have 2.4 GHz switched off by default and if you're not sure how to re-enable this please contact your Internet Service Provider (ISP).
Image Sensor: 2MP 1/3" CMOS image sensor
Lens: 2.8mm
Resolution: Main stream: 1920×1080; Sub-stream: 640×480
Frame Rate: 20fps
Compression Format: H.264
Audio: Yes, in-built microphone
Speaker: Yes (used in setup only)
On-Board Storage: microSD card up to 128GB
Recording Modes: Continuous, motion detection
ONVIF: Supports ONVIF protocol
Night Vision: Invisible infra-red 4x LEDs (1m night vision range)
IR Cut: Built-in
Shutter: 1/50(1/60)-1/100,000
White Balance: Automatic
Backlight Compensation: Yes
Noise Reductions: 3D DNR
Network: 2.4GHz Wi-Fi
Operating Temperature: −20°C–+50°C
Camera Dimensions: 44×44×33 mm
Power: DC 12V input, 2.1mm jack
App Supports: iOS 10.0 or later and Android 5.0 and up

Please note that this camera is not waterproof.