Green Feathers Bird Box Camera TV Cable Connection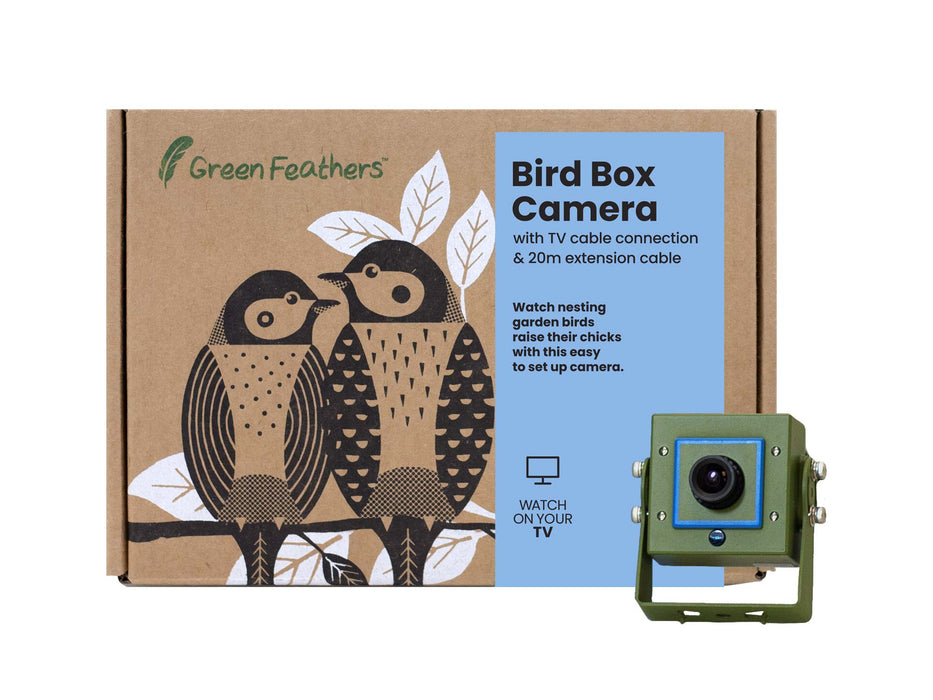 Green Feathers Bird Box Camera TV Cable Connection
Product Code:
GFST1GB-5M-B01
Our classic wired bird box camera is the simplest way to start viewing your garden wildlife with a solid connection. This tiny camera mounts into the nest box and allows you to watch nesting birds on your TV by using the included 3-way cable. Now with an improved IR filter complete with infrared cut; designed to provide you with top quality, true to life coloured images.
Why not add an LED lamp for even clearer daytime images or an AV to HDMI converter to connect to your TV with a universal HDMI connection?
Don't forget to select your required cable length from the options below.
Tiny camera
Measuring just 40mm across, this tiny camera fits perfectly even the smallest garden bird boxes.
Watch on your TV
To view live footage, simply connect the cable to your TV using the included cable. This gives you a simple way to watch wildlife in the comfort of your living room.
Robust Video
The camera produces interference-free images over the cable.
Wide-Angle Lens
Designed for use in enclosed spaces, the camera features a wide-angle lens. This gives a huge field of view and helps ensure you see more of the inside of the box in the frame.
Night Vision
Invisible infrared LEDs provide night vision for round-the-clock viewing, without disturbing the birds.
Adjustable Focus Lens
To ensure sharp images, so you can see every feather and the sparkle in the bird's eyes.
Easy Connectivity
Connects directly to TVs and recorders.
All-In-One Cable 
The cable carries video and power, which means you only need to install one cable between the camera and your house.
12V Connection
Allows you to run power up to 50m and is compatible with all of our cables and accessories.

Infrared Cut 
Built-in IR cut gives true to life colour images in the daytime and crisper black and white night-time images.

Easy Mount Bracket 
Use 1 x 5mm bolt to mount your camera with ease. 

Anti Twist Bracket Design
The Green Feathers anti twist bracket design means birds don't knock the camera when set up.
Clever Anti-Tamper Case 
A sealed case design, created to stop bugs and critters crawling into the camera and causing problems.
Our wired bird box camera kit is an ideal starter solution for watching wildlife from your own garden on your TV. Watching the inside of a nest box you can watch chicks growing up and flying from the nest. This tiny camera is perfect for mounting into your bird box . It measures just 30x25x20 mm so it won't take up too much space in your nest box.
With invisible 'No-Glow' infrared night vision, a 2.8mm wide-angle lens and adjustable focus this camera is well-suited to cramped bird boxes. Included in this bundle is a video and power cable to run back to your television and power supply for quick and easy setup. 
1x Wired Bird Box Camera
1x UK mains power supply (1.5m cable included)
1x Cable (choose length above)
Quick start guide

Gift box
Video Standard: PAL
Image Sensor: OV7949/OV7950
Vertical Resolution: 700 TV Lines
Pixel Resolution: 512(H) x 582(V)
Minimum Colour Illumination: 1 Lux
Minimum B/W Illumination: 0 Lux (IR On)
Lens: 2.8mm
Viewing Angle: 110 degrees
White Balance: Auto
S/N Ratio: >48dB(AGC Off)
Backlight Compensation: Auto
Electronic Shutter: 1/50(1/60)-1/100,000 seconds
Operation Temperature:-20 to 50 degrees C
Power Supply: 12V DC <500mA