Green Feathers Bird Box Camera Wireless Transmission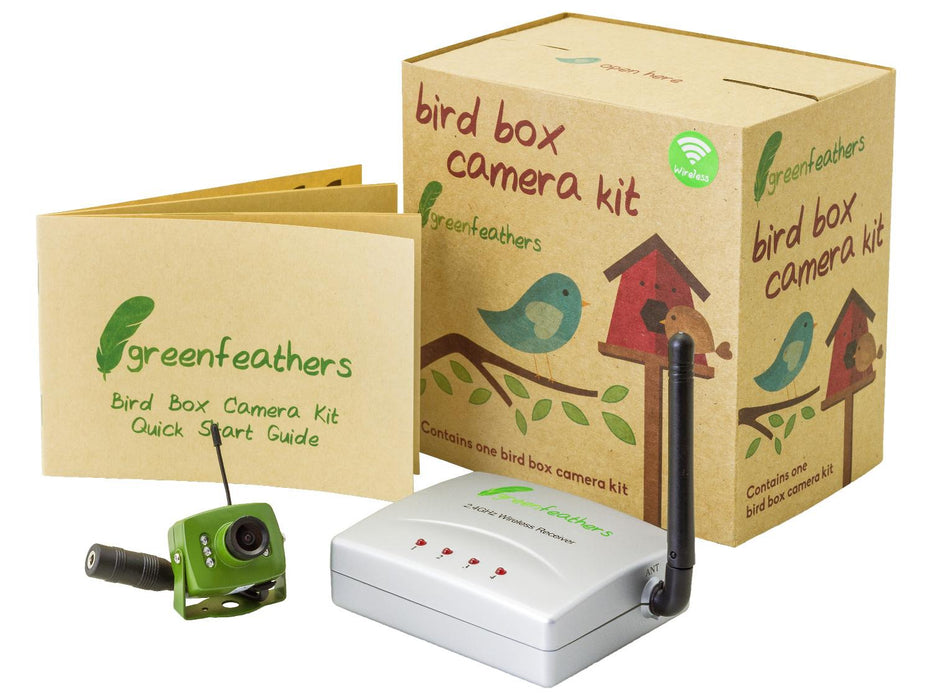 Green Feathers Bird Box Camera Wireless Transmission



Our wireless bird box camera allows you to watch wildlife on your TV without having to run a video cable from the bird box. This tiny no-glow camera fits snuggly inside your bird nest box to provide live images of the resident birds without disturbing them.
Specially Designed Wireless Bird Box Camera
This camera has been built from the ground up, specifically to capture happenings inside bird boxes and other types of wildlife habitats
Robust 700 TV Line Video
Our improved imaging sensor records footage at the highest resolution of any wireless bird box camera on the market, so you can see the details on the feathers or the sparkle in the birds' eyes
Up to 30m Wireless Range
Install the camera in your garden and use the included receiver to pick up video without the need for extra video cables. Just connect the camera to a power source (via 1 cable) and you're ready to go! Please note that solid obstructions such as walls, trees and windows will significantly reduce range
Wireless Channel Selector
Physical switches allow you to change which wireless channel the camera broadcasts on. This lets you quickly adjust your system if you encounter any signal interference
Wide-Angle Lens
Designed for use in enclosed spaces, the camera features a 2.8mm lens. This gives a huge field-of-view and helps ensure you get the entire inside of the box in the frame.
Night Vision
Invisible infrared 'No-Glow' LEDs provide night vision without giving off a red glow that might otherwise disturb the birds.
Compact Size
The camera is small enough to fit into almost any garden bird box!
Easy to Watch
To view live footage, simply connect the receiver to a TV or monitor using the included cable. This gives you a simple way to watch wildlife in the comfort of your living room.
Adjustable Focus
The lens can be manually focussed, allowing you to fine-tune the picture.
What's in the box?
1x Wireless Bird Box Camera
1x UK power supply for camera (3 metres of cable)
1x Wireless receiver with antenna
1x UK power supply for receiver
1x 1m RCA video cable
Setup instructions
Gift box
Measuring just 42 x 35 x 35mm, this wee wireless bird box camera screws neatly inside a nest box without disturbing the birds nesting inside. The camera can connect wirelessly to the receiver which can be connected to a TV or a recorder up to 30m away (significantly reduced when going through obstructions such as walls or thick bushes), making it convenient for you to enjoy the nesting birds from the comfort of your home.
The camera may be small, but it boasts some impressive features including 700TVL high image quality so you can see every feather and the sparkle in the birds' eyes, much more detail than most nest box cameras available on the market. This bird box camera offers focus from just a few inches away up to 10 meters, enabling you to get the best pictures no matter how far the bird is away from the lens. The lens is a wide-angle 2.8mm lens to give you full coverage of inside the nest box so you can see the entrance hole and the bottom of the bird box. This way you won't miss any of the eggciting action as your garden birds go about their busy business.
Night vision is provided by 6 invisible infrared LEDs on the front of the camera and are just right for seeing in a small space in dark conditions. As the LEDs produce invisible light they do not disturb the birds. This way you can get footage round-the-clock of your nesting birds, and the babas can have a peaceful sleep when it's bedtime. If you use a recorder you can even play your footage back at a later time.
This wireless bird box camera is available in 1 of 4 channels so you can add more cameras to your system at a later date as you add more nest boxes to your garden. Chances are you'll swiftly be adding more cameras once you get hooked on having your very own Springwatch at home.
Please note:
Does not come with a microphone/audio option
Camera records in colour during the day, provided there is enough light in the box (a daylight LED lamp can be installed to provide sufficient lighting during the day, do make sure everything is set up BEFORE the animals have started nesting - disturbing the nest can cause nest abandonment!). Night vision recordings will be in black and white
This camera boasts wireless connection and offers the option of a rechargeable battery (up to 20 hours recording time), but generally does use a cable to connect to the mains for power supply.
Camera
Imaging Sensor
1/3 inch OMNIVISION colour CMOS
Horizontal Resolution
700 TV lines
CMOS Total Pixels
628 x 582 (PAL) / 510 x 492 (NTSC)
Scanning Frequency(H)
15.625kHz 15.734kHz
Scanning Frequency(V)
50Hz 60Hz
Angular Field of View
110 degree (f=2.8mm)
Minimum Illumination
3.0Lux (F1.2)/ 0Lux (IR LED on)
Infrared LED
6EA Invisible IR LED 940nm
Consumption Current
150 mA
Wireless Frequency
ISM 2.414 - 2.468GHz
Wireless Range
Up to 30m (unobstructed)
Operating Temperature
-10°C ~ +40°C
Dimension (WxLxH)
42x35x35mm
Receiver
Frequency
ISM 2414 - 2468MHz 4 Channel
Antenna
Omni-directional antenna
Channel
1-4 (Flip-type switch)
Intermediate Frequency
480MHz
Frequency Stabilization
+/- 100kHz
Receiving Sensitivity
85dBm
Video Output
1Vp-p@75 ohm S/N>38dB
Operating Temperature
-10°C to +40°C
Dimension (WxLxH)
80x68x16mm
Please note that this camera is not waterproof.

Certificate of Conformity