Wireless Calving Camera PTZ Dome 15x Zoom 3km Range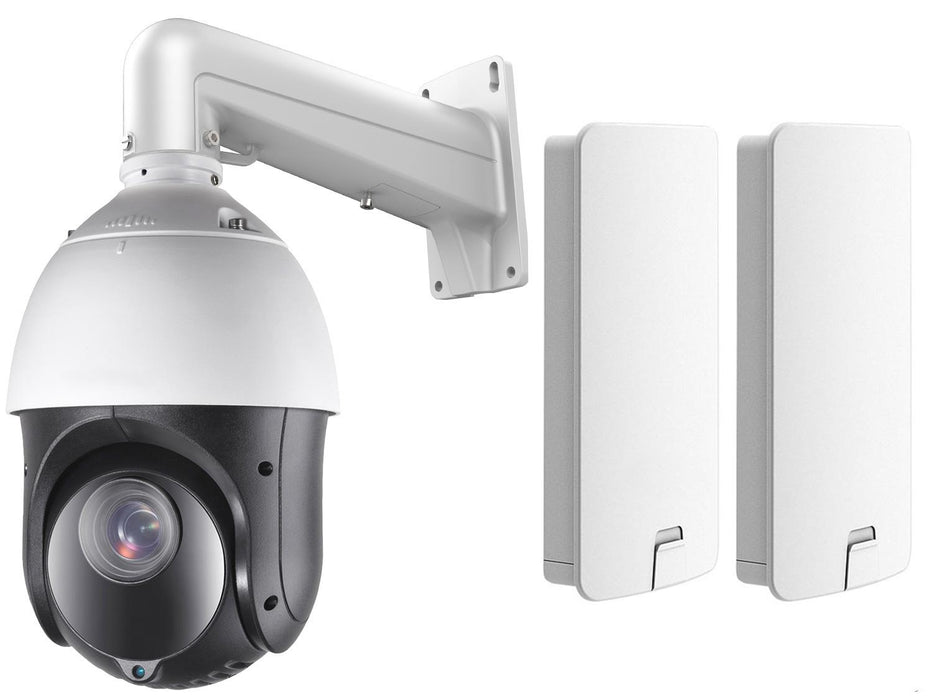 Wireless Calving Camera PTZ Dome 15x Zoom 3km Range








We have years of experience designing bespoke CCTV kits for remotely monitoring livestock across large farm properties. Now, for the first time, we are able to combine this expertise with the latest Pan-Tilt-Zoom camera technology. This system lets you remotely control the camera in your barn, rotating and zooming the lens to focus on specific animals, all controlled by a PC or phone.
Wireless Calving Camera
Purpose designed for remotely monitoring calving cows and other livestock across a large farm property.
PTZ Camera
Includes controllable Pan-Tilt-Zoom camera, letting you look around the barn and zoom in on individual animals.
1080p HD
Captures footage in 1920x1080 Full HD, with enough detail to identify specific animals when fully zoomed.
15x Optical Zoom
Lens can move from a wide-angle view of the whole barn to a close crop on a tiny area.
100m Night Vision
Powerful IR LEDs provide enough illumination to see a huge distance, even in unlit buildings.
Low Light Recording
Keeps recording in colour right down to 0.005 lux, perfect for keeping track of animals in dim conditions.
Weatherproof Camera
IP66 housing provides complete protection from the elements.
WiFi Bridge
Camera uses high powered transmitters to connect to your home's network from up to 3km with a direct line of sight.
Remote Control
Use PC or mobile app to view and control the camera from anywhere.
Smart Detection
Includes the latest automation features, including line crossing, object removal and intrusion detection.
Programmable Movements
Store up to 300 preset camera positions, as well as multiple patrols and patterns.
Arm Bracket
Holds camera securely away from the wall, allowing 360 degrees of rotation.
Mains Power
Includes power supply to connect the camera to a local power source (required).
MicroSD Storage
Built-in MicroSD slot lets you record footage directly from the app, and can even be used as an emergency backup if you have the camera connected to a network video recorder.
What's in the box?
1x Dome PTZ camera
1x Metal wall bracket
1x Mains power supply for camera
2x 10m ethernet cables
2x WiFi bridge panels
2x Pole mount for panels
2x PoE injectors
2x 3m Cat5 ethernet cables
FREE 1 Year Premium Support
The camera connects to your home's internet using a long-range WiFi bridge, capable of sending the signal up to 3km in direct line of sight, essential for farms spread over large properties. Once configured to your network, the software not only lets you move the camera but also includes their latest smart detection features. Settings such as line crossing and object removal detection let you easily automate monitoring. You can even add one of our PTZ joysticks, putting the camera controls right at your fingertips.
The camera itself is probably the most advanced to have ever been added to one of our livestock CCTV systems. It boasts 15x optical zoom, letting you move from a wide-angle to a view focussed on one animal's face. At the top end of the zoom, the IR LEDs provide up to 100m night vision, automatically reducing power for closer subjects. The 1080p Full HD sensor can even record in full colour right down to 0.005 lux, ideal for badly lit interiors.
This pack includes 1 Year FREE of our Premium support package for priority telephone support.
Camera
Imaging Sensor: 1/2.8 CMOS
Resolution: 1920x1080
Minimum Illumination: 0.005 Lux (IR Off) 0 Lux (IR On)
Focal Length: 5-75mm
Optical Zoom: 15x
Digital Zoom: 16x
Zoom Speed: Approx 2.4s (wide-tele)
Angle of View: 53.8-4.0 Degrees
Minimum Working Distance: 10-1500mm
Aperture Range: f/1.6 to f/3.5
Focus Mode: Auto Semi-auto Manual
Digital WDR: Supported
AGC: Auto Manual
White Balance: Auto Manual ATW Indoor Outdoor Daylight Sodium
Day & Night: IR Cut
Privacy Mask: Up to 24 programmable
Image Enhancement: 3D DNR Defog HLC/BLC EIS
Pan & Tilt Range: Pan 360° (endless) Tilt 15-90°
Speed: 0.1-80°/s
Preset Positions: 300
Patrols: 8 Up to 32 positions per patrol
Park Action: Preset patrol pattern pan scan tilt scan random scan frame scan panorama scan
Scheduled Task: Auto scan frame scan random scan patrol pattern preset panorama scan tilt scan dome reboot dome adjust
Smart Detection: Intrusion Line crossing Motion Face Detection Region Entrance Region Exit Unattended Baggage Object Removal
ROI Encoding: Supports 2 areas with adjustable levels
IR Range: 100m
IR Intensity: Automatically adjusted depending on zoom ration
Ethernet: 10Base-T 100Base-TX RJ45
Streams: Up to 3
Main Stream Resolution: 1920x1080/1280x960/1280x720 @25fps 1280x960/1280x720@50fps
Sub Stream Resolution: 704x576/640x480/352x288 @25fps
3rd Stream Resolution: 1920x1080/1280x960/1280x720/704x576/640x480/352x240 @25fps
Image Compression: H.265+/H.265/H.264/MJPEG
Protocol: IPv4/IPv6 HTTP HTTPS 802.1x QoS FTP SMTP UPnP SNMP DNS DDNS NTP RTSP RTP TCP UDP IGMP DHCP PPPoE
Simultaneous Live View: Up to 20 users
Local Storage: MicroSD Up to 128GB (not included)
Users: Up to 32 users 3 levels (admin operator user)
Security Measures: User authentication (ID and PW) Host authentication (MAC address) IP address filter
Power: 12V DC & POE+ (802.3at class4) Max 18W
Working Temperature: -30°c to +65°c
Humidity: <90%
Protection Level: IP66 4000V Lightning protection
Dimensions: 164.5mm (diameter)x 295mm
Weight: 2kg
WiFi Bridge
CPU: Qualcomm 560MHz
Antenna: 2x 14dBi
Wireless Standard: IEEE802.11 a/an
Output: 200mW (23dBm)
Receiving Sensitivity: -96dBm
Frequency: 802.11a/n 5.180-5.825 GHz
Transmission Rate: 300Mbps
Ports: 10/100 WAN RJ45 10/100 LAN RJ45 PoE slide switch Reset button
Indicator: 8x LEDs
Power Supply: 802.3af/802.3at
Power Adapter: 48V PoE
Power Consumption: <8W
Dimensions: 262x80x53mm
Weight: 322g
Operational Temperature: -40 to +55c