Zone 2 Explosion Proof Housing for Box CCTV Cameras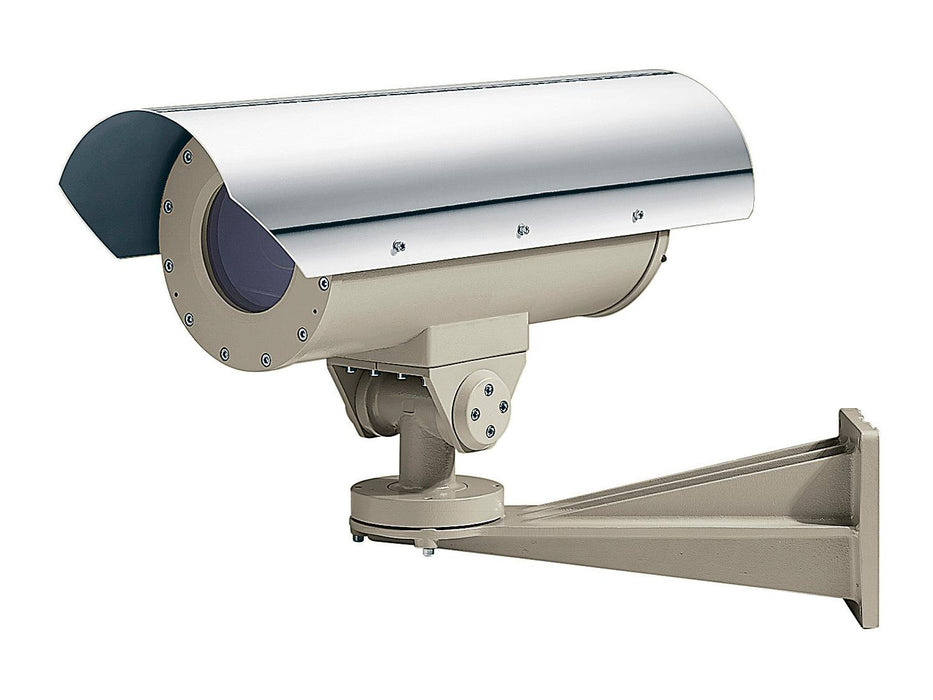 Zone 2 Explosion Proof Housing for Box CCTV Cameras
Explosion Proof Housing
Certified to protect cameras in Atex Zone 2 environments.
Aluminium Construction
Fabricated from high-grade anti-corodal Aluminium alloy, protecting it in even the most hostile environments.
Fits Box Cameras
Designed to fit cameras measuring 100x100x280mm. Just get in touch with us if you're looking for a special order camera to use with it.
Built-In Heater
Electrical heater prevents the glass viewing panel from fogging up and obscuring the image.
Holes for Cables
Fitted with two holes for 3/4" NPT cable glands.
Lens Cover
Includes metal lens cover to protect the camera from the sun's glare.
What's in the box?
1x Explosion-proof camera housing and bracket
1x Sun hood
This heavy-duty housing is rated to protect box CCTV cameras from damage caused by explosions, fire and the elements. It's made from a solid Aluminium alloy and is completely sealed with 12mm thick flanges. The camera records through a glass window, with a built-in heater preventing fogging that might reduce visibility. This makes it an ideal piece of kit for monitoring high-risk areas like oil & gas installations or refineries.
Material: Anticorodal Aluminium alloy
Cable Holes: 2x for 3/4 NPT glands
External Dimensions: 210x400mm
Internal Dimensions: 180x380mm
Usable Area: 100x100x280mm
Glass Window: 114mm Diameter
Weight: 15kg
Heater Consumption: 60W
Camera Max Power: 20W 4V
Minimum Distance between walls of housing and camera: 12mm
Operational Temperature without Heating: -40°c to +50°c
Certifications: ATEX (EN 60079-0:2012 +A11:2013 EN 60079-1:2014 EN 60079-31:2014) Exi II 2G Ex d IIC T6 Gb IECEx (IEC 60079-0:2011 IEC 60079-1:2014 IEC 60079-31:2013) Ex d IIC T6 Gb EAC EX Ex II 2G Ex d IIC T6 Gb-40°C/+50°C KCs 16-KA4BO-0057 -16-KA4BO-0058 Ex d IIC T6