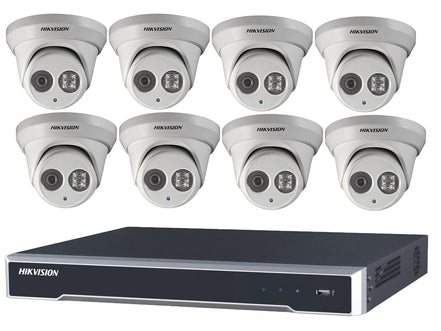 Enhancing Security with Hikvision CCTV Cameras and Systems
When it comes to ensuring the safety and security of your home or business, investing in high-quality surveillance solutions is essential. Hikvision, a global leader in CCTV cameras and systems, has established itself as a trusted brand that delivers cutting-edge technology and robust performance. In this article, we will explore the features and benefits of Hikvision CCTV cameras and systems, highlighting how they can elevate your security measures to new heights.
Unparalleled Image Quality: Hikvision CCTV cameras are renowned for their exceptional image quality. Equipped with advanced sensors and lenses, these cameras capture crystal-clear footage, allowing you to monitor your premises with utmost clarity. Whether it's during the day or in low-light conditions, Hikvision cameras provide vivid and detailed visuals, ensuring that no critical detail goes unnoticed.

Wide Range of Camera Options: Hikvision offers a wide variety of CCTV camera options to suit various security needs. From dome cameras for discreet monitoring to bullet cameras for long-range surveillance, Hikvision covers all the bases. Their camera lineup also includes specialized options such as PTZ (Pan-Tilt-Zoom) cameras for versatile coverage and thermal cameras for advanced detection in challenging environments.

Intelligent Features and Analytics: Hikvision CCTV systems come equipped with intelligent features and analytics that enhance security and operational efficiency. These include motion detection, intrusion detection, facial recognition, license plate recognition, and more. With these intelligent capabilities, Hikvision cameras can detect and alert you of any suspicious activity, empowering you to take immediate action.

User-Friendly and Scalable Solutions: Hikvision understands the importance of user-friendliness and scalability. Their CCTV systems are designed with intuitive interfaces and easy-to-use software, allowing users to navigate and manage their security effortlessly. Furthermore, Hikvision offers scalable solutions that can be expanded to accommodate evolving security needs, ensuring your investment remains future-proof.

Integration and Remote Monitoring: Hikvision CCTV systems seamlessly integrate with other security devices and software, offering a comprehensive security ecosystem. You can integrate your CCTV system with access control systems, alarms, and video management software to create a centralized and streamlined security infrastructure. Additionally, Hikvision's mobile apps and remote viewing capabilities enable you to monitor your premises from anywhere, providing peace of mind even when you're away.

Trusted and Reliable Brand: As a globally recognized brand, Hikvision has earned a reputation for delivering reliable and robust security solutions. Their products undergo rigorous quality control processes, ensuring that they meet the highest industry standards. By choosing Hikvision, you can trust in the longevity and performance of their CCTV cameras and systems.
Hikvision CCTV cameras and systems offer a powerful and comprehensive solution for enhancing security in residential and commercial settings. With their unparalleled image quality, intelligent features, user-friendly interfaces, and seamless integration capabilities, Hikvision empowers users to protect their premises with confidence. By investing in Hikvision, you are investing in the latest advancements in surveillance technology, ensuring the safety and peace of mind you deserve.
Visit SpyCameraCCTV.com to explore our range of Hikvision CCTV cameras and systems and take your security measures to the next level. Trust in Hikvision's expertise and join the global community of satisfied customers who have made their security a priority with Hikvision.
For more information, you can also check out the following links: