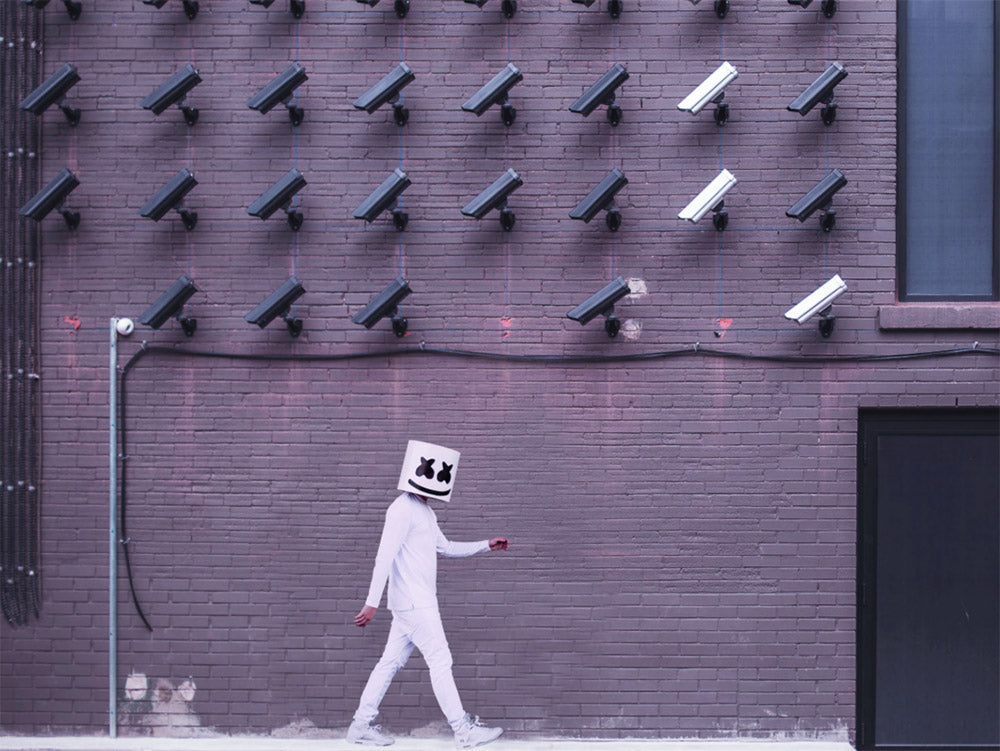 Facing The Fall Of Facial Recognition?
Surveillance and privacy don't exactly go hand in hand. This hot topic, extra hot since the arrival of the new GDPR regulations, is stirred up some more this month. News reports show the first legal challenges of the use of CCTV facial recognition. Discussions are arising: law needs to catch up with technology.
Safety measures versus human rights: we've barely begun to scratch the surface of data protection and internet protocols.
Now, what is all this racket about recognising faces? How does it work? Is it necessary? Is it allowed?
WT(F) Is AFR?
Apple Fruit Rolls? No. We're talking about Automatic Facial Recognition. It's not limited to the latest Facebook trick that automatically tags you in other people's picture posts. (Here's how you opt out of that in your profile's privacy settings). The advanced camera technology that made the May news, is currently on trial in new surveillance systems. Possibly already applied in your local shopping centre or mounted to a drive-by police van.
AFR sure is a nifty technology. It uses computers to recognise people's faces by scanning them with a camera as they walk by. This brings a whole new meaning to the phrase "caught on camera". It goes far beyond facial detection, a feature that finds the location of faces in images. Facial detection is used for autofocus in digital cameras, and all kinds of folly photo-face-smoothing apps, for example. 
Automated facial recognition systems compare selected facial features. These dotty measurements come from captured images within a database. It can uniquely identify persons by analysing patterns based on their facial textures and shape.
Get Outta My Pub
So if you're looking for a certain person, perhaps for security reasons, this tech is brilliant. Say there's been a troublemaker visiting your shop, or you're getting hassle from a bit of a brute in your pub, and you want to be alerted as soon as that person comes in again. You can select her/his snooty face, if captured from a previous recording, and the software pops up an alert when the camera catches a face matching the same facial features. You could then prevent further trouble by strutting to the bar Peggy Mitchell-style and yell "Get Outta My Pub!"
It is but an example.
It's not just cautious pub and shop owners that benefit from this rising technology. Facial recognition is handy for retail and hospitality, but also for office access and phone unlocking scans, airport security and citizen ID management. Another big one is the police. They are currently testing it for criminal investigation and catching criminals on the loose. 
Police facial recognition cameras are trialled at large events, such as during football matches or festivals. Their high-definition cameras first detect all the faces in the crowd. Then, software compares them with selected photographs in their database, previously taken during arrests or from other recordings. When applied well, further nasty happenings may be prevented through successful arrests.
Get Outta My Face!
On the face of it, this new security aid sounds ever so clever. However, there are some major issues with it.
Civil rights groups have spoken out against the use of facial recognition software. It is argued that thousands of people are given sensitive identity checks (just like taking someone's DNA or fingerprints) without their consent, which would seem in direct opposition of the right to privacy, a fundamental part of the UK's Human Rights Act.
If not applied well, it's also not always accurate. At the Notting Hill carnival, the system falsely told officers on 102 occasions that it had spotted someone they suspected of a crime. There are also reports of women and people of ethnic minorities still being disproportionately misidentified and placed on watch lists and interrogated because of it. 
Get Off My Case! 
On May 21st, the first major legal challenge of AFR police surveillance has begun in Cardiff. Ed Bridges, with support of civil liberties group Liberty, started a case against the South Wales Police, as his facial data was captured several times without his permission. This case may be crucial for setting official parameters within which facial recognition can lawfully operate, so police can get clear guidance in possibilities around using this anti-crime tool with respect to basic human rights.
In other news, a case in the US has led to San Francisco being the first US city to ban local agency use of facial recognition altogether, giving residents a voice in the decision of using high-tech surveillance systems in their home town.
We are at the centre of open discussions around safeguarding both people and their right to privacy, along with the development of increasingly accurate technology including options to adapt to respect regulations.
Hopefully, healthy democracy and sound security can soon walk hand in hand everywhere.
AFR At SpyCameraCCTV
Responsibility requires great care, we are aware of this every day. Among farming cameras, wildlife cameras and habitats, we sell and resell all sorts of top-notch security surveillance equipment. Most of our available cameras do not offer the facial recognition feature, but we do resell some advanced Hikvision IP cameras that boast this. You can explore their functions and benefits in this funky video below, created by Hikvision.
Of course, we are proud to promote great wildlife cameras and care. We also provide a great selection of high-quality farming and industry security equipment. Legally, the responsibility for the usage of surveillance technology lies with the end user (the 'data processor'). As we wholeheartedly support the right to privacy and freedom of expression, we continually remind our customers of the new GDPR legislation. We've created, among other things, a checklist with adaptations so users can ensure they are GDPR-compliant. One of the adaptations: notifying people if there are cameras present, with clear warning signs. We believe this should now come with an added disclosure mentioning the use of facial recognition technology. This new feature can also simply be disabled and controlled via the software provided with the cameras.  
It cannot be denied that the use of AFR comes with both strong pros and cons. Now is the time for discussions, testing and developing both technology and regulations, before we can reach one clear conclusion of how, or even if, to work with this focus feature.  
For now, we continue to offer some of these new security cameras. We keep a watchful eye on the news about this sensitive, hot topic of facial recognition. We'll remain mindful and ready to adapt to any new regulations that may arise.