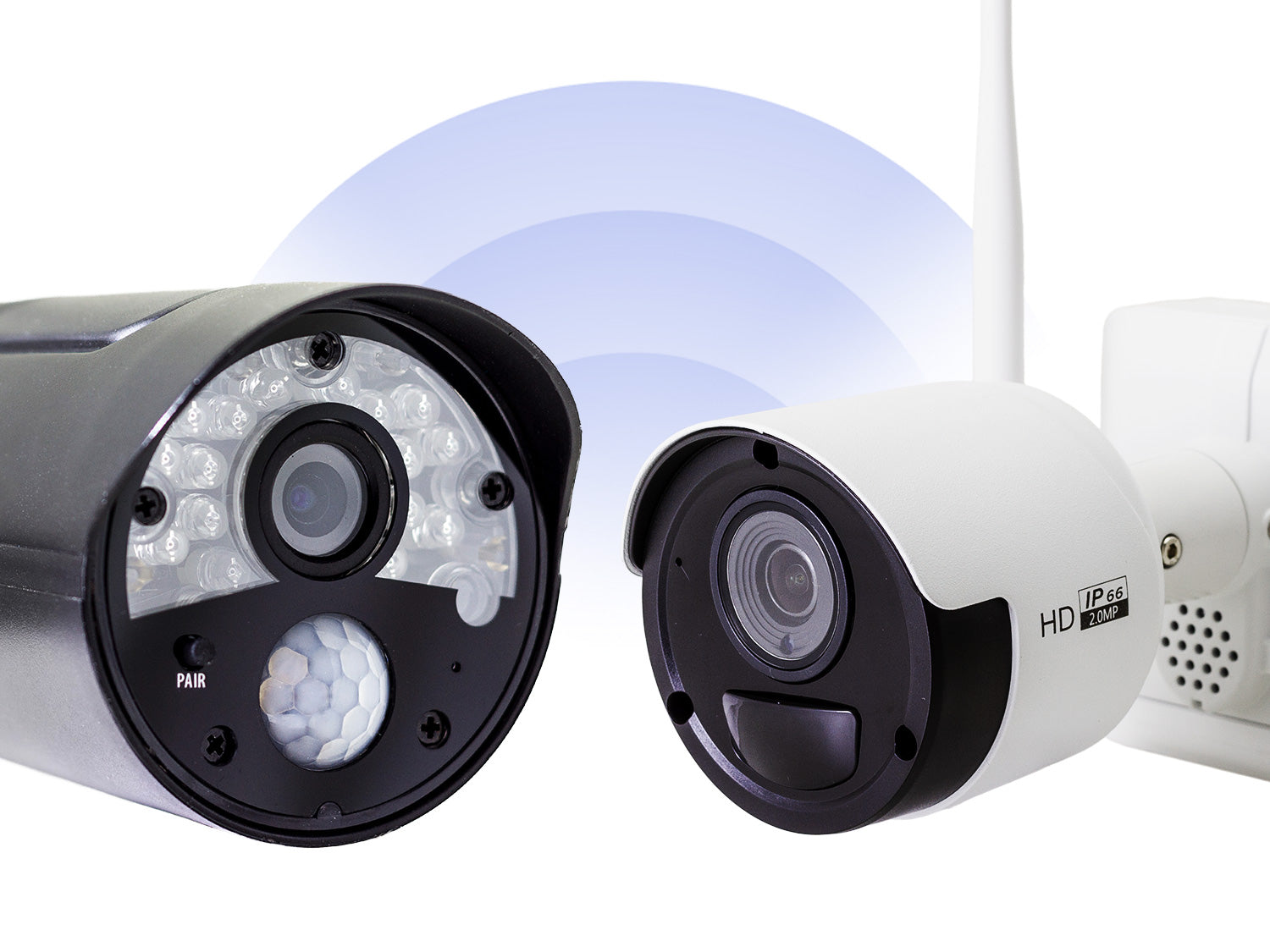 Wireless vs Wire Free CCTV – What's the difference?
At SpyCameraCCTV, we have been at the forefront of wireless CCTV technology for the better part of a decade, offering everything from easy-to-install home security kits, to bespoke systems designed to monitor huge properties such as farms & car parks. Recently, however, we have also started offering Wire Free CCTV systems. Despite having really similar names, they're actually two different technologies, which have some really important differences.
Wireless CCTV
Wireless cameras are devices that can transmit or receive a signal via radio frequency. This means that it doesn't need to be connected directly to a recorder or monitor using an AV cable. Importantly, however, wireless cameras will still need to be connected to a power source in order to work – almost always mains power. This can understandably be confusing, as many people see this as being a wire, and therefore the name being misleading.
The is partly because "wireless" is an established technical term that's been used in electronics since the early days of radio in the 1920s, referring specifically to transmitting a signal. If you're confused, a great example to think of to help make this clear is a wireless network router. This transmits your Wifi signal throughout your house, but still needs to be plugged in in order to work.
Examples of our wireless CCTV kits include our 1080p system with screen, and the best selling Green Feathers wireless bird box camera.
Wire Free CCTV
A relatively new technology, Wire Free cameras use wireless to transmit a signal, and are also fitted with long life rechargeable battery packs. This means that they not only do they not need an AV cable to send footage, but they don't even need to be wired up to a power supply. That's right…completely cable free CCTV! No need to worry about running cables around your home, or passing them through an exterior wall.
Of course, neither wireless transmission nor rechargeable batteries are new things themselves. Only recently, however, has battery technology advanced enough to allow wire free cameras with a long enough battery life to make them practical for security use. They also also make use of low power standby modes, often triggering to record only when motion is detected.
Our new Gamut battery powered CCTV kits are a great example of Wire Free technology. The cameras use high capacity Lithium Ion batteries that slot into the base of the unit. This means that, once empty, the battery can be quickly swapped out without having the take the camera down from the wall. Each camera is also fitted with a PIR sensor, able to use a subject's body heat to trigger motion detection. All of this is topped off with 1080p HD recording, a 1TB wireless recorder, and remote access via a PC or mobile app.
So…which is better?
As with all of these things, it's not really a matter of one choice being better than the other – it depends entirely on your situation:
Wireless is better if…
You want a camera that you can monitor continuously 24/7, for example an always-on door entry camera
The camera is being installed in a high traffic area, when motion detection would be triggered very frequently
The camera is going to be left for months at a time without being checked
Wire Free is better if…
You're not able to run cables through a wall, for example if you're setting them up in a rented property
The cameras are being set up as a DIY installation, and you're not confident with electrics
You anticipate having to move the cameras' location