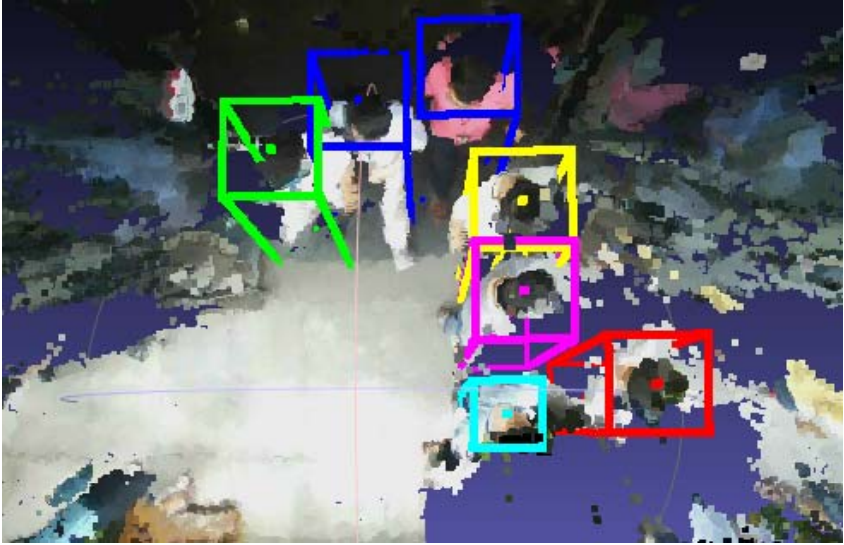 How to Keep Your Business COVID Secure: People Counting Cameras
It has been a tumultuous time for retail businesses in the UK in the past few years. Now with the onset of the COVID-19 pandemic, the brick-and-mortar retail sector has been rocked, initially with shops forced to shut and now with strict social distancing measures. Many retail businesses, big and small, are rightly nervous about footfall in the next phase as many customers still feel uncomfortable about shopping. Luckily, technology can be a part of helping businesses reopen in this period of "new normal" and keeping customers and staff safe.
Hikvision People Counting Camera Solution
Hikvision's People Counting camera technology is both more accurate and smarter than traditional technology. As the name suggests, People Counting can track the number of people entering and leaving your building and can compile reports across different time periods so that you can quickly get accurate and useful data on visitor volumes. This is a useful solution in these unprecedented times in retail from corner shops all the way up to supermarkets and shopping centres. However, it is not just retail this technology is useful for – any building that sees high volumes of people can benefit from this such as museums, stations, and cafés.
It is as simple as placing a high-definition dual-lens camera above on entrances and exits to get live data on the number of people in your building. There are many benefits to these cameras, which use HD video analysis to provide accurate people counting, including binocular stereo vision, 3D people detection and tracking, and height filtering.
Binocular stereo vision
The cameras feature two lenses or two eyes, if you like, like we humans have. This means the camera can produce accurate 3D vision using the parallax effect. The two images from the camera can be combined to perceive depth just like we can. It is also the same technology as is used in 3D films.
3D People Detection & Tracking
Because heads are always higher than shoulders, the camera can use its depth perception to accurately detect people and track them precisely.
Height Filtering
Z-axis (depth) information can also be used to track people of adult height only. This means you can filter out false positives and other things, such as a baby sitting in a shopping trolley.
Powerful Applications for Your Business
Deep-learning algorithms can be continuously trained and improved with new datasets to count people more precisely. The cameras link with statistical software to provide people count data generated over time, whether it is by day, month or annually.
COVID-19 Controls
In the time of COVID-19 social distancing and mitigation measures, limiting the number of people in a shop or building at the same time is important to ensure it is "COVID Secure". People counting cameras can be deployed to set a maximum threshold of people allowed to enter to ensure customers can properly distance themselves, prevent overcrowding and lower the risk of transmission of the disease. Hikvision's people counting solution can automate this process to make enforcing these restrictions far easier.
Additionally, there are other useful applications of this solution for businesses in good times as well. It gives business the tools to understand their operation in much more depth.
Optimising staff schedules & operations
People counting cameras can be used to determine the busiest times of day when most footfall is seen, as well as the busiest days, along with long-term trends (for example, shops are seasonally busier in the run-up to Christmas). This can provide invaluable data to businesses including when extra staff should be deployed to serve customers and when to rota fewer staff on.
Evaluating operational costs
For businesses with chain stores or multiple outlets, obtaining statistics such as the flow of visitors can help them determine the operating efficiency. For example, if certain stores are seeing very low visits they can be evaluated on a cost-benefit basis.
Measuring RoI
People count data can be used in conjunction with sales on the till system to determine the conversion rate of a store and to see which days are the most lucrative for a business. Furthermore, it can be used to measure the effectiveness of marketing campaigns. Analysing data may reveal that the latest advertising campaign has seen an uplift in shop visits by 20% in the last 30 days.
We are a Hikvision Authorized Wholesaler
Based in Bristol, we are an authorised distributor of Hikvision cameras and equipment, supplying businesses all around the UK. We have an enormous range of CCTV equipment that can be delivered next working day. As a partner, we have access to the latest equipment at unbeatable trade prices. For expert advice and access to the widest range of cameras and recorders available, just contact our sales team.