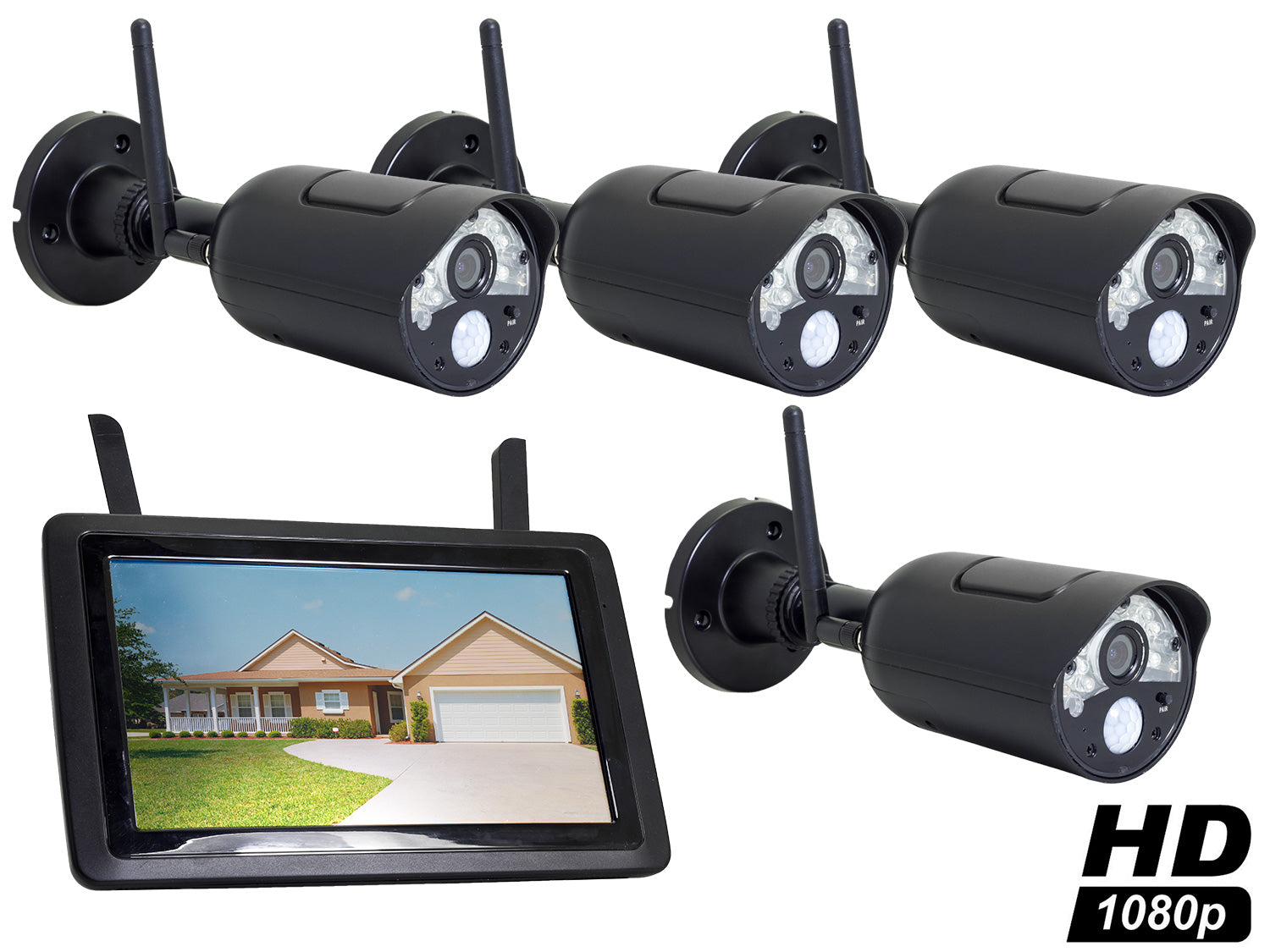 Introducing our new 1080p Wireless CCTV Kits
For years we have been providing wireless security solutions for professionals and home users alike. Today, we can be proud to present our range of 1080p wireless CCTV kits. These are a direct upgrade to our best selling 720p digital wireless kits, and offer a similar all-in-one home CCTV system perfect for DIY installations. Crucially, however, they now boast 1920×1080 Full HD recording, with some of the best levels of detail recording available on the market with a wireless camera. We have kits available with 1, 2 or 4 cameras, all recording and full resolution. This makes them suitable for a host of uses, from a door entry camera outside a house, to a basic security system for a small business.
Is wireless CCTV right for me?
We sometimes have customers ask us why they should consider wireless CCTV, when it's often claimed that wired cameras offer higher quality images. This is actually true, as a wired connection will allow better data transfer than you could achieve with wireless – and so better pictures. We actually advise customers to go for a wired CCTV setup when this is possible. Inevitably, however, there are some situations where wireless is really the only way to go:
If you need to place a camera on a separate building, and it's not possible to run a cable across the gap
If the cameras will need to be moved semi-frequently
If you have limited freedom to run cables, for example if you're living in a rented property
You're installing the cameras yourself, and want a simple set up process
Complete CCTV Solution
As well as the cameras, the new 1080p wireless CCTV kits include a high resolution monitor with MicroSD recording, so you don't need to connect them to any other external devices in order to get them up and running. They're also packed with a host of advanced features that make it easier than ever to monitor your property:
Each camera has a built-in PIR sensor.  These are designed to detect the changes in ambient temperature that happen when a subject walks in front of the camera. The kit can use this to trigger recording, providing motion detection that is far more accurate than the type used in most standard CCTV systems, with less accidental recordings.
The 9″ full colour monitor has a touch screen display, letting you navigate the menu settings and recording options with a simple tap of your finger
Connect the recorder to your internet router to allow full mobile access. Using the free Android & iOS app, you can view live and recorded videos from your cameras right from your phone or tablet
The mobile apps even provide push notifications, so no matter where you are, you can always be notified if the cameras detect an intruder on your property
The cameras also have an integrated speaker, allowing two way audio. So, not only can you listen to subjects in front of the cameras, but you can use your mobile device to talk to them as well! This is perfect if you're using the kit as a door entry camera
The monitor uses a Lithium rechargeable battery, so you can easily move it around your home whilst in use