Green Feathers Large Handmade Wooden Bird Box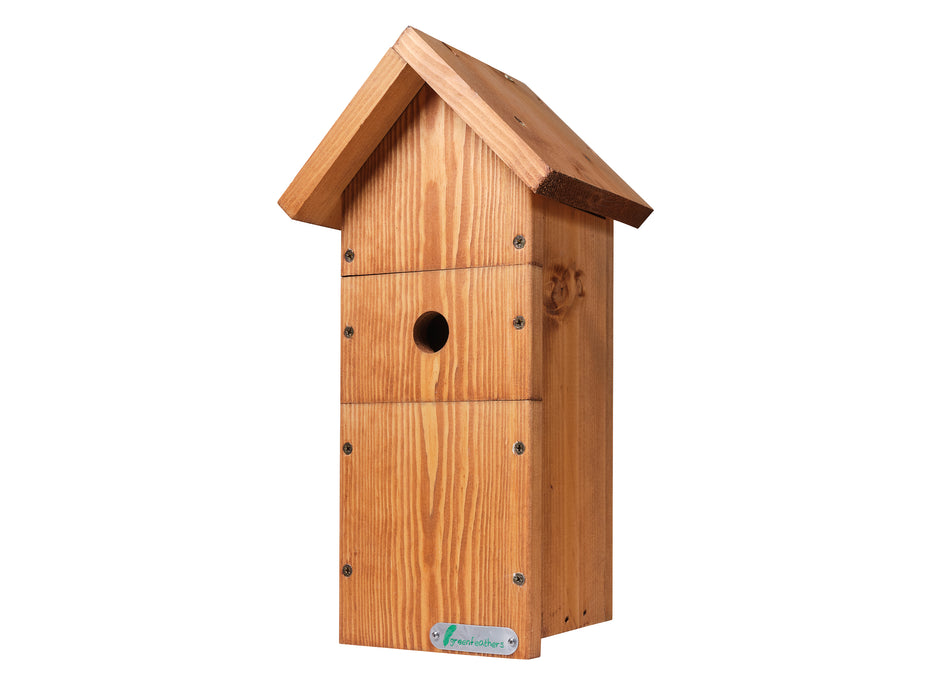 Green Feathers Large Handmade Wooden Bird Box
This quality wooden bird box is handmade in the UK and designed to be used with our bird box cameras.
Wooden Bird Box
Hand made sturdy wooden box, providing a cosy habitat for nesting birds.
Perfect for Cameras
Purpose designed for use with our range of Green Feathers bird box cameras, with a spacious interior, easy mounting points, and vents to route the cables.
Extra Headroom
De Luxe model features extra height, providing the camera with a wider view of both the nest and entrance.
21mm Thick Panels
Built from sturdy, thick wood, significantly more durable than other designs on the market.
FSC Certified
Made only from sustainably sourced wood.
Made in UK
Handmade by the artisans in Riverside Woodcraft's UK workshop.
32mm Entrance
Standard entrance hole perfect size for small birds such as Great Tits, Coal Tits, Blue Tits and Wood Sparrows.
Removable Front Panel
Sections of front can be removed, allowing use by larger birds, as well as species like Robins that prefer an open design.
Camera Mounting Hole
4mm on rear panel of box is perfectly sited for attaching your camera's bracket.
What's in the box?
1x De Luxe wooden bird box
2x Metal mounting brackets
8x Mounting screws
Our Green Feathers team has over a decade's experience designing and selling specialist camera kits for recording and observing wildlife. Now we can proudly announce that we have teamed up with the artisans at Riverside Woodcraft to bring you our first range of bird houses. Each one has been purpose-designed for installing one of our bird box cameras. It makes an ideal project for a family or school, letting you watch as birds nest, hatch and grow in the nest, all from a unique close up view.
This De Luxe box is built from sturdy 21mm thick wood, significantly more heavyweight than the lighter, less durable designs on the market. The box also carries the badge of the Forest Stewardship Council, ensuring that it's only produced from sustainable sources of wood. The front of the box has a 32mm entrance hole, ideal for Tits and Sparrows. The front plate can also be removed, providing an open box design preferred by Robins and some larger birds.
The interior of the box is designed with extra height, providing your camera with the widest possible of view of both the nest and the entrance. It also leaves additional space for one of our daylight LEDs if required. The camera can easily be mounted via the screw hole in the back of the box, and the cables routed out via the air vents under the roof. The kit also includes a set of mounting plates and screws for use when hanging the box.
Wood Thickness: 21mm
Entrance Hole: 32mm
Dimensions: 470x250x190mm