Green Feathers Hedgehog Box Camera Deluxe Bundle WiFi Connection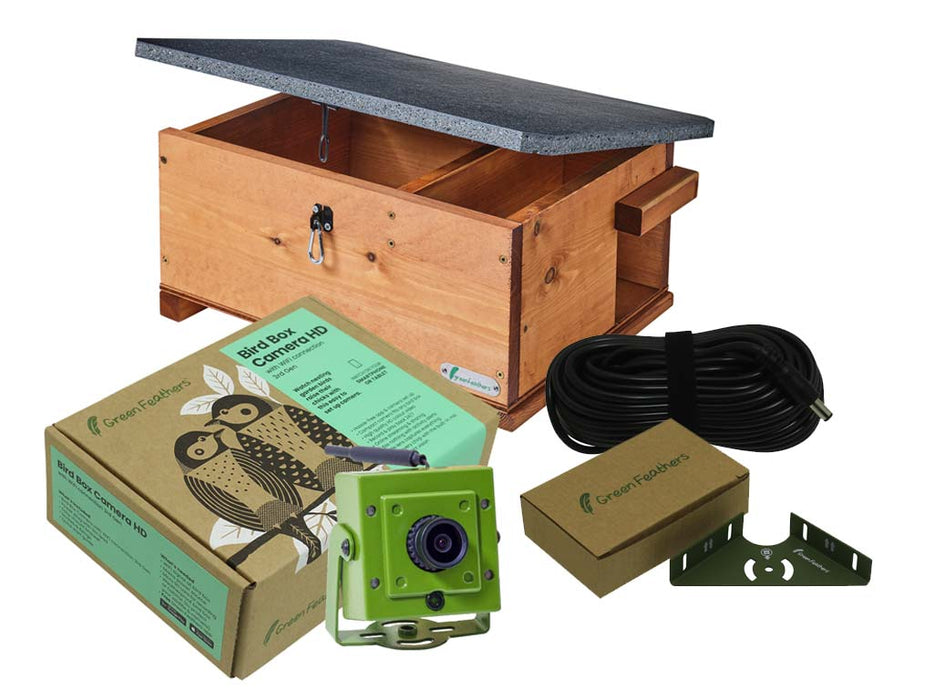 Green Feathers Hedgehog Box Camera Deluxe Bundle WiFi Connection
Product Code:
GFWF3GB-HHHDLX
We don't just provide solutions for watching birds: our fluffiest spiky friends get attention, too! That's why we've put together this Hedgehog Box WiFi Camera kit, which includes our 3rd Gen 1080p HD WiFi Bird Box Camera, allowing you to get up close and personal with visiting hedgehogs in your own garden and learn all about their quirky behaviour. The camera connects to your WiFi network, so you can watch the footage live on your smartphone, tablet or PC anywhere with an internet connection, and show your friends and family just how adorable hedgehogs really are when they potter about in their home. 
Our hedgehog box eco-roof is made of recycled composite materials with the added benefit of being completely waterproof and rot-proof. It's built with a sloping roof for water drainage along with additional grooves on the top of the side panels. The lid is hinged and lockable. Ventilation is provided by a clog-proof, narrow gap under the roof along the front.
You can choose between our quality wooden hedgehog boxes, handmade in the UK, from the options below.
Hedgehog Watching Camera Kit
Install the camera in your hedgehog feeding station or house to watch visiting hedgehogs up close and personal without disturbing them!
WiFi Camera
Uses our flagship WiFi camera, that connects to your home's existing WiFi network
Quality Hedgehog Box
Includes a hand-crafted birdhouse from our UK workshop, made from sturdy thick timber
Waterproof Recycled Eco Roof
The eco-roof is both UV and fully waterproof. It gently slopes to ensure water drains off quickly and underside grooves stop water coming in to keep the hedgehogs nice and dry. The roof is made out of a recycled plastic blend that doesn't rot and ensures longevity.
1080p Full HD Video
Records pin-sharp video in 1080p Full HD with true-to-life colour in good light
Night Vision – 24/7 Viewing
After dark, the camera uses night vision LEDs using invisible infrared light
Audio
Hear every snuffle and ruffle thanks to the in-built microphone in the camera.
Easy-mount Corner Bracket
We've included our corner bracket so that you can easily install the camera yourself without needing to be a DIY expert! This allows you to get the best camera angle from inside the box.
Watch On Your Smartphone, Tablet & PC
Using the free app watch the camera live from wherever you are in the world!
Wide Angle Lens
Captures every spikey little happening inside the box
MicroSD Card Slot
Allows you to record clips of video and even set up motion detection, without needing an external recorder. Compatible with cards up to 128GB (card not included)
Includes Power Cable Extension
Also includes a power extension cable to run mains power out to the bird box
Stream online
You can stream the camera online, with a bit of setup, to services such as YouTube to share the action with everyone!
Works with Alexa
"Alexa, show camera". Link up with your Echo Show and see the camera's live stream on-screen in seconds!
Also included is our easy-mount corner bracket so that you can easily attach the camera inside the box and get the best angle possible.
Hedgehog Feeding Station Box or Hedgehog House (choose above)
WiFi bird box camera - 3rd Gen
UK mains power supply
10-metre power extension cable
Easy mount corner bracket
Camera
Image Sensor: 2MP 1/3" CMOS image sensor
Lens: 2.8mm
Resolution: Main stream: 1920×1080; Sub-stream: 640×480
Frame Rate: 20fps
Compression Format: H.264
Audio: Yes, in-built microphone
Speaker: Yes (used in setup only)
On-Board Storage: microSD card up to 128GB
Recording Modes: Continuous, motion detection
ONVIF: Supports ONVIF protocol
Night Vision: Invisible infra-red 4x LEDs (1m night vision range)
IR Cut: Built-in
Shutter: 1/25–1/10000
White Balance: Automatic
Backlight Compensation: Yes
Noise Reductions: 3D DNR
Network: 2.4GHz Wi-Fi
Operating Temperature: −20°C–+50°C
Camera Dimensions: 44×44×33 mm
Power: DC 12V input, 2.1mm jack
App Supports: iOS 10.0 or later and Android 4.4 and up