Hikvision Thermal IP Bullet Camera with 10mm Lens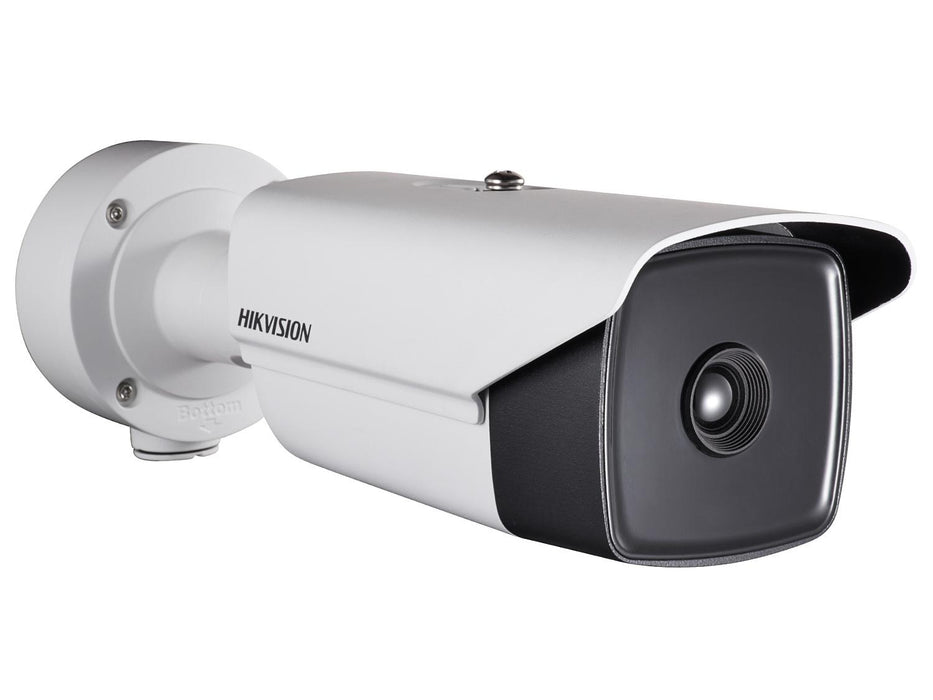 Hikvision Thermal IP Bullet Camera with 10mm Lens
Product Code:
DS-2TD2136-10/V1





Thermal IP Camera
Detects heat emitted by any subject within view, and connects to any Hikvision NVR just like a standard IP camera
High Sensitivity
384x288 thermal imaging module can detect vehicles from up to 900m away, and people from almost 300m away, allowing it to monitor a huge area
Clear View
The camera's thermal spectrum means the image will not be obstructed by smoke, smog, or light foliage
10mm Lens
The camera captures a focused 36-degree field of view
Smart Detection
Supports Hikvision's range of video analytics, including line crossing, region enter/exit and intrusion detection. This, combined with its ability to see through light vegetation, makes it uniquely suited to perimeter security
Fire Detection
Can monitor for fire at up to 10 points in the image
Temperature Alarm
Can be set to trigger an alert when the temperature in a specific part of the frame rises above a specified level. This feature, and the fire detection, can be used in conjunction with the camera's alarm outputs
Colour Scales
Can be set to monochrome or one of several colour scales
IP66 Housing
Camera is protected by fully weatherproof casing, suitable for exposed outdoor locations
Supports PoE
Compatible with Power-over-Ethernet switches and recorders
MicroSD Storage
Built-in card slot allows recording without an external device, or alternatively can be used as an automated backup. Compatible with cards up to 64GB, not included
BNC Output
In addition to working as a remote IP camera, a coaxial output allows use with a local monitor or DVR
What's in the box?
1x Hikvison thermal bullet camera
Providing powerful imaging technology with advanced analytics, Hikvision's range of thermal cameras are some of the most powerful security and monitoring devices available today. They're perfectly suited to a wide range of applications, from perimeter security to industrial quality assurance.
The thermal imaging module works in the 8-14 micrometre range, capturing the heat emitted by objects ranging from freezing to boiling hot. As well as working the same day or night, this thermal spectrum is not affected by obstructions such as smoke and smog, providing a clear view when standard cameras would be completely obscured. The sensor captures a clear 384x288 resolution image, at 50 fps for smooth motion. A 10mm lens provides a tightly cropped 36-degree field of view. As with all of Hikvisoin's professional cameras, the housing is IP66 weatherproof and suitable for outdoor use. The camera also supports PoE and can be used with all of Hikvision's range of NVRs.
Hikvision's advanced video analytics provide a wide range of automation options. Options such as line crossing, region enter/exit and intrusion detection are all fully customisable using Hikvision's PC app, letting you manually "draw" regions in the frame for the camera to monitor. There are also thermal-specific features, including fire detection, and custom temperature alarms, perfect for watching over industrial machinery.
Imaging Sensor: Vanadium Oxide uncooled focal plane arrays
Maximum Resolution: 384x288
Response Waveband: 8-14μm
NETD: <50mk
Lens: 10mm
Field of View: 36x27 degrees
Minimum Focusing Distance: 1m
F Number: 1.0
Frame Rate: 384x288@50fps (main sub third stream)
Video Compression: H.264+ H.264 MJPEG
Protocols: IPv4 IPv6 HTTP HTTPS 802.1x Qos FTP SMTP UPnP SNMP DNS DDNS NTP RTSP RTCP RTP TCP UDP IGMP ICMP DHCP PPPoE Bonjour
Simultaneous Live View: Up to 20
User/Host Level: Up to 32 Users 3 levels (admin operator user)
Security Measures: User auth ID and PW MAC address binding HTTPS encryption IEEE 802.1x access control IP address filtering
Alarm Inputs: 2x
Alarm Outputs: 2x
Alarm Action: SD recording relay output smart capture FTP upload Email link
Audio Input: 1x 3.5mm jack
Audio Output: Line level impedance 600 ohm
Reset: 1x reset button
Ethernet: 1x RJ45 10/100M self adaptive
SD Memory: Built-in MicroSD slot Supports MicroSD/SDHC/SDXC (up to 64GB)
Analogue Output: 1x BNC
Application Programming: Open ended API Supports Onvif PSIA CGI Hikvision SDK
Client: iVMS-4200
Web Browser: IE7+ Chrome18+ Firefox5+ Safari5.02+
Menu Language: English
Power: POE+ 24V AC 12V DC
Operational Temperature: -40 to +65c
Operational Humidity: <90%
Protection Level: IP66 6000V lightning protection surge protection
Dimensions: 314x104x292.7mm
Weight: 2Kg