Green Feathers WiFi Bird Box Camera Ultimate Bundle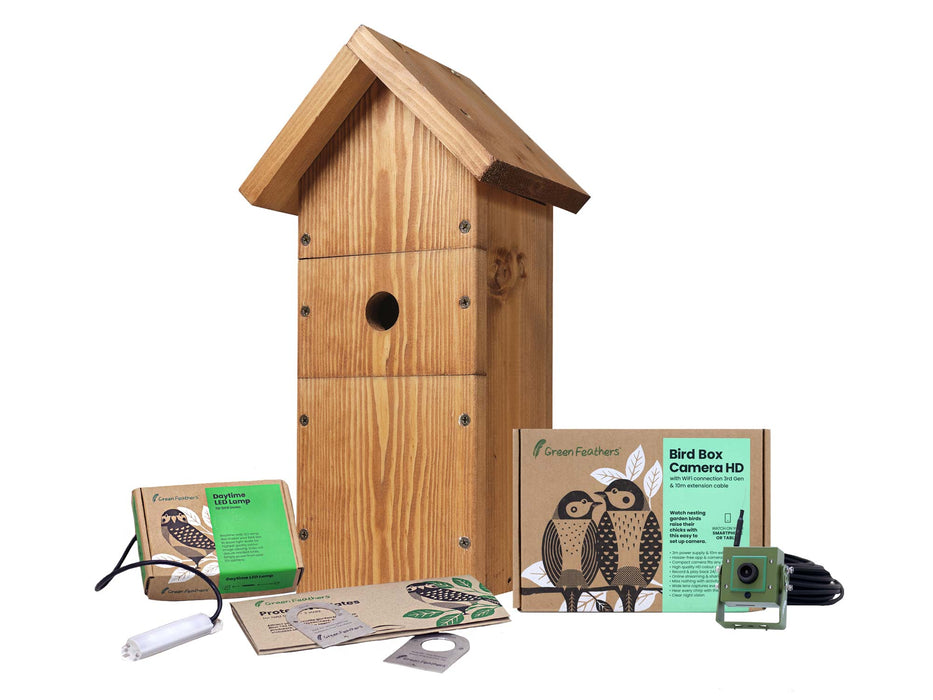 Green Feathers WiFi Bird Box Camera Ultimate Bundle
Product Code:
GFWF3GB-BBAXLT
This is the big one – we've put together this ultimate bundle with everything you need and all the accessories to make the ideal bird box TV studio in your own garden.

With our best-selling WiFi Bird Box camera, you are able to directly watch nesting birds on your smartphone and tablet in 1080p HD. We've paired the camera kit with our quality wooden bird box handmade in the UK, which is designed for easy mounting of the camera. On top of this, we've added in a microSD card for recording footage, a power extension cable and a daylight LED lamp for brilliant daytime images. For the protection of the bird box's entrance hole and for limiting which bird species uses the box, if desired, we've also thrown in our stainless steel protective plates.
Bird Box Camera Kit
Includes everything you need to set up a bird box in your garden and watch the chicks hatch and grow right from your tablet or mobile device.
Watch on Your Smartphone & Tablet
Using the free app, you can easily watch live or recorded footage of the nesting birds using an iOS or Android device.
WiFi Camera
Uses our flagship WiFi camera, that connects to your home's existing wireless internet network
Deluxe Bird Box
Includes a hand-crafted birdhouse from our UK workshop, made from sturdy 21mm thick timber
Designed for Cameras
The box features a central mounting point, a removable front for easy access and vents to run cable
HD Video
Records pin-sharp video in up to 1080p HD with true to life colour in good light
Invisible IR
After dark, the camera uses night vision LEDs to keep recording without disturbing the chicks
Wide Angle Lens
103° field of view captures everything happening inside the box
Audio
Hear every cheep and ruffle thanks to the in-built microphone picking up every little sound from the nest.
MicroSD Card Slot
Allows you to record clips of video, and even set up motion detection, without needing an external recorder. Compatible with cards up to 128GB (not included)
Includes Power Cable Extension
Also includes a 10-metre power extension cable to run mains power out to the bird box
Stream online
You can stream the camera online, with a bit of setup, to services such as YouTube to share the action with everyone!
Works with Alexa
"Alexa, show camera". Link up with your Echo Show and see the camera's live stream on-screen in seconds!
In our Ultimate WiFi Bird Box Camera bundle, we have included everything you could possibly need, including all our most popular accessories. Alongside our WiFi Bird Box Camera, we've included our large wooden bird box handmade in the UK. To add to this, we've put in our full gamut of accessories including our Daylight LED lamp, power extension cable, a microSD card and bird box protective plates.
For years now, our bird box cameras have been delighting nature lovers by providing amazing close-up images of eggs and chicks, direct from your garden. Our WiFi bird box camera lets you easily log in to watch or record footage directly from your phone, tablet or computer. As the first camera of its type on the market to feature built-in WiFi, you don't even need to run a network cable out to the bird box - all it needs is power. Just make sure that there is WiFi signal where you want to install the bird box in the garden and then follow the simple configuration instructions in our setup guide. You can then watch live or recorded footage of the chicks from anywhere using the free app on an Android or iOS mobile device.
The camera itself features invisible night vision so that the camera can see in dark bird boxes without disturbing the birds. The wide-angle lens also means that you can get the entire inside of the box in the frame. A tiny microphone enables sound from the box to be hard as well. Furthermore, included is a MicroSD card slot that allows you to easily record footage – and even set up motion detection – directly from the app.
† The camera features 2.4 GHz WiFi only.
‡ Please note that the Green Feathers app is compatible with 3rd Gen cameras only.
1x Deluxe wooden bird box
1x WiFi Bird Box Camera - 3rd Gen
1x UK mains power supply
1x 10-metre power extension cable
Pack of 3x bird box protective plates
1x Daylight LED lamp
1x 64GB microSD card
Screws and fixings
Quick start guide
Camera
Image Sensor: 2MP 1/3" CMOS image sensor
Lens: 2.8mm
Resolution: Main stream: 1920×1080; Sub-stream: 640×480
Frame Rate: 20fps
Compression Format: H.264
Audio: Yes, in-built microphone
Speaker: Yes (used in setup only)
On-Board Storage: microSD card up to 128GB
Recording Modes: Continuous, motion detection
ONVIF: Supports ONVIF protocol
Night Vision: Invisible infra-red 4x LEDs (1m night vision range)
IR Cut: Built-in
Shutter: 1/25–1/10000
White Balance: Automatic
Backlight Compensation: Yes
Noise Reductions: 3D DNR
Network: 2.4GHz Wi-Fi
Operating Temperature: −20°C–+50°C
Camera Dimensions: 44×44×33 mm
Power: DC 12V input, 2.1mm jack
App Supports: iOS 10.0 or later and Android 4.4 and up

Please note that this camera is not waterproof.
Bird Box
Wood Thickness: 21mm
Entrance Hole: 32mm
Dimensions: 470 x 250 x 190mm