Lawmate HD Spy Camera Glasses with microSD Recording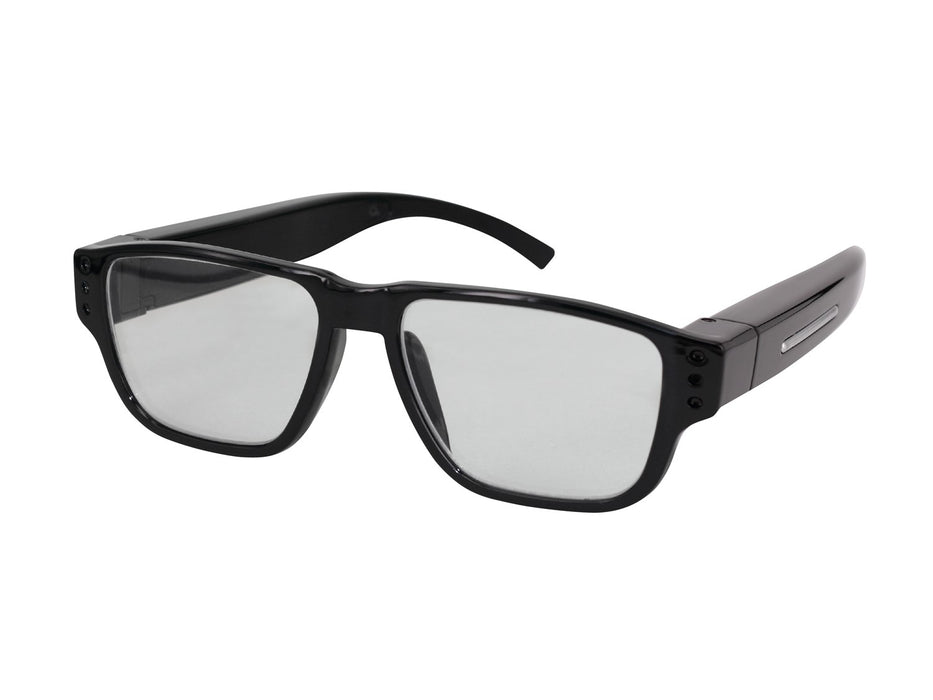 Lawmate HD Spy Camera Glasses with microSD Recording






Just a chunky pair of designer glasses? Oh no! These seemingly normal glasses contain a secret camera with microSD recording for covert surveillance and detective work.
Hidden Spy Camera

Integrated into the frame of the glasses itself is a tiny spy camera that captures video without drawing any attention to itself.

720p HD Video
Captures 720p HD video from the tiny lens and records using H.264 compression onto a microSD card.
Battery-powered
Features a tiny integrated battery for up to 70 minutes of constant video recording. Simply use the included USB cable for recharging.
microSD card recording
Includes 16GB card as standard for recording footage, compatible with cards up to 32GB in size.
Simple one-button operation
To start using, simply press the button on the left sidearm to start recording.
Time & Date Stamp
All videos are watermarked with the time & date, ensuring they can be used as evidence.
What's in the box?
1x Spy Camera Glasses
1x 16GB microSD card
1x Tweezers (for microSD card removal)
1x USB connection cable
Quick start guide
These Spy Glasses provide a stylish design concealing a covert spy camera that captures law enforcement grade video which is also stamped with the time and date. 

All recordings are stored on a microSD card (16GB card included) using standard H.264 compression. The built-in tiny battery will provide up to 70 minutes of continuous recording.

Whilst there are many covert video glasses available, many are bulky in design and offer poor reliability. These, however, offer excellent video quality whilst remaining very straightforward to set up and operate. You can simply push the button on the left sidearm to start recording.

Image sensor: 1/4" progressive CMOS sensor
Sensor resolution: 1280×960
Sensor sensitivity: 3.3 Lux @ f2.8
Lens F/no.: f2.8
Focal length: 3.7mm
Angle of view: 67°
Video Compression: MJPG
File format: AVI
Video Recording Mode: Manual
Recording resolution: 1280×720
Frame rate: Up to 30fps
Memory type: microSD card (up to 32GB)
Data interface: Micro USB 2.0
Date/Time table: YYYY.MM.DD HH:MM:SS
Power input: DC 5V
Power consumption: 150-180mA
Battery input: DC 3.7V 270mA
Battery life: Continuous video recording 60min
Dimensions: 142×43mm (W×H); Arm:146mm; Bridge: 11mm; Lens (H×W): 37×54mm
Weight: 40g